Some MMA rivalries just don't end until one fighter has the lead over the other fighter. Rivalries are just part of this sport. It doesn't mean that the fighters hate each other, it's just a competitive edge over the other that makes some of these rivalries interesting.
MMA Fans just love rematches and what they love more than that is a trilogy fight. When one fighter gets a win but somehow they meet again in the future and this time the other guy gets the victory. Now it's time for the third fight between them. In UFC history fans have got to see several trilogies. Cruz vs Faber, Edgar vs Maynard, GSP vs Hughes, DC vs Miocic, and many more. Each of their fights kept getting better as the fighters keep evolving and the need to beat their fierce rival is what kept them going all this long.
While MMA rivalries are always entertaining, fans can also check out www.luckydice.in where you can find all kinds of information on online casino and online lottery in India.
Here's a list of Trilogy Fights MMA fans are desperately waiting to see.
Nate Diaz vs Conor McGregor 3
A rivalry that transcended the sport of MMA to other heights. There is no trilogy fight that the MMA world is waiting for than this one. Both of their previous fights were spectacular for both fans and the company.
Conor Mcgregor is the biggest superstar in the MMA world. He just came into the UFC and did exactly as he promised he just took over the sport. He destroyed the featherweight division, defeated the featherlight king Jose Aldo who was not beaten in 10 years and Conor knocked him out in 13 seconds. He was then trying to become a two-division champion by taking on Rafael Dos Anjos. Rafel pulled out of their scheduled fight just 2 weeks before and the UFC was just looking out for options.
Then came Nate Diaz who took the fight on just 11 days' notice and fought Conor at UFC 196. Till that moment Conor Mcgregor was this phenom of talent who seemed unbeatable at that weight class. But the moment he fought Nate, the axis of the MMA world just shifted. Nate Diaz Submitted Conor in the second round has Conor was fatigued.
Conor did take that loss gracefully and just called up UFC to set them up for their rematch. Just a few months after their first fight Nate Diaz was fighting Conor Mcgregor who came in their rematch with a completely different approach. Conor and Diaz had a dog fight which Mcgregor won by decsion.
Now five years from their rematch the world is still waiting for their third fight to take place which is definitely possible as they are both still active and are fighting just one division apart.
Conor Mcgregor vs Dustin Poirier 3
A fight that is just one month away from us. as UFC President Dana White would have quoted it " Two of the best fighters in their prime fighting when they should be fighting."
Conor and Dustin have had their long road to this position in their fighting career. Totally different paths but they somehow have both made it to the top and now are again facing each other. Conor and Dustin first fought in 2014, back when they were young and hungry to get it to the top of the food chain in the UFC. Conor knocked out Dustin in the very first round and from there he never looked back. Conor Mcgregor became this global icon where Poirier fought his way to the top and now is in his fighting prime.
Both of them recently fought at UFC 257 in January 2021 where Poirier just shook the world by knocking out Conor in the second round of the fight. Considering the history of both these fighter UFC didn't even hesitate to give them their third fight which takes place on July 10 at UFC 264.
Stipe Miocic vs Francis Ngannou 3
Another perfect example of fights in the UFC. A dominant champion in his prime shuts down a young contender. Just a few years later the Contender rises to the occasion and takes down the long-reigning champion.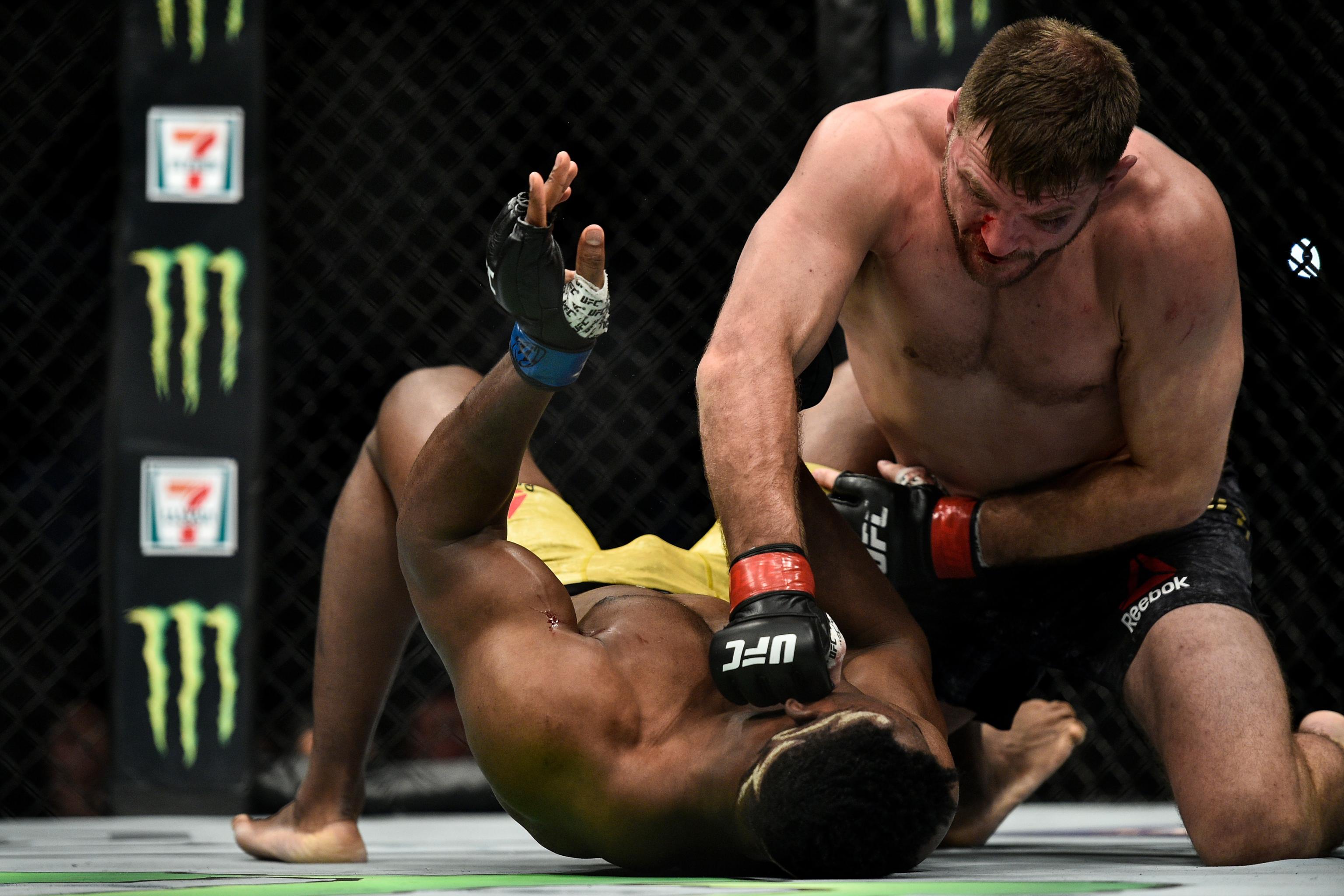 Stipe Miocic and Francis Ngannou fought at UFC 220. It was a completely dominant performance by Miocic as he shut down Ngannou's offense by using his wrestling and got a dominant victory over him. After that Miocic went on to have conductive battles against Daniel Cormier and ending their set of fights by 2-1. Whereas Ngannou after facing another loss in his fighting career to Lewis went on a tear. He then won four back-to-back fights all ending in first-round finishes.
Stipe Miocic and Francis Ngannou met again at UFC 260. Francis had his scariest version on that day. He was calm and collective waiting for his moments and then he knocked Miocic Out Cold to become the new champion. Both of them will definitely face each other in their near future as the series is 1-1.
Which Trilogy fight are you excited to see?
Purchase the UFC merch here.
Click to Predict here.
Download the Fanatics Fantasy MMA app here.