Ali Abdelaziz who manages UFC welterweight champion Kamaru said that if Nate Diaz beats Leon Edwards, he becomes the no.1 contender in the welterweight division.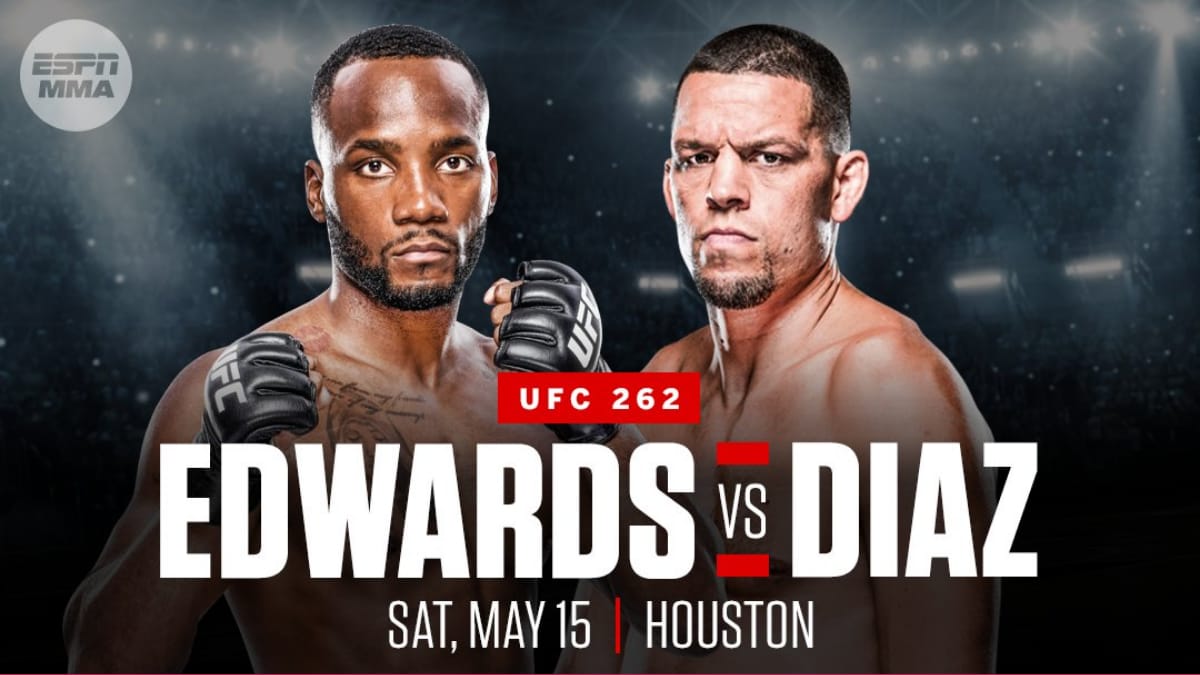 Nate Diaz and Leon Edwards are set to square off in the co-main event of the May 15 pay-per-view event in Houston. The welterweight fight will be the first five-round fight in UFC history that is not a title fight or the main event.
Diaz (20-12 MMA, 18-11 UFC) has not competed or been booked since a November 2019 "BMF" title loss to Jorge Masvidal. One of the most popular fighters in UFC history, Diaz remained active on Twitter during his time away from the cage, taking shots at potential future opponents from time to time.
Shortly after news of his return broke, Diaz took to Twitter again. He confirmed his participation in UFC 262 and took a shot at headliners Michael Chandler and Charles Oliveira, who will compete for the vacant UFC lightweight championship.
Meanwhile, Edwards seeks a high-profile win to add to his resume after he was forced out of action for over a year thanks in large part to the coronavirus pandemic and then his battle with COVID-19. He was matched up with highly-touted prospect Khamzat Chimaev on three different occasions, but the fight was ultimately scrapped due to Chimaev's COVID-19 issues.
Edwards ended up facing Belal Muhammad as a late-notice replacement in March but an inadvertent eye poke to Muhammad in the second round forced a stop to the bout. The bout was then ruled a no contest.
Now Edwards moves on from that matchup while looking to build on an eight-fight win streak (excluding the no contest) with the hope that a win over Diaz will earn him a title shot.
Ali Abdelaziz thinks Nate Diaz will be the NO.1 contender
Kamaru Usman's manager @aliabdelaziz00 says Nate Diaz is "the No. 1 contender" if he beats Leon Edwards at #UFC262. 👀@MMAJunkieJohn's interview: https://t.co/aBrUJlNZ9W pic.twitter.com/UGxJhGJ9mh

— MMA Junkie (@MMAjunkie) April 13, 2021
"Listen, Kamaru is a champion. By the time this fight finishes, he's fought three times since he fought Covington. If Colby Covington thinks he's going to get a title shot after one win, he's crazy. We have got Leon Edwards on a nine-fight or eight-fight winning streak, if he beats Nate Diaz, he's the number one contender," Abdelaziz said to MMAJunkie. "If Nate Diaz beats Leon Edwards, he's going to be the number one contender, simple. Colby is nowhere near the number one contender. You can't just win over Woodley and get a title shot and the champ fought three times. He's the number six contender maybe. Colby Covington doesn't like to fight."
Although Nate Diaz is coming off a loss to Jorge Masvidal at UFC 244 for the BMF title and is just 3-3 in his last six, he is a big name. If he does end up beating Edwards, there is no question he would get a title shot due to him being a big money fight. Still, there are many important fights and deserving fighters in the welterweight that are much ahead in title contention than Nate.
Purchase the UFC merch here.
Click to Predict here.