On the heels of his departure from the UFC, Dutch mixed martial artist Alistair Overeem (47–19 MMA) has signed a multi year, multi fight deal with international kickboxing promotion GLORY.
The news about the deal was confirmed to ESPN by Overeem's management team, Ariel Helwani revealed via a post on Twitter. However, exact details about the contract are yet to be made public, as well as Overeem's GLORY debut is also yet to be confirmed.
"We are extremely excited for Alistair Overeem to join GLORY," said GLORY Kickboxing chairman Pierre Andurand following the announcement, "Alistair is one of the most well-rounded and decorated heavyweight fighters of all time."
"Today marks a historic day for the sport, and most importantly for GLORY fans, with upcoming exciting fights that everyone will want to see," Andurand further added.
Overeem returns to kickboxing after over a decade
Before he became a prominent figure in the world of mixed martial arts, "The Demolition Man" kicked off his career in combat sports at the age of 17 with kickboxing. On 15th November 1997, he made his professional kickboxing debut in a K-1 rules fight.
Later, the Dutchman would go onto become an icon in the Hong Kong based promotion, winning K-1 World Grand Prix Champion, and currently holds a 10-4 kickboxing record. His last kickboxing appearance dates back to 11th December 2010 when he defeated his compatriot Peter Aerts via 1st round TKO at the K-1 World Grand Prix 2010 Final in Tokyo.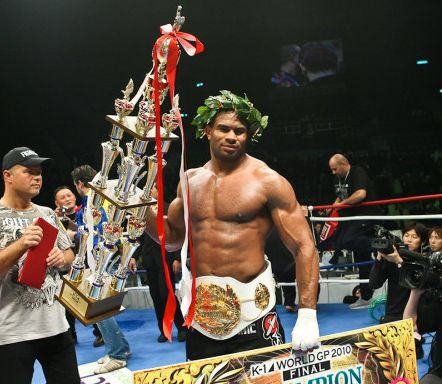 Alongside his kickboxing career, Overeem subsequently entered MMA and made his debut in 1999 at It's Showtime, a now defunct Dutch promotion. Growing as a mixed martial artist, Overeem joined Strikeforce as well as DREAM, and would become heavyweight titleholder in both promotions, becoming the first fighter to clinch titles in both kickboxing and MMA.
Overeem joined UFC in 2011 and had his first appearance in the Octagon against Brock Lesnar at UFC 141, where he defeated the former WWE superstar via TKO. At UFC 203, he challenged Stipe Miocic for the UFC Heavyweight Championship but was knocked out in the first round.
Overeem made his final appearance in the UFC against Alexander Volkov at UFC Fight Night 184 on 6th February, losing the via 2nd round TKO. He was released from the UFC on 3rd March.
How do you think Overeem will perform after returning to kickboxing with GLORY? Let us know in the comments below.
Purchase the UFC merch here.
Click to Predict here.
Download the Fanatics Fantasy MMA app here.