The newly crowned UFC women's bantamweight champion Julianna Pena's coach has stated that the former UFC women's champion Amanda Nunes had underestimated Pena in their title fight. At UFC 269 Amanda Nunes was set to defend her title against top contender Julianna Pena. The fight didn't go Nunes's way as she got dominated by Pena in the standup battle. Nunes is known for her punching power but she couldn't do much against Pena who was determined and walked through all the offerings of Nunes. Pena landed amazing combinations on Nunes and picked her apart with jabs. Nunes was hurt and the fight went to the ground where Pena took her back and submitted Nunes via rear-naked choke.
Now Julianna Pena's coach has shared his thoughts on the fight. According to her coach, Amanda Nunes wasn't prepared for Julianna Pena and she underestimated Pena before the fight.
"I do think she underestimated [Peña]," said Claudio, a black belt under Rickson Gracie. "Same thing [that happened with] Anderson [Silva]. I love Anderson, I respect him a lot, his style is to showboat, but unfortunately [Chris] Weidman touched his chin and we lost the fight. And I think that's normal. [Nunes] had no one left to beat, really. Who else was she supposed to beat? Julianna, and who else?"
"I don't think Amanda underestimated her to a point of not training," he continued. "I think she trained hard, she knew Julianna wasn't easy. If we do have a rematch, she will obviously [be motivated]. We poked the lioness. We'll respect her. It'll be complicated. If this rematch happens, it's the rematch of the century."
Luiz Claudio also talked about the matchup and how it was set by the UFC.
"Why was Amanda saying Julianna Pena didn't deserve it if she just fought someone who had the same [record]? What's the beef?" Claudio said. "Julianna said, 'Amanda is afraid of me because she lost to Cat [Zingano] and I'm not a good fight for her.' And it's a fact, right? She's not a good fight for Amanda."
"I've always spoken good things about Amanda and American Top Team," he continued. "I've never said, 'Oh, Amanda will lose,' because we knew it was going to be a war. But I've always said in every interview that Amanda … I think she was mad about the things Julianna said. It happens sometimes, to take things personal, and I think she was upset."
Luiz talked about the game plan they had against Nunes and how Julianna Pena implemented it perfectly.
"When she landed that first high [kick], I said, 'Wow, that was not a kick, that was a gunshot,'" Claudio said. "Everything we had trained — we knew she could kick, that she had a good front kick, and her high kick was absurd. … [But] when Julianna got kicked the first time, I was like, 'Sh*t, are we going to lose like that? So quick?"
"Everything we trained, the checks, she did nothing. The second kick landed and I said, 'We're losing this fight.' When Amanda took Julianna's back, she submits people from that position. I thought, 'Please God, we may lose, but let's at least put up a fight, five rounds.'"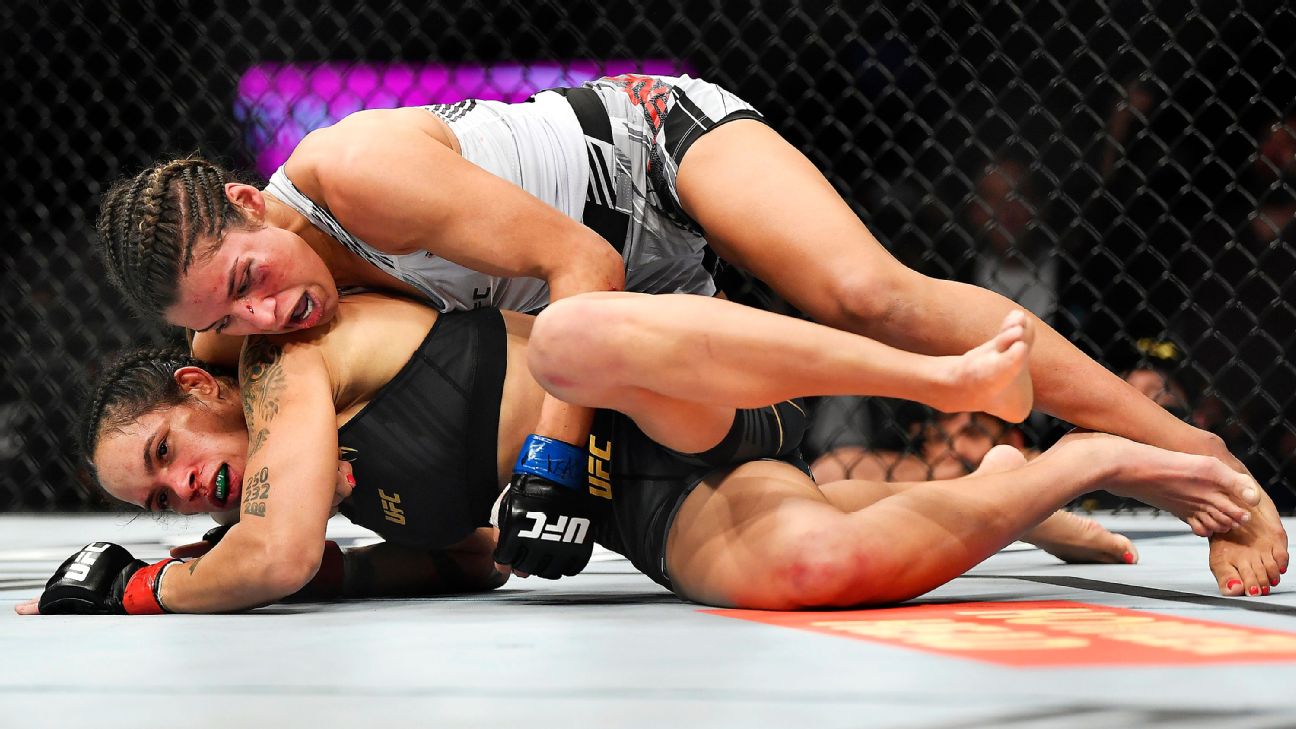 "When she took Amanda to the ground, I said, 'We won the fight,'" Claudio said. "When she took her back, I knew she would catch her. That choke she does, she doesn't need the hooks in. She's done that choke for a long time and we perfected it over time. When you put your chin down, she doesn't strangle you on the neck, you feel the jaw — it feels like it's going to break."
"I don't know if Amanda got tired or what. [Peña] hurts people from that position. I won't say what I don't know, but Julianna taps everyone from that position. I don't think Amanda quit. I think she really felt it, and every athlete knows sometimes you'll win and sometimes you'll lose."
HIGHLIGHTS:
Amanda Nunes underestimated Julianna Pena in their fight at UFC 269
Purchase the UFC merch here.
Click to Predict here