Former UFC champion Anthony Pettis will make his PFL debut against veteran mixed martial artist and professional boxer Clay Collard in the main event.
It didn't take long for former UFC champion Anthony Pettis to find a new fighting home. One day after he announced his intention to explore free agency following the end of his UFC contract, Pettis has signed a deal to join the PFL and participate in the promotion's upcoming 2021 season.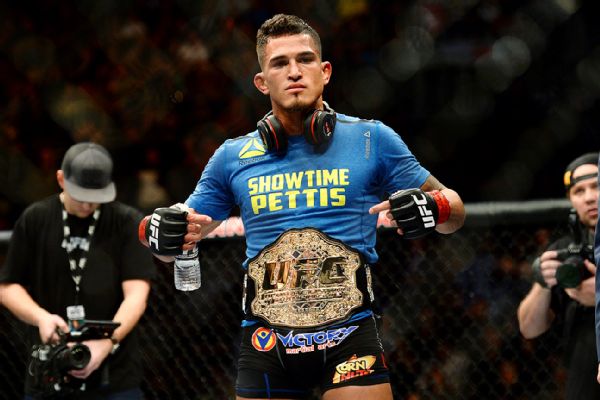 Pettis, the former UFC and WEC lightweight champion, will join the PFL for its 2021 season and will compete at 155 pounds. The PFL announced the news Wednesday shortly after promotional partner ESPN reported it. He fought out his UFC contract this past December with a unanimous decision victory over Alex Morono at UFC Fight Night 183. Pettis then signed a contract with PFL late last year to compete for the promotion's $1 million season prize. The move ended a nearly 10-year run in which Pettis fought exclusively in the UFC, where he held the 155-pound belt from 2013 to 2015.
Anthony Pettis will meet Clay Collard (18-8) in the main event of PFL 1, president Ray Sefo told ESPN. The fight will take place at a location still to be announced and will air on ESPN2.
Anthony (24-10) has won his past two fights. He won the WEC lightweight championship in the promotion's final event, WEC 53 in December 2010, in which his famous "Showtime kick" of Benson Henderson in the closing seconds sealed the deal on the scorecards in a close fight. In 2013, he submitted Henderson at UFC 164 in his hometown of Milwaukee to claim the UFC lightweight belt and lost it to Rafael dos Anjos in 2015. He struggled to regain his stride from there, fighting everywhere from featherweight to welterweight, but he ended his UFC run the winner of two straight.
Collard, 27, has one of the more interesting careers in all of the combat sports, as he also fought in the UFC in 2014 and 2015 but spent the past two years boxing professionally. He had six bouts in 2020, including four appearances under the Top Rank banner in Las Vegas.
In addition to the main event, two-time PFL lightweight champion Natan Schulte (20-3-1) will face former Bellator MMA title challenger Marcin Held (26-7) and two-time PFL featherweight champion Lance Palmer (22-3) will meet a former NCAA Division I wrestling champion in Bubba Jenkins (14-4).
PFL 1 on April 23 include:
Lightweights
Anthony Pettis vs. Clay Collard
Natan Schulte vs. Marcin Held
Olivier Aubin-Mercier vs. Joilton Lutterbach
Johnny Case vs. Loik Radzhabov
Akhmed Aliev vs. Mikhail Odintsov
Featherweights
Lance Palmer vs. Bubba Jenkins
Movlid Khaybulaev vs. Jason Soares
Brendan Loughnane vs. Sheymon Moraes
Sung Bin Jo vs. Tyler Diamond
Purchase the UFC merch here.
To bet on an MMA event click here.
Also Read:
Former UFC lightweight champion Anthony Pettis signs with PFL