Artem Lobov, a former UFC fighter and recently fighting for Bare Knuckle has announced that he is making a comeback to the MMA circuit after two-years.
Lobov (13-15-1 MMA) has signed a one-fight deal with Arena Fight Championship and is set to compete against Ylies Djiroun in December in France. News of Lobov's MMA return was first reported by The Mac Life.
Lobov's most recent MMA bout was in October of 2018 where he lost his fight via decision to Michael Johnson. The loss was Lobov's third in as many fights and he was subsequently released from the UFC.
Although Lobov has been absent from MMA, the 34-year-old fighter has competed in bare-knuckle boxing three times at BKFC. A fan favourite due to his fighting style and relationship with teammate Conor McGregor, Lobov hasn't competed in MMA since October 2018.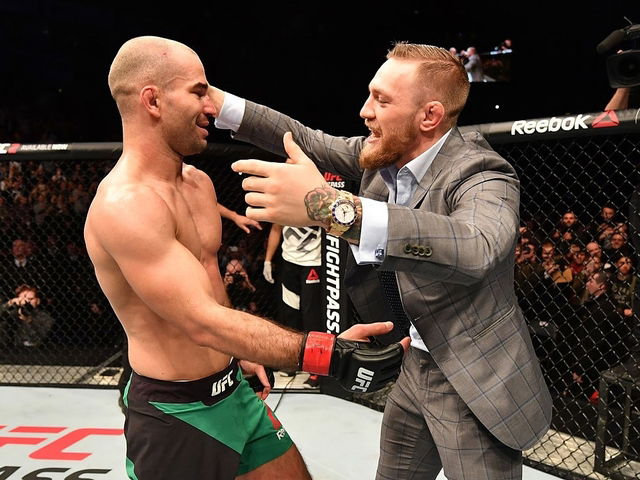 After leaving the UFC, he signed with Bare Knuckle FC and had a 2-1 record. He fought Jason Knight in his bare-knuckle boxing debut, winning the fight via unanimous decision. His most high-profile bare-knuckle boxing bout came against former boxing world champion Paulie Malignaggi in 2019.
Lobov survived the earlier onslaught from Malignaggi and kept coming forward in the later rounds. Thus, he ended up notching another unanimous nod from the judges. His last fight was a rematch against Knight, which he won by a fifth and final round knockout.
Artem Lobov was also a key figure in building up the rivalry between Khabib Nurmagomedov and Conor McGregor. It was after Khabib had a physical confrontation with Lobov that McGregor decided to stand up for his friend and ended up throwing a dolly on a bus filled with UFC fighters.
Artem Lobov was talking to a few promotions 
"To be honest I was talking to a few promotions and I was talking about another bare-knuckle fight. I had some boxing offers, and I was talking to KSW the promotion in Poland," Lobov told BJPENN.com in March. "It was getting close and we were about to finalize the fights then the virus hit and everything is on hold. Now, I just have to wait and see what happens. But, I was close to getting a fight done with KSW, so I want to fight ASAP."
In Djiroun as an opponent, Lobov will take on a fighter with a 17-6 overall record. The Frenchman is riding a decision win over Maxim Pugachev. Though Lobov is an average MMA fighter and has not so good looking record still he is often regarded as an MMA 'GOAT' jokingly amongst the MMA community due to his dynamic personality. Artem Lobov is now preparing for his new run in the MMA world and hopes to make a statement.
Purchase the UFC merch here.
To bet on MMA event click here and to bet on other sports, click here.