Ben Askren, the former ONE FC, and Bellator welterweight champion isn't completely sold on rising welterweight prospect Khamzat Chimaev and that he won't be able to beat Meerschaert easily.
Chimaev, the unbeaten All-Stars Gym prospect, burst onto the UFC scene in July when he ran through two opponents in just ten-days. Chimaev (8-0 MMA, 2-0 UFC) has looked unbeatable in his stoppage wins over John Phillips and Rhys McKee.
Khamzat has had the UFC promotional train fixed to him since his arrival in the promotion, and perhaps controversially, now has two fights booked ahead of him at once. First up, this Saturday night against Gerald Meerschaert, and then his second bout against Demian Maia in about a month.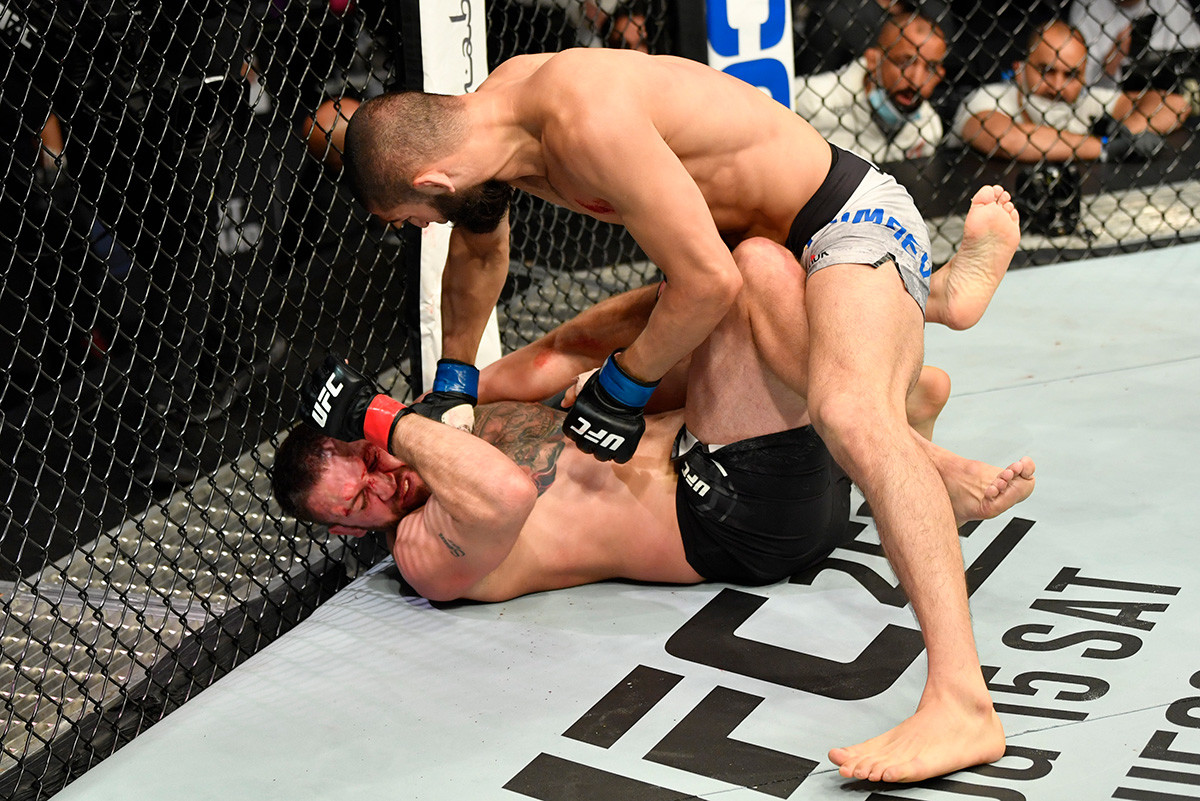 Since those back to back victories, he's been the talk of the MMA world and is now gearing up for a Saturday night middleweight fight with Askren's training partner Gerald Meerschaert.
For Askren, who's friends with Meerschaert, he enjoys the UFC's decision to double book their up-and-comer. He's just not necessarily convinced Chimaev can follow through with the company plan just yet. Askren thinks that Khamzat hasn't faced a hard level of completion in the UFC and his opponent this time is a very tough guy to beat.
Ben Askren talks about Khamzat Chimaev: "I don't know what to expect out of Chimaev"
While talking to submission radio Ben Askren shared his thoughts on Khamzat Chimaev.
"The hard part about it is, we saw him twice in the UFC," Askren said of Chimaev on Submission Radio. "But the first guy he fought, John Phillips, he's 1-4 in the UFC. So, he was very unsuccessful. And the second guy he fought was a new addition to the UFC. So, he has not won a UFC fight. And so it's like, ok, well, he smashed these guys, there's no doubt about that, but are these guys Gerald Meerschaert level competition? And the answer to that is no, they're not. So, sometimes people can look great against guys who aren't as good, and then when they step into a little competition, it's a lot harder. So, I don't know what to expect out of Chimaev. I know Gerald is really good, he's really tough. But yeah, I don't know about Chimaev yet."
"I think one of the things is, Gerald's hard to submit. He's really hard to control. He never wrestled, but fairly solid wrestling. So, one of the things I can see happening for sure, is Chimaev comes out like a ball of fire and isn't able to do the damage, isn't able to get the submissions, and then Gerald starts taking over as the fight moves on. I can see that happening one hundred percent."
Meerschaert (31-13 MMA, 6-5 UFC) is no white belt on the mat. He has 23 submission wins to his name, including five in the UFC. According to Ben Askren, Meerschaert is an excellent test for the newcomer Khamzat Chiamev, and could quite probably pull out the victory and a big upset.
Chimaev is currently double booked, which Meerschaert greatly feels disrespected by. After that Chimaev already has his next fight set against former two-time UFC title challenger Demian Maia. While Meerschaert has admitted he finds that double-booking discourteous, Askren sees an opening for his training partner to take Chimaev's all hype and convert it into his own.
"I told Gerald it's great," Askren said. "It adds to the story, and you can steal somebody else's hype. I mean, that's for sure, right? So, there's this hype behind Chimaev. Steal his hype. Make it yours. And, you know, Gerald probably can't make welterweight, which is the Maia fight. So, just tell Maia to bump up or something. I think that's the move for sure."
What do you guys think of this fight between Chimaev and Meerschaert?
Purchase the UFC merch here.
To bet on MMA event click here and to bet on other sports, click here.
ALSO READ: