Former UFC fighter and former ONE Championship and Bellator welterweight champion Ben Askren has accepted the challenge to fight Youtuber and celebrity boxer, Jake Paul.
Youtube star Jake Paul has expressed interest in fighting former UFC featherweight and lightweight champion Conor McGregor, former welterweight title challenger Jorge Masvidal and former ONE Championship and Bellator welterweight champion Ben Askren.
Jake Paul returns this weekend on the undercard of Mike Tyson vs Roy Jones Jr at the Staples Center in Las Vegas against NBA star Nate Robinson. Jake Paul made his professional debut against Ali Eson Gib earlier this year at the Meridian Island Garden in Miami. In that fight, he won via TKO in Round 1.
Ahead of his fight, Jake Paul stated that he is ready to take on the likes of Ben Askren, Masvidal, and McGregor.
That level of competition is harder than what these MMA guys are bringing. These MMA guys have to go into the gym and have to focus on elbows and kicks and jiu-jitsu and takedowns and takedown defense and all this extra stuff," Paul said to Barstool Sports. "I'm only boxing. So, when they come into the boxing ring, my skillset is higher than theirs right now. I'm ready for these guys right now. So, Ben Askren, Masvidal, the McGregor's they're going to get the smoke and people will see. I have to prove myself. I'm talking a lot. I know I'm talking a lot but it's because I'm confident.
"So, November 28 it will be the first steppingstone of 'wow he beat an actual athlete.' Then after that, once I take down a professional MMA fighter," Paul continued. "People will be like, I think that's when people will turn their heads and be like 'ok, this kid wasn't just saying sh*t to blow smoke."
Ben Askren Sends a Stern Warning to Jake Paul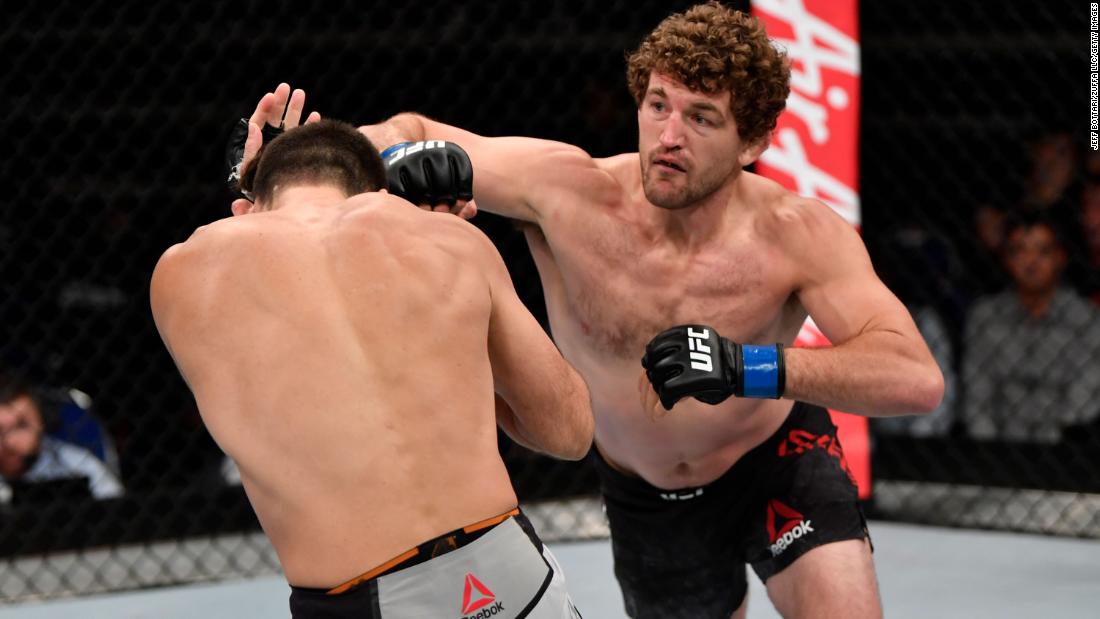 Speaking on MMA Fighting's What the Heck podcast, Askren responded to this challenge from Paul. While Askren, a former Olympic wrestler, concedes that boxing has never been his strength, he's confident he could beat Paul in that arena.
"Jake Paul wants to box me," Askren said. "I don't know, I'm not a boxer but I could beat up a bum YouTube celebrity.
"It would be something to do because you could say I did it," Askren added. "I don't gotta go box f*ckin Roy Jones and get my ass whooped or nothing. But I could box some YouTube bum and get paid for it? What a tremendous livelihood."
Ben Askren responds: https://t.co/TMYaOrUi4S pic.twitter.com/ISFvVlM0qf

— Spinnin Backfist (@SpinninBackfist) November 25, 2020
Though not known for his striking, Askren is a former Bellator and ONE welterweight champion. Before transitioning to MMA, Askren was a highly decorated NCAA wrestler and member of USA Wrestling. He's also an accomplished disc golf player. In 2019 Askren brought his 18-0 (1 NC) MMA record over to the UFC, in what was described as a trade involving former UFC flyweight champion Demetrious Johnson going to ONE.
His first UFC bout was against former UFC welterweight champ Robbie Lawler. Askren won that bout, which included some controversy, via technical submission. After this Askren was matched up with Jorge Masvidal. Askren lost after being KO'd by a flying knee at the five-second mark. That ending would become one of the highlights of the year (in all sports) for 2019. Three months after that loss Askren was choked out by Demian Maia. He announced his retirement from the sport shortly after.
What do you guys think of Jake Paul's callout?
Purchase the UFC merch here.
To bet on an MMA event click here.
ALSO READ:
Youtube star Jake Paul calls out Conor McGregor, Jorge Masvidal, and Ben Askren