The UFC lightweight throne, which the legendary Khabib Nurmagomedov left vacant last year, was seeking a rightful successor and superseding many favourites ahead of him, it was Charles Oliveira who proved his worth and became the next and reigning UFC lightweight champion. Khabib went down in mixed martial arts history as possibly the most dominant lightweight of all time and while there are differences of opinions as if there was any fighter who could have actually made the Russian bite the dust, former Lightweight and Welterweight titleholder BJ Penn believes its Oliveira who could have given Khabib his first taste of defeat.
He's just super impressive: BJ Penn believes Charles Oliviera can break his and Khabib's lightweight title defense record
After spending a decade in the promotion, Charles Oliveira finally had his first shot at the vacant Lightweight title at UFC 262 on 15th May against Michael Chandler. While many considered Chandler, the former three-time Bellator Lightweight Champion for Khabib's successor as the next name on the UFC Lightweight throne, the glory went to "Do Bronx" who clinched a 2nd round TKO victory at the Toyota Center.
"Do Bronx", who had secured wins over Tony Ferguson and Kevin Lee in the past, secured his second win of 2021, his first title defense against the tremendously in-form Dustin Poirier at UFC 269 last month, submitting Poirier in the third round with a rear naked choke.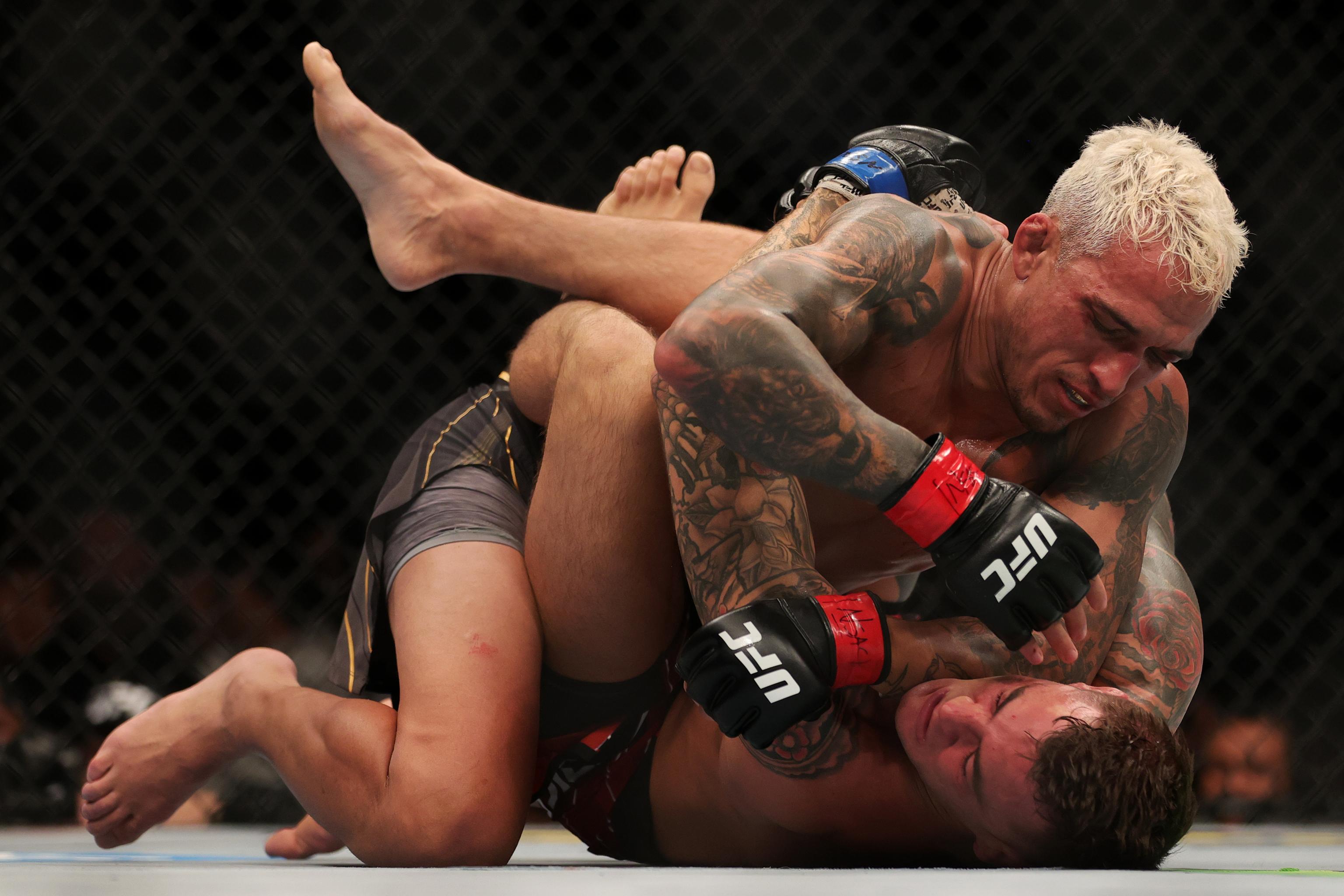 BJ Penn, who himself is a fan of Oliveira, told Chris Taylor of BJPENN.com that he believes the Brazilian superstar is possibly the only fighter who could have overpowered Khabib, someone who had shown utter dominance over all of his opponents inside the Octagon.
"I think he is unbelievable," Penn shed praise over Oliveira, "One of the very best for sure. He's a true finisher and extremely well rounded in all facets of the game."
The record for most lightweight title defenses in the UFC is currently held by both Penn and Khabib at 3 and while Oliveria secured his first against Poirier last month, the Hawaiian believes that Oliveira can easily break that record.
"Absolutely. If anyone out there could do it my money is on Charles, for sure," 'The Prodigy' went on, "I remember when he submitted Kevin Lee. Right then and there I was like 'this is the one guy who could beat Khabib'. Then he went on to dominate Tony Ferguson, who is such a good fighter in his own right, yeah, he's just super impressive."
"Where are his holes? You take him down and you're in a world of trouble. On the feet he can knock you out cold. I am not guaranteeing he would have beat Khabib, but I certainly wouldn't have bet against him either," Penn added.
Highlights:
Former UFC Lightweight and Welterweight champion BJ Penn believes Charles Oliviera could have overpowered Khabib Nurmagomedov
Oliveria, the reigning Lightweight champion marked his first title defense over Dustin Poirier at UFC 269
Penn says Oliveira can break the Lightweight title defense record held by Khabib and himself
Do you agree with BJ Penn? Let us know in the comments.
Purchase the UFC merch here.
Click to Predict here