Calvin Kattar has issued a classy post-fight statement after a tough loss to former UFC featherweight champion Max Holloway who showed his best performance till date.
Calvin Kattar displayed an incredible amount of guts and fortitude that allowed him to survive more than 400 strikes from Max Holloway over five rounds in the UFC Fight Island 7 main event. Unfortunately, that kind of durability usually comes at a cost to the body and that's why Kattar is potentially looking at a lengthy layoff following his unanimous decision loss. Holloway dominated Kattar via unanimous decision (50-43, 50-43, 50-42) in one of the most one-sided main events in UFC history.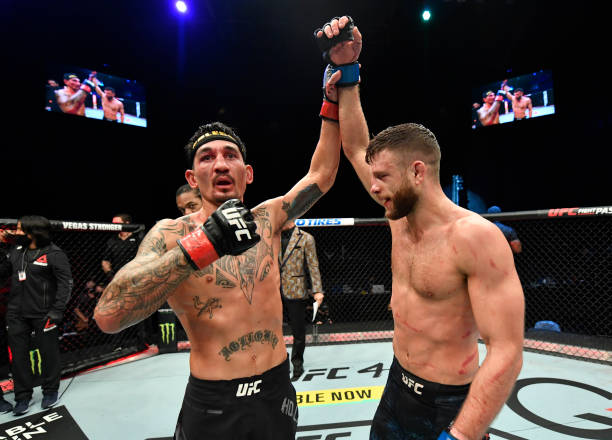 On Monday, the medical suspensions from UFC Fight Island 7 were released with Kattar looking at a possible six-month layoff as a result of the injuries suffered during the 25-minute battle with Holloway.
Suffering a broken nose as well as multiple lacerations to his forehead due to a barrage of slicing step-in elbows from the record-setting Holloway, UFC president, Dana White informed media at last weekend's post-fight press conference, how Kattar had more or less shrugged off and laughed at his concern as he urged him to make his way to the hospital as he required transportation. Dropping every round against the shining Holloway, Kattar himself set a record for most significant strikes landed in his Octagon stint, however, the former's volume, pace, and pressure proved all too difficult a path to traverse for the Calvin.
Calvin Kattar reacts to his loss
https://www.instagram.com/p/CKMax6zBBI9/?utm_source=ig_embed
Calvin tonight released a statement on his official Instagram account, as classy as ever, praising Holloway's career-best performance, before reassuring his followers that there's no preventing the resurgence of someone who doesn't give in.
"Success in life comes when you simply refuse to give up," Kattar wrote. "With goals so strong with obstacles, that failure and loss only act as motivation. Props to Max (Holloway) on a hell of a fight he deserves all the praise. Thankful for my team's commitment for this fight. On to the next. There is no stopping the man who doesn't quit."
With this loss to Max Holloway, Calvin is now 22-5 as a pro mixed martial artist. Before UFC on ABC 1, he was riding back-to-back victories over Dan Ige and Jeremy Stephens, a decision and a second-round knockout respectively. Those wins were preceded by a competitive decision loss to the highly-regarded Zabit Magomedsharipov.
Holloway, who turned 29 last month, arguably locked up another crack at the 145-pound title after current champion Alexander Volkanovski meets Brian Ortega in March. But if something were to happen to McGregor or Poirier, as well as UFC 257's co-main event between Hooker and Chandler, Holloway would be a phenomenal option to fill in.
Purchase the UFC merch here.
To bet on an MMA event click here.
Also Read:
Max Holloway is ready to serve as a backup fighter at UFC 257