UFC Lightweight champion Charles Oliveira has expressed his interest in fighting former two-division champion, Conor McGregor. Charles Oliveira has accepted the challenge issued by Conor and now Charles is also rooting for the fight to happen and take place in his hometown in Brazil at UFC 274. After Charles Oliveira defended his lightweight title against Dustin Poirier at UFC 269, Conor McGregor made his callout and expressed his desire to fight the champ. Charles also acknowledged that call-out and agreed to the matchup.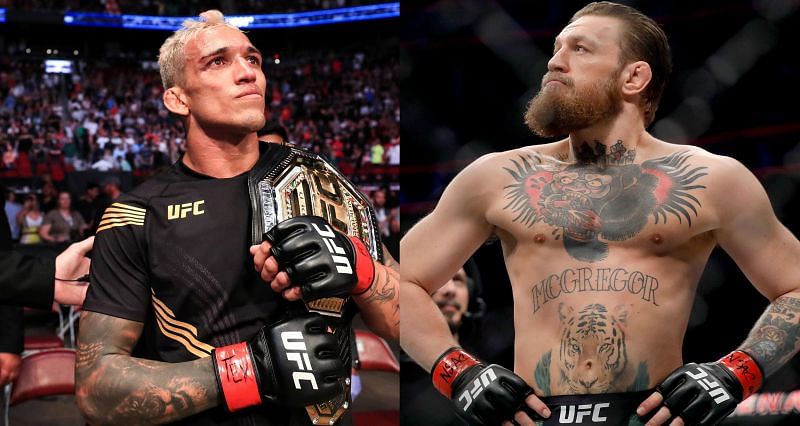 Charles Oliveira won the vacant UFC lightweight championship after defeating Michael Chandler at UFC 262. His first title defense came against the no.1 lightweight contender Dustin Poirier. He submitted Poirier in the third round of the fight. After the fight, former champ Conor McGregor made a call out.
"So what date am I fighting Oliveira?" he tweeted.
Charles Oliveira is open to fighting Conor McGregor
Charles has seemingly accepted the challenge of Conor and now has also laid out some dates to fight him. Charles wants to make this fight a Brazil vs Ireland matchup. The last time Conor fought a Brazilian guy was at UFC 194 when he fought Jose Aldo and knocked him out in mere 13 seconds.
"May would be a wonderful date," Oliveira said to Sherdog. "Conor challenged me asking a date, and tweeted Ireland vs. Brazil 2. Not only him, but also myself and all the world wants to see that fight. So let's make it happen. I'm waiting for him in May. It may be in welterweight, lightweight, or middleweight, with my title on the line or not. Just choose and I'll be ready."
Oliveira also stated that he is also ready to fight the next guy in line that is Justin Gaethje.
"Gaethje was knocked out by Poirier, who I just submitted. He was almost knocked out by Chandler, who I beat via TKO, but I'm a UFC employee," Oliveira said. "If they choose that I should fight Gaethje next, I'll be ready too."
"I'm really happy and moved by that and everything that is going on in my life lately," Oliveira said. "UFC champion in one of the most difficult divisions. I set records for most submissions and bonuses, [and rank] fifth in the UFC pound-for-pound rankings. To finish that amazing year being chosen as 'Fighter of the Year' by one of the most respected outlets in the world, I'm so happy and moved that I don't know what to talk about. I´m just thankful to God."
HIGHLIGHTS:
Charles Oliveira wants to fight Conor McGregor in Brazil
Purchase the UFC merch here.
Click to Predict here