Former UFC middleweight champion Chris Weidman has apologized to Anderson Silva for breaking his leg in 2013, as Weidman suffered a similar injury recently.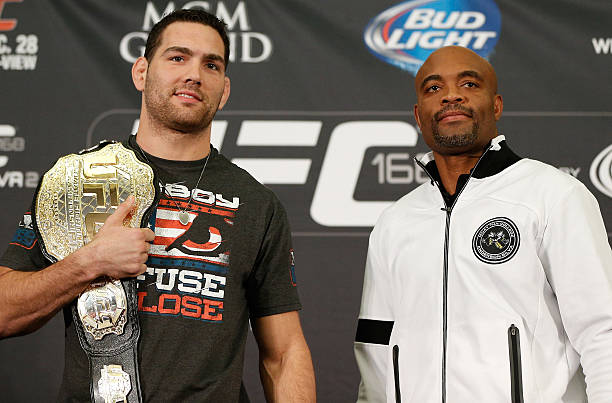 Former UFC Middleweight champion Chris Weidman is an amazing fighter and more than that he is a really kind human being. Recently in an interview, he presented an apology to MMA legend Anderson Silva for the injury that happened to Silva in his fight against Weidman in 2013.
Chris fought Anderson Silva for the UFC Middleweight title in UFC 162 in 2013. Weidman knocked out Silva early in the second round with another "Knockout of the Night" performance to become the new UFC Middleweight Champion. The loss was Silva's first in the UFC and ended his seven-year, 17-fight undefeated streak. The KO victory gave Weidman the tag of being the first person to have ever knocked out Silva in a mixed martial arts match.
They both fought in an immediate rematch. At UFC 168 on December 28, 2013, Weidman made his first title defense against Anderson Silva. At the start of the second round, Silva attacked Weidman with a series of kicks including a heavy inside low kick which Weidman checked with his left knee. This check broke Silva's left shin in half. He immediately fell to the mat, forcing referee Herb Dean to stop the fight.
As the saying goes 'Life comes back in circle', it seemingly did for Chris. He faced Uriah Hall at UFC 261 in a rematch after their first fight happened in 2010. In the very first moment of the fight, Chris threw a strong heavy leg kick which Hall checked which snapped Chris's leg in half. The moment was identical to what happened to Silva. Weidman immediately fell to the mat, causing referee Herb Dean to stop the fight and declare Hall the winner via TKO. Coincidently even the referee was Herb Dean during both Silva and Weidman Leg injury.
Chris Weidman apologizes to Anderson Silva
Two months after suffering that horrific injury Chris was seen walking and even started light boxing sparring in his gym. In a recent interview, he was talking to Anderson Silva about their injury and how they recovered, Chris took a moment and apologized to Silva for the injury he suffered during their fight.
Chris Weidman apologized during a powerful conversation with Anderson Silva, who was the first guest on Weidman's new show "Won't Back Down."

(via @chrisweidman) pic.twitter.com/X44Vyc9Yr4

— ESPN MMA (@espnmma) June 18, 2021
"The first thing… Really the first thing that popped into my head when I broke my leg, as soon as I hit the ground. Well actually, as soon as I looked at my leg and I seen it flop around. The first thing that went in my head was I cannot believe it. I thought about you, I thought this is Anderson Silva. My leg looked like Anderson Silva's. Like what the hell. There's no way that is my leg right now. And then it is like, all of a sudden the pain is coming in."
"And I remember when it happened with you, I didn't know your leg broke as soon as it happened. I thought you were just in pain. I circle around and I remember hearing this screaming. Like someone was being murdered. And then I came over and I see you holding your leg and I was just, I could not believe it. And as time went on, I tried to get in touch with you that week because I felt terrible about it (initially celebrating the win at UFC 168). But as time went on, you kind of forget. You know, and I feel terrible now because now I understand the pain that you went through. All the trials and tribulations you went through and it just makes me empathize with you so much more. And to be honest, I've never even said this out loud but it has been on my mind really since it happened. I want to apologize to you."
Purchase the UFC merch here.
Click to Predict here.
Download the Fanatics Fantasy MMA app here.