Three-division boxing champion Claressa Shields is now training with former UFC champs Jon Jones and Holly Holms at Jackson Wink MMA.
ESPN's top pound-for-pound women's boxer signed with PFL to compete in MMA earlier this week. Claressa Shields has not wasted any time jumping into mixed martial arts training. Boxing champion Shields is working on her MMA skills with former UFC Light Heavyweight Champion Jon Jones at Jackson Wink MMA.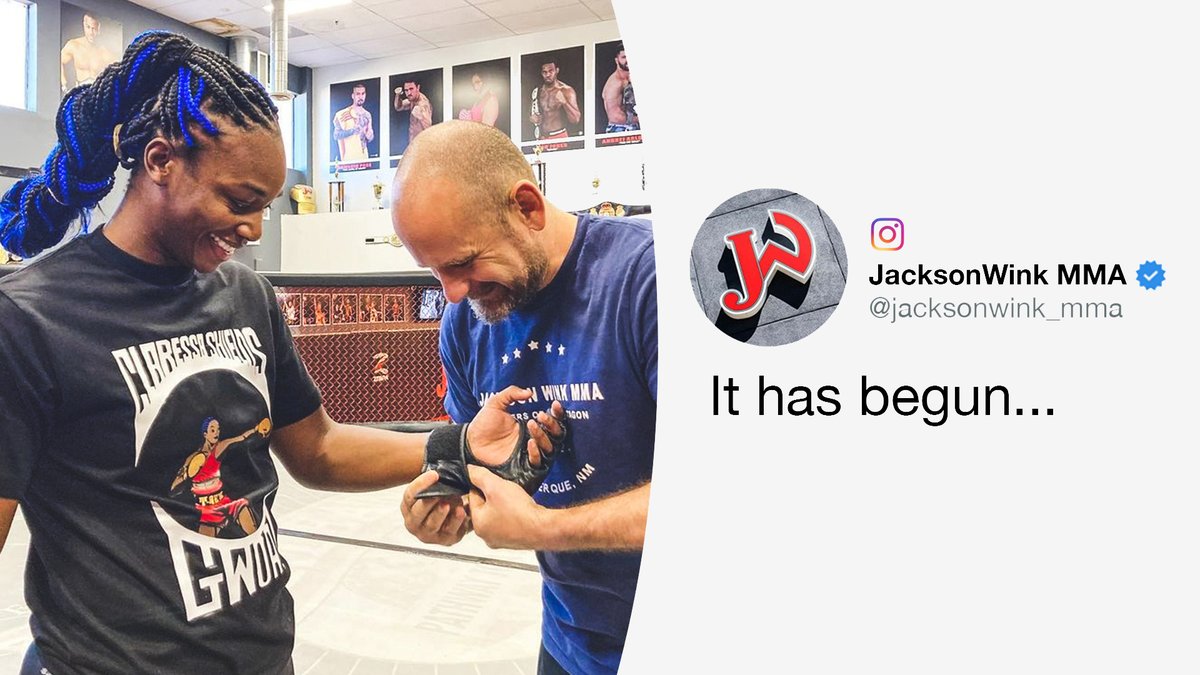 Greg Jackson, the legendary JacksonWink MMA co-head coach who has mentored the likes of Jones and Georges St-Pierre, said Shields will be with the team for a two-week trial period to see if she likes it. As far as raw ability, Jackson raved about the 5-foot-10, 165-pound Shields' potential in MMA. He said Shields is one of the top five athletes with the most upside whom he has coached. He also said it was "a little crazy" how she picked things up so quickly despite having no MMA experience.
OK this is pretty exciting 🔥 pic.twitter.com/wKX227LstJ

— BONY (@JonnyBones) December 5, 2020
Athletic, learns fast and has a crazy work ethic, Clarissa could be a problem 🔥 pic.twitter.com/WABMPTkFlk

— BONY (@JonnyBones) December 6, 2020
"If they bring her upright and she goes step by step and doesn't rush things, the sky is the limit," Jackson told ESPN. "The sky is the limit. She's so good."
On her first day of training, Jackson said, Shields already nailed the art of the head kick, landing perfectly over and over for an hour. Shields, a former two-time Olympic boxing gold medalist, is known for her punching power and athleticism in boxing. What will set her apart won't just be her athletic gifts, though, Jackson said. It'll be her mind.
"Not only is she brilliantly smart, that is one of the strongest women I've ever met in my life, and I've met some strong women," Jackson said. "Holy cow is she physically strong. Just an insanely talented person. … There are plenty of athletic people that aren't as sharp as she is. She's intelligent."
Jackson and co-head coach Mike Winkeljohn are no strangers to turning women's boxing champions into excellent MMA fighters. JacksonWink MMA is the only gym Holly Holm has called home. And Holm has been a three-division boxing champion as well as the UFC women's bantamweight champ after knocking out Ronda Rousey in 2015.
Claressa Shields, 25, is 10-0 as a professional boxer. She holds the current record for being the youngest fighter to win titles in two and three weight classes. While she has yet to make her MMA debut in the PFL cage, that debut will come in 2021, when she partakes in two lightweight fights outside of the PFL's seasonal format. All signs point to her gunning for the championship in the 2022 PFL season. Shields isn't completely done with boxing. She plans on competing in both sports.
"I'm still gonna box and do MMA at the same time," Shields said. "I could box in my sleep. That's not something that I have to worry about.
"I'm gonna spend a lot of time learning and just growing in MMA, but I'm still gonna accept my mandatory challenges in boxing. I'm gonna fight those girls. I'm gonna beat them, but I plan on having maybe two or three boxing matches and two to three MMA fights next year."
"I was telling MMA fans, I'm not just a talker," Shields told ESPN's Brett Okamoto earlier this week. "I know that's what they are used to, all these clout chasers out there. I'm like, the real deal. Anything I say I can do, I put my best foot forward and I do it.
"I'm not coming to MMA to lose. The next time they see me in the cage, I'm gonna have muscles coming out my damn neck [from] training so hard to win."
Purchase the UFC merch here.
To bet on an MMA event click here.
ALSO READ:
Dana White says UFC is about to cut 60 fighters from it's roster