UFC 268 is going to be headlined by a highly anticipated rematch between the no.1 contender Colby Covington and UFC welterweight champion Kamaru Usman. The duo previously met at UFC 245 where Usman defeated Colby in the last round of the fight via TKO. Since then Colby's only goal is to avenge his loss against the champion. Now the duo will get the chance to settle their rivalry at UFC 268. The event will take place on November 6, 2021, at Madison Square Garden in New York City, New York, United States. The main card airs on pay-per-view following prelims on ESPN+ and early prelims on ESPN+.
Colby Covington and Kamaru Usman over the years have become arch-rivals. The bad blood between them is very real. Now ahead of their rematch fight at UFC 258, Colby Covington has stated that he is going to put the champion Usman to sleep in their rematch. In the first episode of UFC embedded, Colby was revealing his cruel intentions for Usman.
"We are in NYC about to get that belt. What's up baby you can't stop us," Covington said on the first episode of UFC embedded. "We just landed in New York City from the great state of Florida and the great city of the 305, Miami. We are out here to come get a UFC world title. What's driving me is revenge. He doesn't want to be here. If it wasn't for the UFC forcing his hand telling him 'hey if you don't fight Colby we'll strip you and move on,' he wouldn't be here. He was looking for any way to avoid fighting me. It's a great feeling for this to be in New York City. They say the city never sleeps but hopefully, they'll make an exception Saturday night because I'm putting Marty to sleep in Madison Square Garden."
Colby Covington is excited about his fight against Usman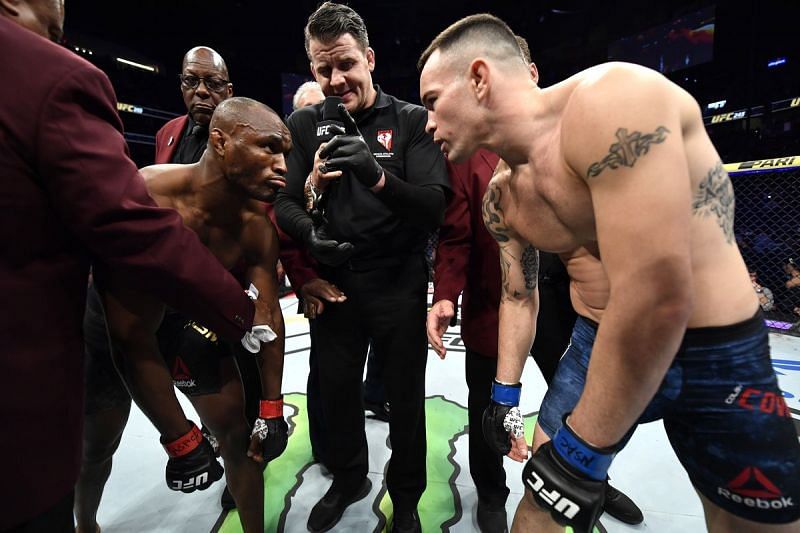 Speaking to TMZ Sports ahead of UFC 268, Covington showed his excitement for UFC 268 and stated that he feels just "like a little kid before Christmas."
"Man, I feel like a little kid before Christmas. I'm so excited I finally got what I've been begging for and what I earned. Most people want to say that this fight wasn't competitive the first time we fought. Man, I beat him multiple rounds. He had to take multiple fouls and multiple timeouts. I kicked him in the liver and they called it a nut shot. I had him on the wobbly street with the high kick and he's faking the eye poke on the right eye when it barely grazed his left eye so we know he's a terrible actor," Covington said.
HIGHLIGHTS:
Colby Covington plans to KO Usman
Colby Covington is excited for his title fight at UFC 268
Purchase the UFC merch here.
Click to Predict here.