Former Interim welterweight champion Colby Covington has made a bold statement saying that if he would ever fight George St-Pierre, it would be an easy fight for him.
If anyone has got a perfect nickname then it's Colby 'Chaos' Covington. He is known for his trash talk and bold statements that he could make about anyone. Though most of the time he goes too far sometimes he also backs his statements with amazing performances in the octagon. At this moment he has no fight lined up so it was obvious that he was going to call out other fighters and make some headlines for himself.
Colby Covington talks about a fight with GSP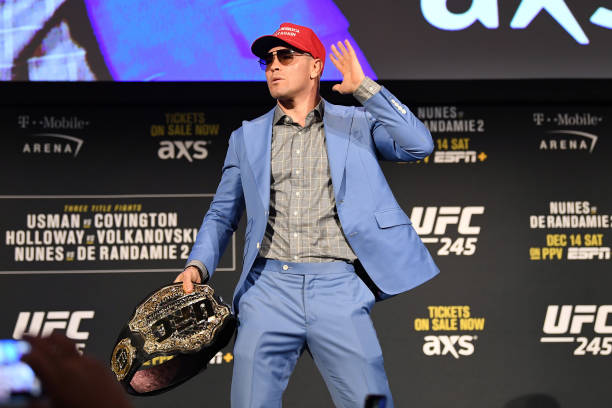 In a recent interview, Colby made some very bold statements regarding the best welterweight to ever compete and arguably one the greatest mixed martial artists ever. He said that if he would fight George St-Pierre it would be a very easy fight for him eventually he would be able to beat him easily.
Speaking to the MMA Roasted Podcast, Covington said that GSP match up is pretty easy and GSP's game is not that good as people think he is and could be defeated easily by someone like Colby.
"I don't think I could beat Georges St-Pierre. I know I'd beat St-Pierre. He was able to take a lot of guys down and hold them down and ground and pound. He's not taking me down. My cardio is completely different. I've never been taken down in the UFC Octagon, so he's not going to be the first," Covington said (via MMAWeekly.com).
"Georges St-Pierre, his striking was very basic, very kindergarten. He didn't have a lot of tricks. He just had that really good jab, but that's pretty easy to counter if you're moving your head and using footwork. I think Georges St-Pierre would have been a very, extremely easy fight for me."
Colby Covington is definitely one of the best welterweights in the world at this moment. But to compare himself with someone like GSP who had dominated the entire division for many years and walked out from the sport while being at the top of it is a bit absurd. GSP retired with a 26-2 record. He walked away from the welterweight division in 2013 but came back in 2017 and fought Michael Bisping for the middleweight championship and eventually defeated him to become a two-division champion. While Colby Covington is yet to win his undisputed title, he got the chance to fight for the title against Kamaru Usman but lost the fight via fifth-round TKO.
What do you guys think of these statements by Colby Covington?
Purchase the UFC merch here.
Click to Predict here.
Download the Fanatics Fantasy MMA app here.