UFC superstar Conor Mcgregor and celebrity rapper Machine Gun Kelly got into a serious altercation at the MTV Video Music Awards on Sunday in New York. The two were about to get close enough to get into a physical fight but before that could happen they were separated by the security at the event. If the duo had got into a fight it would have ended in the worst-case scenario for Machine Gun as even if Conor Mcgregor was walking with a cane he would have had created havoc at the event but fortunately, the situation was handled very well by the security.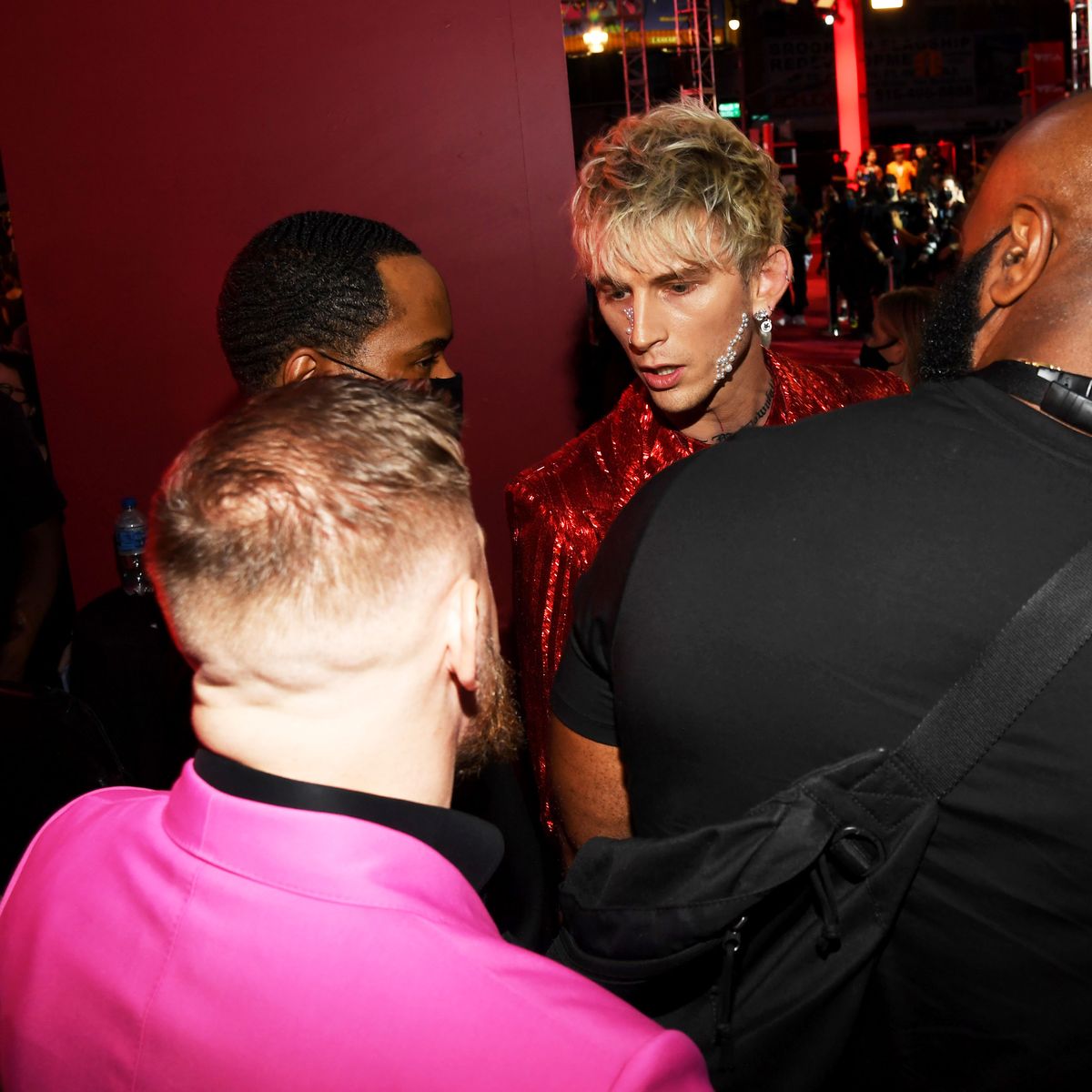 According to the reports, McGregor approached "MGK" at the award ceremony at Barclays Center in Brooklyn, N.Y., to ask for a photograph. Machine Gun then pushed Conor which spilled his drink and also stumbled backward as he was walking using his cane. Conor recently went through serious surgery after he broke his foot at UFC 264 in his fight against Dustin Poirier. The furious Conor then went after Kelly but was stopped by the security.
Conor never stops once he losses his temper. He then threw his remaining drink on Machine Gun and Megan Fox. The incident caught everyone's attention and everyone started uploading the incident video on the internet.
Why is Conor trying to fight Machine Gun Kelly at the VMA awards. 😂😂😂😂 pic.twitter.com/MoN9qa9guU

— Jason Williams (@jasoneg33) September 13, 2021
Things seemed to get a bit heated on tonight's red carpet. Machine Gun Kelly (MGK) and Connor Mcgregor👀 #VMAs pic.twitter.com/WNNZwqSX0y

— Rap Galore Official (@RapGalore) September 12, 2021
Conor McGregor throws a drink at MGK on the red carpet (via ig:laurademytrk) pic.twitter.com/H0naCNbMta

— Barstool Sports (@barstoolsports) September 13, 2021
Conor came to the event with his longtime girlfriend Dee Devlin.
A spokesperson for Conor issued a statement to MMA Fighting following the incident at the Barclays Center in New York.
"Conor McGregor did not ask anyone for a picture, nor did he instigate this incident," McGregor's spokesperson said. "He does not know Machine Gun Kelly, outside of the fact that he attended Conor's fight this past July."
Right after the event Conor himself addressed the event and explained his side of the story, denying all the previous stories stated by the media.
Conor McGregor is throwing shade at Machine Gun Kelly. 😬 #VMAs https://t.co/FJ7v0Kowr4 pic.twitter.com/vtC7ca3oeY

— Entertainment Tonight (@etnow) September 13, 2021
"Absolutely nothing (happened)," Conor said. "I don't know. I just showed up and I don't know. I don't even know the guy to be honest with you. Just rumors. Nothing happened with me. I only fight real fighters. People that actually fight. I certainly don't fight little Vanilla Ice white rappers. I don't even know the guy. I don't know anything about him, except that he's with Megan Fox."
Conor Mcgregor even being away from the octagon keeps getting into fights and it's nothing new considering the fact that this isn't the first or neither the last time Conor has got into an altercation with someone outside the octagon.
Purchase the UFC merch here.
Click to Predict here.
Download the Fanatics Fantasy MMA app here.