Former two-division champion Conor Mcgregor has applauded his former opponent Jose Aldo for his recent success in the Octagon. Conor also stated that it was an honor to share the octagon with Jose Aldo as the duo fought at UFC 194 for the featherweight championship. In the lead-up to that fight, Conor and Jose had lots of heated arguments which made the fight a huge PPV success. The duo was also rumoured to face each other again, but that rematch never got materialized. But since that is a long time ago, both the fighters have now buried the hatchet and have been seen praising each other several times.
Recently Conor was asked to recovery after the surgery and after which he shared his thought on Jose Aldo to which Conor praised Jose for his recent successes in the bantamweight division. Even at the tail end of his career, Aldo is giving nightmares to the young guns in his division which is a remarkable achievement. Jose now fights in the bantamweight division and is riding an amazing two-fight win streak.
Conor McGregor gives an update on his recovery & praises former opponent Jose Aldo.

"What a warrior that man is. It was an honour to share the octagon [with him].

"I would've loved to have do it again. He deserved more, I thought. 1/2

— Chisanga Malata (@Chisanga_Malata) August 30, 2021
"What a warrior that man is. It was an honour to share the Octagon with him. I would've loved to have at it again. He deserved more, I thought." – McGregor said of Aldo's resurgence.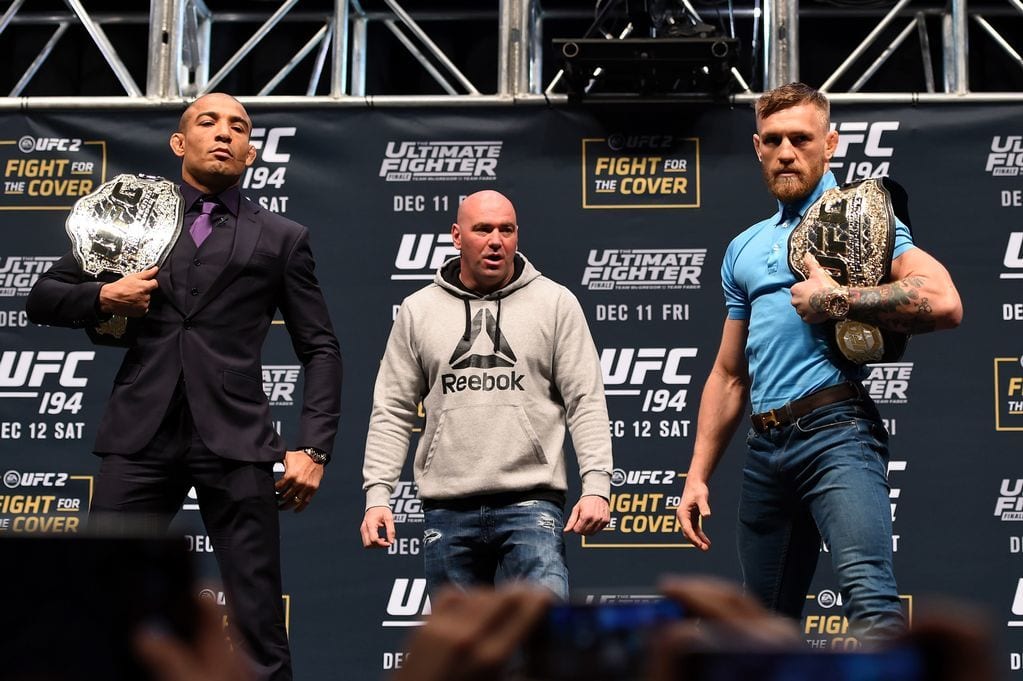 Conor and Jose both have a huge history together. Jose was ruling the featherweight division for years and was undefeated for nearly a decade. Conor slowly was rising the ranking in 2014 and was sticking the champion. The pair was first set to fight at UFC 189 but Aldo had to pull out due to an injury and he was replaced by Chad Mendes who was then defeated by TKO in round 2 by Mcgregor.
The pair were set to collide at UFC 194 after doing several world tours for the fight. The fight was a very intriguing matchup as both of them were known for their elite striking. The fight started with both fighters taking their stance and showing some feints, what followed after that just turned the MMA world on its axis. The stiff Aldo rushed forward to land his punch but instead got caught by a vicious left hook of Mcgregor and Aldo fell face-first into the octagon. Conor landed two heavy hammer fists before the referee shoved him away and stopped the fight.
Conor became the undisputed featherweight champion and from there onwards never looked back as he rose to another level of stardom. Though Aldo went on to face several defeats after that but even after so many ups and downs Jose Aldo is still showing his skills to the world and is fighting at the top of his bantamweight division.
Purchase the UFC merch here.
Click to Predict here.
Download the Fanatics Fantasy MMA app here.