Conor McGregor takes on Dustin Poirier in a lightweight rematch in the UFC 257 headliner this weekend. Their first meeting, of course, was a featherweight clash in 2014 that saw McGregor come out on top with a first-round KO.
However, McGregor is confident in his skillset and said that he will do something special when he fights Poirier.
"You know, just good vibes, good practice. Finished off my practice, carry on with the weight, make weight and then perform," Conor McGregor said on UFC embedded. "I'm going to come in and show the world something special once again and I am very excited for it."
The buildup for the second fight between Conor McGregor and Dustin Poirier has been very different from the first fight. 'The Notorious' is known for his psychological warfare and has an uncanny ability to get under his opponent's skin and go into the fight, one-up on his opponent. He displayed this extremely well in 2014. During the buildup, Conor relentlessly talked trash and taunted Dustin at every opportunity he got. He was able to get under his skin, and that was apparent from the very first exchange during the fight. However, this has changed in 2021.
During a recent interview, the reporter asked Conor about his upcoming bout against Dustin Poirier. He said, "I am very happy to share the octagon with Dustin, who is of the same mindset (giving back to the community). It's going to be a good bout. Similar to Donald, there will be blood spilled, but it will not be bad blood."
There is no question McGregor has no shortage of special moments inside the Octagon. The 13-second knockout over Jose Aldo, the KO win over Eddie Alvarez, and his most recent memory of Donald Cerrone all come to mind. He has also said he will knock Poirier out inside 60 seconds, so that would no doubt be something special for the fans.
Conor McGregor is coming off a 40-second knockout win over Donald Cerrone at UFC 246. The fight marked his return to the sport after he was submitted by Khabib Nurmagomedov for the lightweight title at UFC 229. The Irishman scored KO wins over Eddie Alvarez and Jose Aldo to win the lightweight and featherweight titles.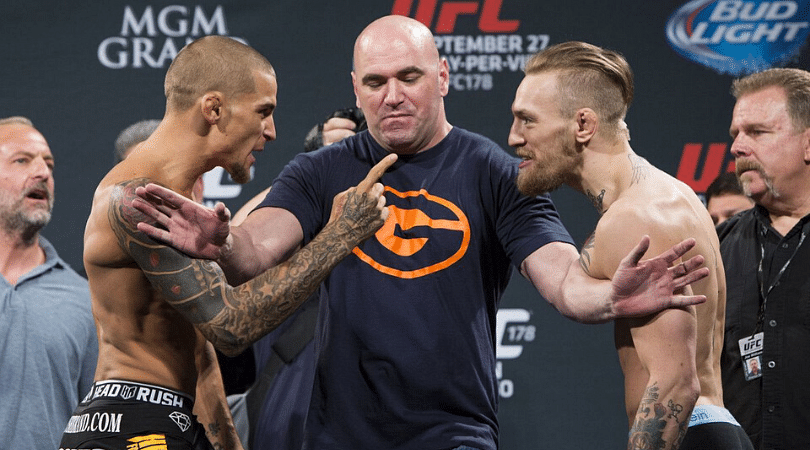 Now for his upcoming rematch, Dustin Poirier has given a bold prediction. In an interview with UFC UFC countdown, Poirier said that he is going to knock out Conor McGregor in the first round.
"Knock him out in the first round and get out of there. That is the way I want to see this fight end," Poirier said on UFC countdown. "January 23 I will get my hand raised by any means necessary."
Both Mcgregor and Poirier have made their bold predictions for this fight.
What do you guys think of UFC 257?
Purchase the UFC merch here.
To bet on an MMA event click here.
Also Read:
UFC Fight Island 8: Chiesa vs Magny Betting Odds and Predictions