Paulo Costa released a small statement after facing his first professional MMA loss by the hands of UFC middleweight champion Israel Adesanya at UFC 253.
After having to face his first Professional MMA loss in such a devasting fashion, that too against Israel Adesanya, his fierce rival, he stated that he hasn't lost his will and vows to come back stronger. After promising to end Adesanya's (20-0 MMA, 9-0 UFC) middleweight title reign in the headlining bout at Yas Island in Abu Dhabi, Costa (13-1 MMA, 5-1 UFC) suffered a lopsided second-round TKO defeat that spelt the end of his perfect record.
Although it was a disappointing result in the biggest moment of his career, Costa took the loss against his heated rival with humility, at least according to his first post-fight public comments.
The Brazilian posted on social media Sunday and promised to be better next time (via Twitter):
I will back stronger , very soon ! Thank you all pic.twitter.com/nzYwpf7NEg

— Paulo Costa ( Borrachinha ) (@BorrachinhaMMA) September 27, 2020
"I will back stronger, very soon! Thank you all"
Costa wrote.
Before his TKO loss to Israel Adesanya on Fight Island, Paulo Costa was unbeaten in thirteen professional fights which included eleven victories by knockout. In his most previous effort at UFC 241, Costa had scored the first decision win of his career over former title challenger Yoel Romero.
Many, including UFC president Dana White, were puzzled by Costa's game plan for the fight. Coming in, "Borrachinha" had the highest striking output in UFC history. He landed just 12 significant strikes in nine minutes of fighting against Adesanya, though, and it was a key contributor in his demise.
"I think he landed one jab in this fight," White said at the UFC 253 post-fight news conference. "He didn't try to clinch on the fence, didn't try to put pressure, kept going back to the center of the octagon. It was very weird."
Paulo Costa lost in The Ultimate Fighter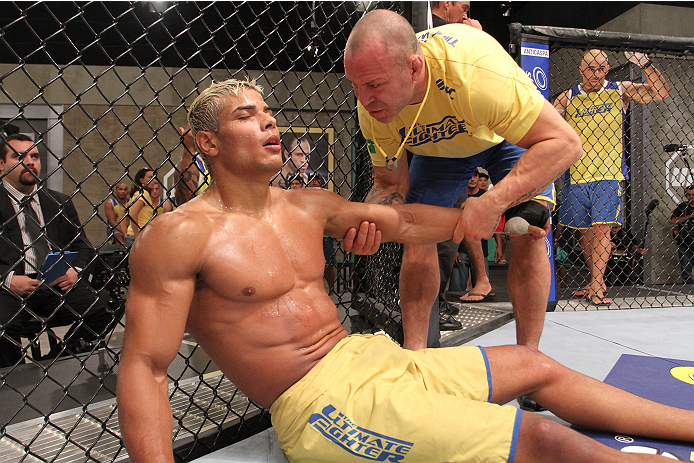 Though this isn't the first time Paulo Costa has tasted defeat. He appeared in the third season of TUF Brazil. How he landed in the Ultimate Fighter house is a story in itself. The minimum requirements for the same were three professional fights. However, he had only two. Therefore, the Brazilian along with his brother went to a local promoter who had an upcoming show. The promoter denied them entry, claiming that all the slots were filled. However, Costa wanted the fight so badly that he agreed to fight for free.
Costa then went on to win his fight against Jose Roberto Rocha to gain entry into the house where he was the second pick for Wanderlei Silva's team. While he always had the raw power, the experience in the reality show was a wake-up call that he needed to invest in his craft much more if he wants to fight the best in the world.
On the seventh episode of the show, Costa was matched up against the No. 1 pick for Chael Sonnen's team, Marcio Alexandre Jr. After splitting the first two rounds between them, his gas tank failed him in the final round. Consequently, he lost the fight. However, since fights from The Ultimate Fighter aren't official, Paulo had that undefeated record up until Israel Adesanya spoiled the party for him.
"The Eraser" knows how to bounce back from defeats event though this loss is now always going to be on his record. The MMA world now wants to see Paulo Costa come back stronger from this loss.
Purchase the UFC merch here.
To bet on MMA event click here and to bet on other sports, click here.
ALSO READ: