Bellator women's featherweight champion Cris Cyborg said that she could fight Cat Zingano if Bellator CEO Scott Coker wants it.
2020 was a good year for Cris Cyborg. Last year, Cyborg made her Bellator debut, winning its featherweight title with a fourth-round TKO of Julia Budd. She followed that up with a second-round submission of Arlene Blencowe to retain her belt. But as impressive as that was, Cris may be looking to have an even more high-profile 2021.
But one name floating around is that of former UFC fighter Cat Zingano. Both Cyborg and Zingano were big stars in the UFC at one point in time, and now both of them are on the Bellator roster at 145lbs. It seems natural to think this fight could happen in the Bellator cage, and we might see it in 2021. Speaking to James Lynch on "The Catch Up" Podcast, Cyborg said she is interested in fighting Zingano. She said it's ultimately up to Coker, but she confirmed she would accept the fight with Zingano if Bellator offered it to her.
#CyborgVsZingano 2021 @BellatorMMA? @LynchOnSports asks @criscyborg if this is the fight to make.
👇🏾👇🏾👇🏾👇🏾👇🏾👇🏾👇🏾
FULL Interview: https://t.co/xYPEKNOAtb pic.twitter.com/TrhgDzwtz7

— #Bellator271 @CrisCyborg.Com Returns Nov 12th (@criscyborg) January 7, 2021
"You know Cat Zingano, she starts to fight at 145lbs and she did a couple of fights. She's a girl who beat Amanda Nunes, I think the last girl to Amanda Nunes. She beat Miesha Tate. She's a big name, a huge name. For sure if Scott Coker says, 'Cris, next for you is going to be Cat Zingano,' I just have to be working and training and be ready and excited for this fight," Cyborg said.
Zingano made her Bellator debut in September and defeated Gabby Holloway by unanimous decision in a catchweight bout of 150lbs. She had lost via TKO (eye injury) to Megan Anderson in the UFC in her fight before that, on the same card that featured Cris getting upset by Nunes at UFC 232 in December 2018.
Another fighter that is under the Radar of Cyborg is Kayla Harrison
Cyborg, who holds Bellator's women's featherweight title, said she would like to face Harrison, the 2019 PFL women's lightweight champ, in the future, and she would even gladly move up to 155 pounds for the fight. Cyborg (23-2 MMA, 2-0 BMMA) thinks Harrison is getting subpar competition and believes she'd pose a real challenge to Harrison.
"I believe she's fighting girls below her skill; the girls are not on her level," Cyborg said on her YouTube channel. "But she's doing great, and this is a strategy by her manager, but of course she has to go in there and get it.
"But I believe this year she's fighting for PFL in the tournament at 155, and if she's the champion, for sure I would like to make a match with her. I think the fans would like to watch. And I would like to go to 155. Before I retire, I want to help build that division, and she's young, so let's see if she would like to do a real match for her."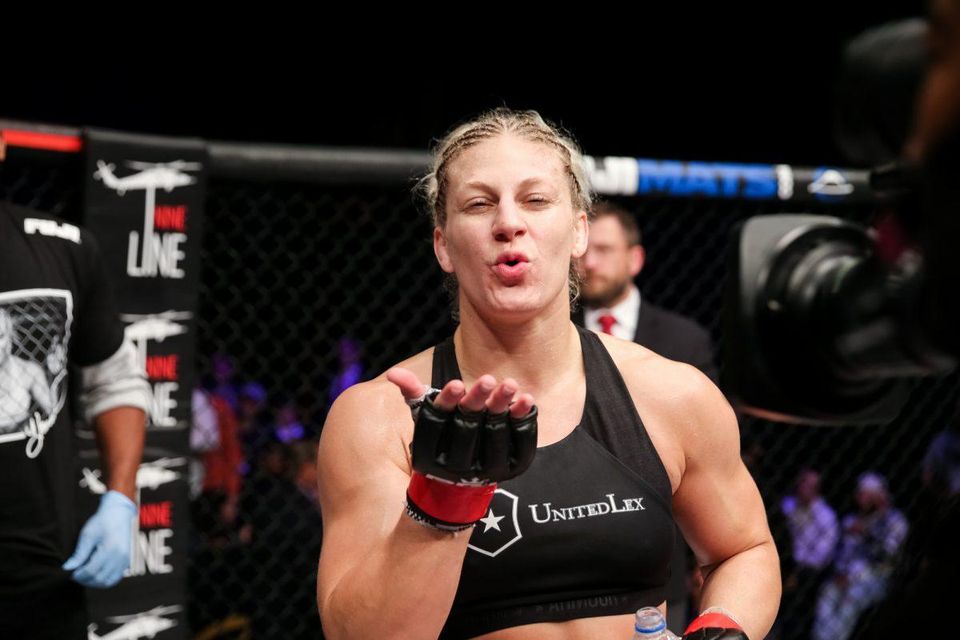 Given that Bellator and the PFL have shown a willingness to cross-promote, a Cyborg vs. Harrison fight might not be out of the question in the future. Harrison also told MMA Junkie that she would "jump at that opportunity."
Cyborg has fought the majority of her career at 145 pounds. She's the first fighter to have claimed titles in Bellator, the UFC, Strikeforce, and Invicta FC. The Brazilian has always been considered one of the most physical fighters in the game.
Although Harrison proved late last year she can make 145 pounds, as she did for her Invicta FC 43 win over Courtney King, Harrison remains one of the bigger fighters in women's MMA.
Purchase the UFC merch here.
To bet on an MMA event click here.
Also Read:
UFC 257 and Fight Island events will have 'limited number' of fans in attendance