Of late, there was a news being circulated on the world of MMA about a potential rematch between longtime UFC Featherweight contender Cub Swanson(25-10) and the former UFC champion Jose Aldo at UFC 233 in January.
As the matchup between this two featherweight veterans was on the talks, there was a high wave of anticipation to witness this fight as because it was about to be a rematch between them. Their first fight took place at WEC 41 where Aldo knocked out Swanson with a devastating flying knee in the opening eight seconds of the match.
So a rematch between the two high-level striking aces in the division would have been a mouthwatering clash considering it's been 2009 since they fought each other.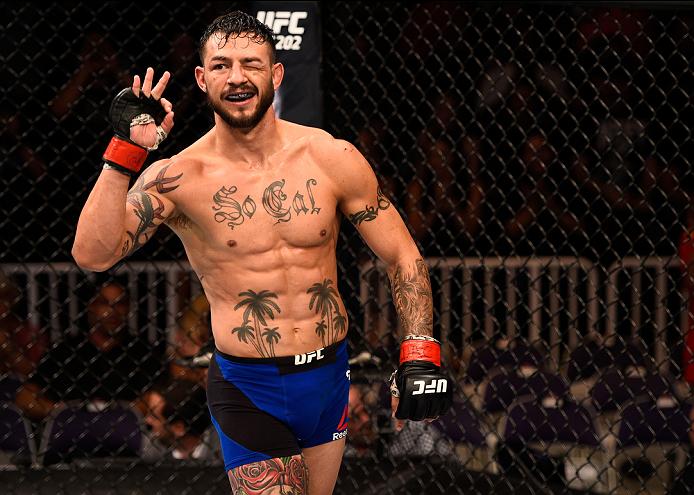 Pic: Cub Swanson
But all the anticipation took a major hit when Swanson himself came out tweeting that he isn't fighting on the card at UFC 233.
I love this fight but unfortunately somebody spoke too soon. I am not fighting on 233 but I am willing to do it February 17th on ESPN 1

— Cub Swanson (@CubSwanson) December 3, 2018
As it's understandable from the tweet that Cub didn't back up from the possible fight but he has insisted on getting it to a different date.He had expressed his wishes to fight on February 17th which would be a Fight Night taking place at the Talking Stick Resort Arena in Phoenix, Arizona.
Swanson's latest UFC patch has been super rough with him currently on a 3 fight losing streak.It started with a submission loss over now the number one contender Brian Ortega, followed by a unanimous decision loss in a rematch with Frankie Edgar and lastly at the UFC 226 card where he lost via a rear naked choke to fellow contender Renato Moicano.Aldo, on the other hand, racked up an impressive TKO victory over Jeremy Stephens this July which had been an impressive moral boosting for him as he was coming in after two back two back losses at the hands of the current featherweight champ Max Holloway.
So there's still a possibility of this fight between Swanson and Aldo getting scheduled at a later date. Meanwhile, UFC 233 headlines a super fight between the Bantamweight champ TJ Dillashaw and the Featherweight champ Henry Cejudo for the 125lbs title.A potential match between wrestling ace Ben Askren and former Welterweight champ Robbie Lawler is also on the news.