UFC heavyweight contender Curtis Blaydes has said that he is the most dangerous heavyweight of all time in the UFC.
In the main event of UFC Vegas 19, Lewis and Blaydes will finally meet after the two have trash-talked one another for months. It's a very intriguing fight as there is no question Lewis has one-punch KO power, but Blaydes will have the wrestling advantage.  Blaydes is a powerhouse wrestler which has earned him some critics, including UFC president Dana White, who was not a fan of his last fight with Alexander Volkov. Despite winning a unanimous decision, Blaydes was not able to get the finish in that fight.
Even though Blaydes has numerous TKO stoppages during his UFC run, he can't seem to shake the label of a top-heavy wrestler. But he quite frankly doesn't care what anyone thinks about his style. As long as he is winning fights, he won't be changing the way he fights.
Curtis Razor Blaydes talks about his future in the division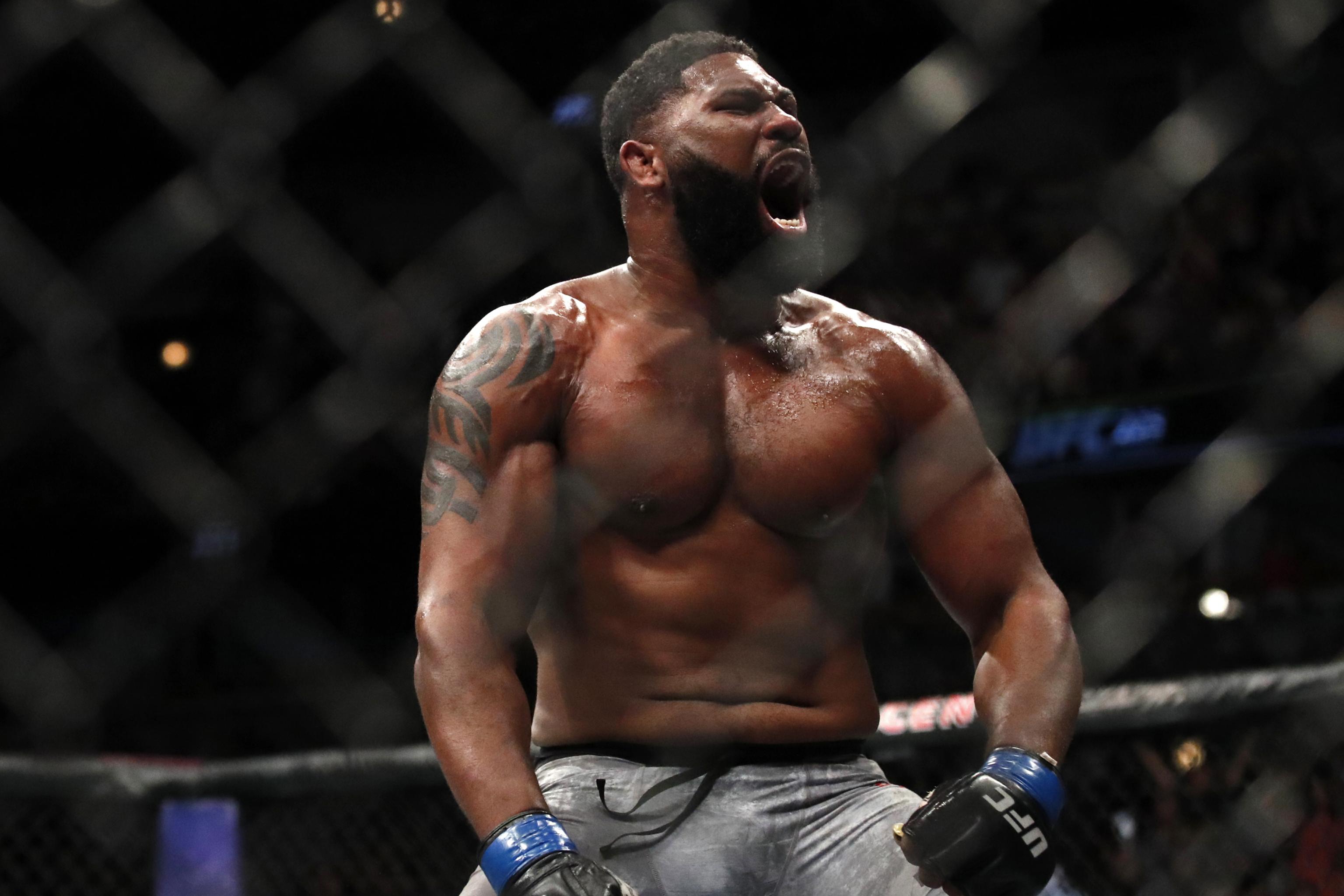 Currently, "Razor" is ranked second at heavyweight and is on a four-fight winning streak. During his impressive run, Curtis has shown off his tremendous wrestling and ground and pound as well as his improvement on the feet. According to Blaydes, now that he is mixing all that, he believes he is the most dangerous heavyweight in the UFC.
"I'm the most dangerous heavyweight in every situation imaginable," Blaydes said on the UFC preview for the fight. "I've won four in a row and after I beat Derrick Lewis I will finally have the respect I deserve. You beat the guy who makes the most noise then you got the noise behind you."
Against Derrick Lewis, Curtis Blaydes hasn't been shy about his gameplan. He knows he has to wrestle "The Black Beast" and is confident he will get the stoppage win to improve to 9-2 and one no-contest in the UFC. He would also hold notable wins over Junior dos Santos, Alistair Overeem, Alexey Oleynik, and Mark Hunt.
"I respect the power that Derrick possesses. I understand on the feet, he is a legitimate threat, but I'm not just a grappler, I got heavy hands as well," Curtis Blaydes. "Derrick Lewis only has one path to victory, he has to keep me on the feet and that is one of the things I don't plan on letting happen."
Despite a dominant run in the division that already includes wins over four of the top 15 fighters ranked at heavyweight, Blaydes is stuck on the outside looking in when it comes to title contention because of the matchmaking already determined right now.
Reigning heavyweight champion Stipe Miocic will face Francis Ngannou in a rematch in the main event at UFC 260 in March, and the winner is expected to face former light heavyweight king Jon Jones in his debut in the division. That almost assuredly wraps up 2021 when it comes to heavyweight title fights, which means Blaydes will likely have to fight at least one more time or possibly even twice after facing Lewis to finally earn his opportunity.
"I just roll my eyes," Blaydes told MMA Fighting when asked about the current state of the heavyweight division. "I'm not old so I'm not in a rush so I'll get there eventually. Honestly, it's not even a guarantee that Jon will take the fight cause I heard he also has his eyes on the winner of the Izzy (Israel Adesanya) versus [Jan] Blachowicz fight. If he's got his eyes on that one, he's not all in on this heavyweight matchup so it's not a guarantee. I'm not worried about it. If it does happen, I guess we'll cross that bridge when we get there.
"Worst case, I've always iterated, if I have to clean out the division, I will. I will do that. I have a family at home that I provide for so the more active I am, the better for them. The ultimate goal is the belt but we'll get there."
Purchase the UFC merch here.
To bet on an MMA event click here.
Also Read: