UFC president Dana White has said that he is seriously considering Julianna Pena vs Amanda Nunes fight for the Women's Bantamweight championship.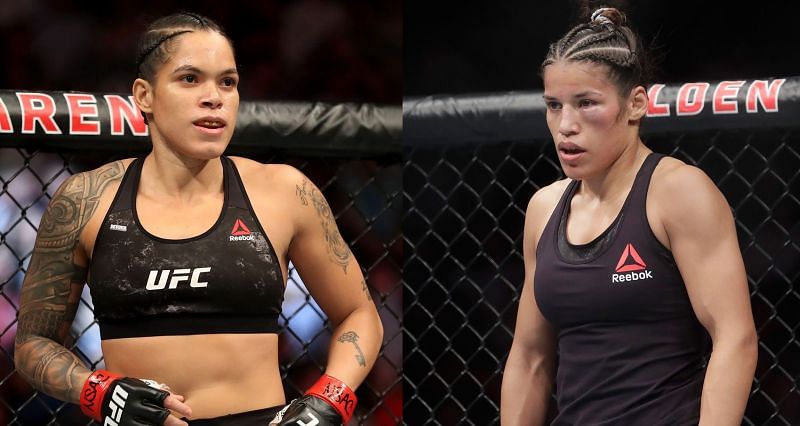 Nunes, the women's featherweight and bantamweight champion, clocked in yet another title defense in the co-main event of UFC 259 at the UFC Apex. Nunes (21-4 MMA, 14-1 UFC) easily finished former Invicta FC champion Megan Anderson in her second title defense at 145 pounds.
Minutes before the UFC 259 co-main event between women's featherweight and bantamweight champion Amanda and 145-pound title challenger Anderson, Pena (10-4 MMA, 6-2 UFC) announced on Twitter her scheduled May 15 fight vs. Holly Holm is canceled.
According to Pena, Holm (14-5 MMA, 7-5 UFC) withdrew from their three-round contest due to an injury. With Holm no longer on her radar, Pena turned her attention to the next title shot after Amanda (21-4 MMA, 14-4 UFC) submitted Anderson (11-5 MMA, 3-3 UFC) early in Round 1.
"I want to fight (Amanda )," Pena wrote in a follow-up tweet. "Get rid of 145 it's dead. Fight me, Amanda!"
Although Pena is one of the few fresh matchups available at the top of the bantamweight division, the two-division champ did not seem particularly interested in the fight.
"So Holly is off, she can fight Germaine," Nunes told reporters at the UFC 259 news conference. "I feel like she has to get in the mix, but we'll see. I'm going to go back down, I'm going to see my diet because now I'm pretty heavy, so yeah. I'm a champion. I'm never going to turn down fights. I'm going to be facing whoever Dana White wants me to face."
Dana White is thinking about Julianna Pena vs Amanda Nunes
Speaking to TMZ Sports, White admitted Pena vs. Nunes is a real possibility.
"Right now, alright, I'll give you a little something that we're talking about right now. So Julianna Pena has been driving me f*cking bananas, okay? She Will does not stop terrorizing me that she deserves this fight. 'Amanda Nunes this, Amanda Nunes that, Amanda's ducking her, Amanda doesn't want her because the style doesn't match up well for Amanda.' So I'm thinking about doing Pena and Nunes," White confirmed.
Pena, 31, most recently competed at UFC 257 in January when she defeated former UFC title challenger Sara McMann by third-round submission. The win returned Pena into the win column after an October loss to Germaine de Randamie.
As for Nunes, the dual belt holder has defended her featherweight title in two straight appearances. Her two recent 145-pound appearances came after two bantamweight title defenses against the aforementioned Holm and de Randamie, who still sit atop the UFC women's bantamweight rankings.
Purchase the UFC merch here.
To bet on an MMA event click here