UFC president Dana White has made a surprising statement and said that he thinks UFC lightweight champion Khabib Nurmagomedov will come back out of retirement for one last fight.
This past Saturday following a second-round submission win over Justin Gaethje in the UFC 254 main event. The undefeated Russian laid his gloves down in the center of the octagon and announced that he was calling it a career. After earning a 29-0 record, Nurmagomedov said he made a promise to his mother to retire from competition following one more fight, which came months after the tragic death of his father and coach, Abdulmanap Nurmagomedov.
But Dana White has made shocking news that is making a buzz in the MMA world regarding Khaibib's retirement. UFC President Dana White believes "The Eagle" may fly again.
"I'll tell you this and I haven't told anybody this yet, but Khabib and I have been talking," White revealed when speaking to the Zach Gelb Show. "He was completely emotional that night when he got through that fight. I have a feeling that he might go for 30-0."
I have 15 minute interview with @ufc President @danawhite that will air tonight on @CBSSportsRadio at 8 PM Eastern/5 Pacific.

Dana told The Zach Gelb Show on CBS Sports Radio that he and @TeamKhabib have been talking & he expects Khabib to return & go for 30-0.

WOW! pic.twitter.com/UqAM19Y1SF

— Zach Gelb (@ZachGelb) October 29, 2020
Nurmagomedov is coming off another dominant performance, this time a second-round submission of Justin Gaethje last Saturday at UFC 254. Afterward, Nurmagomedov was in tears as he took off his gloves and called an end to his career during his post-fight interview with commentator Jon Anik. In making this decision, Nurmagomedov cited a promise to his mother to not fight without his father, Abdulmanap, who died in June from COVID-19 complications.
Dana White on Khabib Nurmagomedov's retirement
Before his death, Abdulmanap spoke about his desire to see Khabib, who's 29-0 overall with 13 UFC wins, reach the 30-0 mark. White hinted that could still be a priority, despite the promise Khabib made to his mother.
"I think that he's not going to retire," White said. "His dad wanted him to get to 30-0, and I think he wants to honor his dad's wish."
If true, it would be an about-face from sentiments just two days ago. On Tuesday when Nurmagomedov returned to Dagestan, he doubled down on standing by retirement in his first comments since the announcement in the cage at UFC 254.
"Of course, Dana wants me to continue fighting and generate revenue," Nurmagomedov said in Russian, as translated by RT Sport. "I can make money myself. I'm at the peak of my career and can fight for very large purses, but I made this decision, and I think this is the best time. Not everyone can retire at their peak, but I know that in a year, two or five (years) I'd have to face that decision again.
"I did enough in the sport to be considered the best. Today, I was ranked as the No. 1 pound-for-pound fighter, so the mission is accomplished. What else is there to do? Make money? I'll always be able to do that."
But if Nurmagomedov does decide to come back for one more fight we all know who it's going to be. Khabib has said numerous times that his dream fight would be against former two-division UFC champion Georges St-Pierre.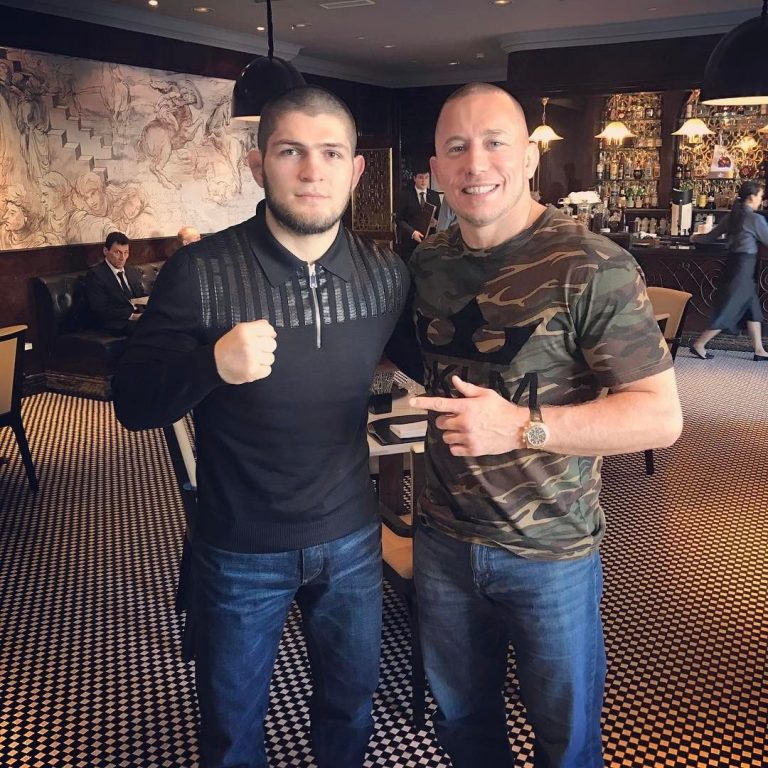 Even St-Pierre, who retired in 2019, has candidly said he would only return for a fight that would add to his already sterling legacy — and that a showdown with Nurmagomedov qualifies.
Before UFC 254, St-Pierre hinted at a possible comeback if the UFC would consider booking him against Nurmagomedov.
"I've still got it – I would say I'm still in my best years," St-Pierre said in October. "Will I regret it when I reach 50 years old? Will I tell myself I wish I had done that and I did not do that. "It was an opportunity of a lifetime to fight a guy [in Khabib Nurmagomedov], who's undefeated, who's never been beat and I could have been the first."
White has also previously teased that he had something special in mind for Nurmagomedov if he dispatched Gaethje, but those plans fell by the wayside in the wake of his retirement. Now it seems White may get the chance to lure Nurmagomedov back for another fight, but we all still don't know what the talk was between White and Nurmagomedov.
Do you guys think Khabib will return?
Purchase the UFC merch here.
To bet on an MMA event click here and to bet on other sports, click here.
READ ALSO: