UFC President Dana White in a recent interview said that the rematch between Conor Mcgregor and UFC lightweight champion Khabib Nurmagomedov is very much important for both of their legacies.
Khabib Nurmagomedov and Conor McGregor's rivalry goes back to when they fought at UFC 229 in 2018. The pair fought at the T-Mobile Arena in Las Vegas and in that fight, the Dagestani star defeated the Irishman in the fourth round via rear-naked choke submission.
Since then there have always been talks about a potential rematch between the pairs and although Dana White has been campaigning for the rematch, Khabib Nurmagomedov hasn't shown any interest in the rematch. Even Conor McGregor on numerous occasions has said that the rematch would be much different than their first fight. Since then Khabib Nurmagomedov has retired from the sport following his submission win over Justin Gaethje at UFC 254.
Conor Mcgregor is days out from a fight with No. 2-ranked lightweight contender Dustin Poirier, which headlines the UFC 257 card on Fight Island in Abu Dhabi. The expectation is that he could earn a rematch with Nurmagomedov—with the title on the line—if he wins decisively.
While Nurmagomedov has previously expressed disinterest in fighting McGregor again, White believes he can convince the two men to fight a second time for several reasons.
Dana White on Khabib vs. McGregor 2 #UFC257 pic.twitter.com/OrS3fs2bsS

— Borrachinha Depot (@FullContactMTWF) January 20, 2021
"It's a massive money fight," White told The National in Abu Dhabi, explaining why a rematch between Nurmagomedov and McGregor should happen. "Both of these guys are going to make a lot of money. We'll call that No. 1
"No. 2, it's an important fight to make for both of their legacies," White added. "If you're Conor, you want to avenge that loss to Khabib. If you're Khabib, you want to beat him twice to prove that… you know?"
Mcgregor vs Khabib 2 is the fight to make
McGregor vs Nurmagomedov 2 is the fight that every fan wants to see. White is certainly dying to make that rematch happen as it will generate enormous revenue for the promotion. The two men scored a record number of pay-per-views in UFC history when they fought at UFC 229 in 2018. Nurmagomedov announced retirement after defeating Justin Gaethje at UFC 254, back in October. But White wants to lure the champion back out of retirement to fight at least 1 more time. No wonder he wants that fight to be against 'The Notorious' one, who returns to the octagon this weekend at UFC 257.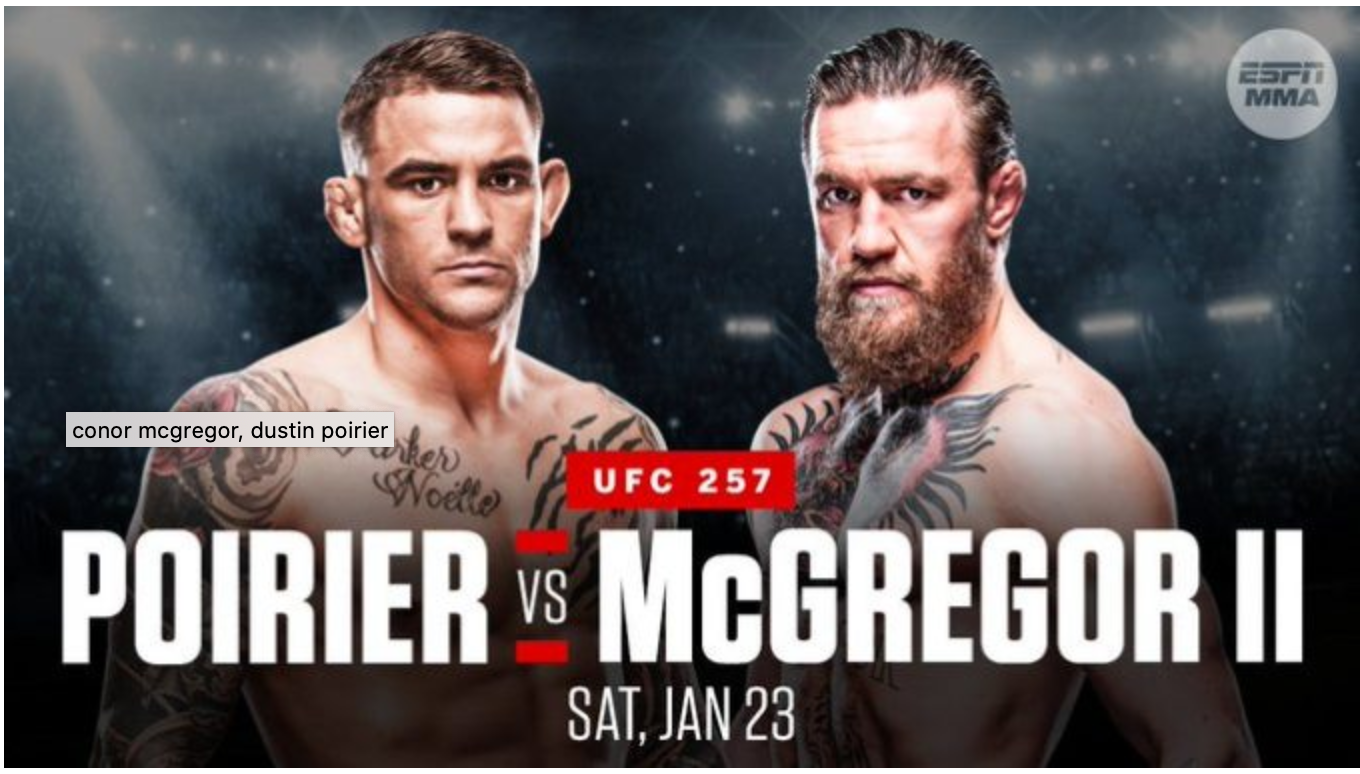 Former UFC featherweight and lightweight champion Conor McGregor and former interim lightweight champion Dustin Poirier will clash with each other in a rematch at UFC 257 pay-per-view card on Jan 23. This fight could have serious title implications as UFC lightweight champion Khabib Nurmagomedov has retired from the sport and the belt will soon be vacant and the winner of the UFC 257 main event could very well fight for the vacant title.
Purchase the UFC merch here.
To bet on an MMA event click here.