UFC President Dana White has hinted that Francis Ngannou might be defending his belt at UFC 265 as the card has no main event at the moment.
Francis Ngannou was in talks for a fight against Jon Jones. As Jon Jones was moving up to heavyweight in pursuit of his second belt, he was targeted to face Francis Ngannou. Ngannou won the heavyweight gold after beating Stipe Miocic at UFC 260. The fight between Jones and Ngannou never got scheduled as the price to bring in Jones was too high. As the negotiation process was going nowhere, UFC decided to go for the next option which was Derrick Lewis who already as a win over the champion Francis.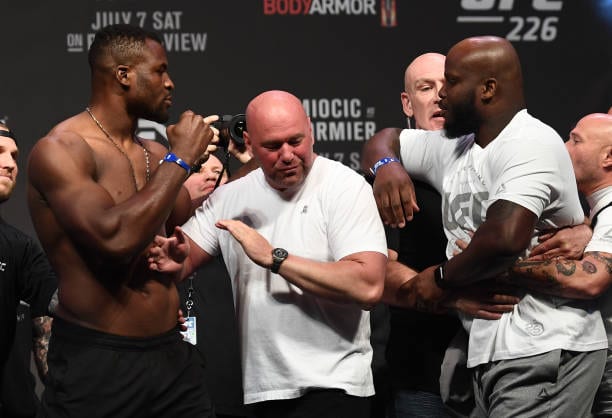 Now UFC president Dana White has indicated that the fight between Ngannou and Lewis might headline the UFC 265 card. Speaking to ESPN's Heidi Androl following UFC Vegas 27, White said that they are working on this fight.
Dana White tells @HeidiAndrol that @francis_ngannou's first title defense is "one of the fights we're working on" for UFC 265 on Aug. 7. pic.twitter.com/QxJfYgDM4z

— ESPN MMA (@espnmma) May 23, 2021
Dana White tells @HeidiAndrol that @francis_ngannou 's first title defense is "one of the fights we're working on" for UFC 265 on Aug. 7.
"Perhaps. We're working on some things right now. And yes, that's one of the fights we're working on," White said.
Derrick Lewis and Francis Ngannou fought each other at UFC 226 in one of the dullest fights in the history of UFC. The fight was promoted as two of the hardest hitters in the division will be fighting in a banger. But it came off opposite of what it was promised to be. Francis was coming off a lopsided loss to Miocic and was very cautious in the entire fight and didn't land any significant blow on Lewis. Even Lewis was very attentive in the fight and didn't want to engage in a firefight against Francis. All of this resulted in one of the most boring fights in the company's history.
But that fight took a long time ago and both of the fighters have shown progress since then. The rematch will be an amazing fight and fans are already speculating that the fight will end in a knockout.
Dana White on Jon Jones situation
Speaking to TMZ, White addressed talked about the Jon Jones situation and said that the UFC has moved on from the idea of Jones fighting at heavyweight.
"Yeah, I've absolutely moved on. Listen, I put on fights every Saturday. We have a window where we try to build some fights and make some things happen. If the fights don't happen within that window, we move on, and realistically, I mean I've been saying it since the beginning, Derrick Lewis is the guy who should be getting the title shots. He beat Francis Ngannou. He's next in line, he's coming off of great performances and that's a wrap. We're moving on," White said.
Purchase the UFC merch here.
Click to Predict here.
Download the Fanatics Fantasy MMA app here.