Daniel Cormier, the former UFC light heavyweight and heavyweight champion has decided to officially retire from the sport of MMA and thinks that he is too old to fight.
At UFC 252 Daniel Cormier lost to Stipe Miocic in their trilogy fight. Cormier and Miocic first fought at UFC 226 where Cormier won by first-round KO. In the rematch, Stipe Miocic won by KO in the fourth round which came right after some brutal body shots that emptied the gas tank of DC.
The fight at UFC 252 was going to be the retirement fight for Cormier which he wanted to win but had to face defeat. DC also suffered a serious eye injury in the fight.
While talking to ESPN Cormier explained the reason why he didn't drop of the gloves, saying that he also understood his trilogy with Miocic was a piece of history, too, one which many considered the determining factor in the argument of greatest heavyweight of all time.
DC said "In my mind, I lost the fight," Cormier said. "It's Stipe's moment. He's the champ. Why would I do that? Because a guy like me retires in the octagon there, and that's what people talk about. I think in the standings of the world, there's a difference between Stipe and I. And if I'm in there and take my gloves off, it's almost like I'm stealing his thunder. I wasn't going to that."(via MMAFighting.com).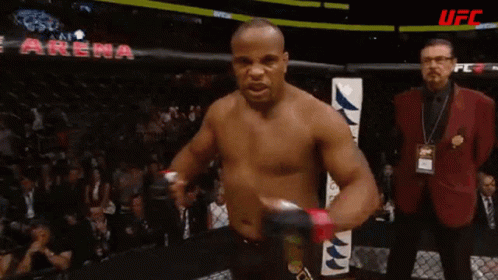 Cormier then opened up about why he wouldn't fight anymore and the reason for retiring. To which he replied "
"I'm not going to fight anymore," Cormier said. "I was talking to Joe Rogan after the fight, and I told him my interest is fighting for championships, and I can't imagine with a loss that I'd be fighting for a belt again. I lost two fights in a row for the first time in my career. You've got to understand when it's time, and the reality is part of the reason I got hit with that right hand by Stipe is that I'm older. You can't fight father time.
"At 41 years old, I fought the heavyweight champion of the world three rounds to two with the idea that I wanted to win. I didn't go in there trying to give a good account of myself. I wanted to win the fight and I still believe I can beat Stipe Miocic. But every day that passes, it doesn't work in my favor."
Cormier still believes he can beat Stipe
According to Cormier he still believes deep down that he could still win a fight with Miocic. DC continued:
"All these young guys, they just continue to improve and they continue to train and get better and they stay younger – they stay a lot younger," Cormier said. "Even when Jones and I fought the first time. I was 35 years old. He was maybe 26, 25, something like that. Those guys are still young. Every day that goes by, my time just gets a little bit more in the rearview. I'm not going to be fighting anymore.
"It makes me sad to see guys like Robbie Lawler last weekend fighting guys that years ago, for as talented as Neil Magny is, I don't feel like that would have been as hard a fight for Robbie back in the day. Robbie today, gets beat 30-26 by Neil Magny fighting in the co-main event of a Fight Night card from those classic fights that he had with Rory [MacDonald]. That sucks. He's only 38. I am not saying Robbie Lawler should not be fighting, but at 41, what am I going to do next? Just go fight some random dude? Go be fodder for somebody to build their name off of, I don't need that."
"I feel like I'm closing the door shut on this thing – it's over," he said. "And I'm not sad about it. I'm not sad. I'm going to miss it. I'm going to miss training camps. I'm going to miss the fights. There's nothing like a fight week, but you have to understand when it's your time. I feel like it's time."
Cormier has withdrawn from the USADA UFC's anti-doping program, he won't be planning a comeback and has officially retired from the sport of MMA. The MMA world will always remember for the awesome fights he gave and let him enjoy his retirement life with his family
What's your favorite Daniel Cormier moment?
Purchase the UFC merch here
ALSO READ: