Daniel Cormier, the former UFC heavyweight and light heavyweight champion and one of the greatest combat athlete ever is set to fight in his final professional MMA fight at UFC 252 against UFC reigning defending heavyweight champion Stipe Miocic.
Daniel Cormier had a very strong career in Freestyle Wrestling. He was the senior U.S. national champion every year from 2003–2008 and represented team USA at the world level for each of those years.
In the 2004 Olympics, he came fourth after losing in the semifinals. Cormier was also a member of the 2008 Olympic wrestling team for the USA, where he was named team captain, but was pulled from competition due to kidney failure, brought on by extreme weight cutting.
After the 2008 Olympics, Cormier decided to pursue a career in mixed martial arts. He trained with Cain Velasquez, Jon Fitch, and Josh Koscheck at American Kickboxing Academy. It helped him improve as a striker and submission wrestler. After making his professional debut in September 2009, Cormier travelled to Australia and fought for Xtreme MMA. He defeated Lucas Browne to win the XMMA Heavyweight Championship.
Daniel Cormier's reign in the UFC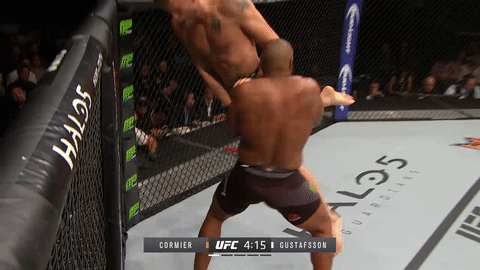 Before the UFC, Cormier was Strikeforce Heavyweight Grand Prix Champion and King of the Cage Heavyweight Champion. He holds the distinction of having won a world championship belt in every promotion for which he has fought.
Cormier made his promotional debut against Frank Mir on April 20, 2013, at UFC on Fox 7, Cormier in his early UFC fights went through the toughest of the division and dominated every single fight. Cormier fought everyone that promotion could throw at him.
He fought guys like Roy Nelson, Dan Henderson, Patrick Cummins. Cormier was expected to face Ryan Bader, however, it was announced that Jon Jones had been stripped of the light heavyweight championship and suspended Cormier was pulled from the Bader fight and replaced Jones against Anthony Johnson on May 23, 2015, at UFC 187 for the vacant title.
Cormier had to go through some adversity in the first round of the fight as Rumble Johnson was blowing off some heat. Cormier won the next two rounds and submitted Johnson by rear-naked choke in the third round to become the new UFC light heavyweight champion.
The only losses Cormier has in his luscious UFC career came by the hands of Jon Jones and Stipe Miocic. Cormier lost to Jones at UFC 182 and then at UFC 214, which was later overturned a no-contest as Jones was suspended for a potential doping violation by USADA.
Cormier in the future went on to become the UFC heavyweight champion when he defeated the current champion Stipe Miocic at UFC 226 but then lost the rematch to Miocic at UFC 241. Cormier has gone through some tough competitions in his UFC career but remained on the top of the divisions.
Cormier confesses his toughest opponent
While talking to Megan Olive during UFC 252 Q&A session, Cormier was asked
"Who do you consider one of the toughest opponents you have faced in your career? and do you feel like there are opponents maybe the fans have overlooked as being really very tough but you are like no that guy was a tough challenge?" Asked Megan.
To which Cormier replied "hmm…they have all been tough, I mean Jones is super tough, Miocic is as tough as they come but you know Alexander Gustafsson. Because on that night in… Houston, he took me to places I had never been  I have been cruising five-round fights outside of Jones and I was all beaten up, I was battered I was bruised to the point that the next morning I was laying in my bed and my daughter… who at that time was 4 she walked in and goes dad what's wrong because I had my eyes were closed my… I couldn't walk and we were walking through the airport with sunglasses so that people couldn't see me. umm, so that was probably the most difficult fight that I had, and honestly even in wins and losses that still may be one of the toughest fights that I have ever had because he was just so good at everywhere. It was in Houston UFC 192."
"It was a very very difficult fight but they have all been tough I mean… this fight this is the 11th straight title fight that I have been in or was intended to be in that's crazy like I have only got 15 UFC fights. I ended up fighting Anderson silva but I was scheduled to fight Jones at UFC 200 so its this is 11th straight intended title fight in my career I have only got 15 UFC fights. you know that's crazy."
Daniel Cormier is now all set to fight his final battle in the UFC against the guy he has already won and loss too. THE entire MMA world now awaits to see how the trilogy between Daniel Cormier and Stipe Miocic plays out on August 15 at UFC 252.
ALSO READ:
Anthony Smith defends his corner not stopping fight : 'People are a little soft during the pandemic'