Former UFC welterweight title challenger Darren Till has asked for a fight against top middleweight contender Uriah Hall. Darren Till is a former UFC welterweight fighter and now actively competes in the middleweight division. He is currently the no.8 ranked middleweight and is planning to compete soon. In his last fight, he faced Derek Brunson on 4 September 2021, at UFC Fight Night. He lost the fight via rear-naked choke submission in round three. Recently, Darren Till was seen calling out numerous fighters and has been laying out his future fighting plans.
During the last UFC FIGHT NIGHT event, Darrent Till took the stage to answer some questions which were thrown at him by his fans. He was then asked who he would like to fight next to which he took Uriah Hall's name and then started a chant.
"1-2-3, F*CK URIAH HALL!"

Darren Till makes it *very* clear who he wants next! 👀 pic.twitter.com/f0x176AIDI

— MMA Junkie (@MMAJunkie) March 18, 2022
"After 1-2-3, can we just say 'F*ck Uriah Hall?' Can we do that, yeah?" Till asked. "1-2-3 …"
"F*ck Uriah Hall!" the crowd responded all together.
Darren Till also responded to the call out made by Hall.
"I've never dodged any fight," Till said. "Listen, I'm coming off two losses. The loss before that was to (Robert) Whittaker, probably the second-best – if not him and (champion Israel) Adesanya the best middleweights around. I've never dodged a fight. I came up to middleweight and fought the two best middleweights at the time, (Kelvin) Gastelum and Whittaker."
"So, if he wants to fight me and we're on the same schedule, I want to fight him next. That's how it is, isn't it?"
Uriah Hall was the first to make the call-out last month.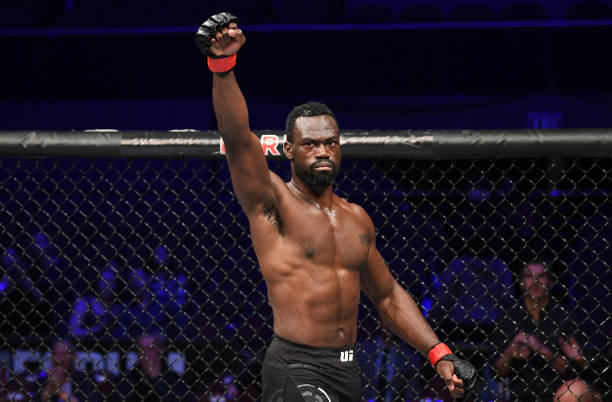 "I wanted Darren Till, but he's just being a punk-ass b*tch, and I don't know what happened," Hall said last month. "He's just playing the UFC or whatnot. But he's the guy I wanted, makes sense. …  I think he's just scared. I think he's really scared. Either that, or he's injured or some sh*t. He's always making excuses. That's how I look at him."
Uriah Hall also responded to Darren Till's chant.
Ha fuck you too glad I'm on your mind bitch! unlike you I'm getting ready for someone who actually fights but you and I know you ain't never going to fight again pussy. https://t.co/hvF0j4u4Tb

— U R I A H H A L L (@UriahHallMMA) March 18, 2022
Darren Till in his other interview said that he is planning to make his return by the summer of 2022.
"I don't know because I need to get healthy first," Till said on his return. "I need to get my body healthy and my mind healthy before I think about fighting again, so I want to make sure I'm 100 percent next time I fight, like body and mind. So I'm definitely going to fight this year like two or three times, but I don't know when. Obviously the London show I'm not on, so it'll be after that, probably in the summer. It'll either be in America or here or somewhere else in Europe maybe or anywhere, South America or wherever. But I'm just trying to get fit and healthy first."
HIGHLIGHTS:
Darren Till confirms he wants to fight Uriah Hall in his UFC return
Purchase the UFC merch here.
Click to Predict here