UFC flyweight champ Deiveson Figueiredo is making a record-setting turnaround when he faces Brandon Moreno at UFC 256 but he still has his eyes set on former two-division champ Henry Cejudo.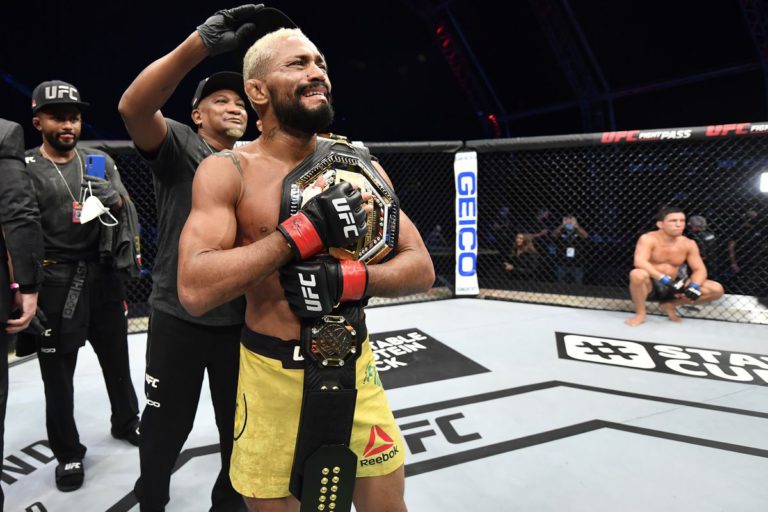 Figueiredo (20-1 MMA, 9-1 UFC) is set to put his title on the line for the second time in 21 days when he meets Brandon Moreno (18-5-1 MMA, 6-2-1 UFC) in Saturday's headliner, which takes place at UFC Apex in Las Vegas and airs on pay-per-view following prelims on ESPN2 and ESPN+. After submitting Alex Perez in the first round at UFC 255 on Nov. 21, Figueiredo agreed to get right back in the octagon for the clash with Moreno.
Deiveson has another fight in mind beyond this weekend's UFC 256 main event against Brandon Moreno, and it is not against presumed next challenger Cody Garbrandt, whom Figueiredo was scheduled to face in October before Garbrandt, a former bantamweight champion, pulled out with an injury. Instead, Figueiredo wants to fight former two-division champ Henry Cejudo, and he wants the stakes to be special.
In his next fight after #UFC256, @Daico_Deiveson wants to "shut up" Henry Cejudo, who has "talked a lot of s—" 🤭

(via @arielhelwani) pic.twitter.com/ibr5Evf78F

— ESPN MMA (@espnmma) December 9, 2020
When speaking to ESPN this week, though, he confessed that his preference is to take on Henry Cejudo in his next fight after UFC 256. Cejudo, who previously held the UFC flyweight and bantamweight titles, has been quite critical of Deiveson and it seems the reigning champion is hungry for vengeance.
"For sure Henry Cejudo," he said through his translator when asked if he'd prefer to fight Cejudo or Garbrandt next. "He talked a lot of s**t. We're ready to shut up his mouth. Now's the time for somebody to shut his mouth up, to silence Henry Cejudo."
Deiveson's beef with Cejudo stems from their disagreement on who saved the flyweight division from extinction. The weight class had been struggling for attention for years and was rumored to be on the verge of being shut down by UFC. When Cejudo upset longtime champ Demetrious Johnson in 2018, that shined a spotlight on the flyweight division. However, Cejudo fought at 125 pounds only once more before moving up to 135, where he added a second belt in 2019.
After defending his bantamweight title in May, Cejudo announced his retirement, although he has since indicated that he would return to fighting for the right money.
Despite his retirement, he's frequently trashed talked Figueiredo on social media and in interviews, laying the groundwork for a high-profile grudge match if he chooses to return to competition.
"The only reason why Deiveson Figueiredo's there is because of me," Cejudo told The Schmo recently. "To me, he's the lord of nothing. I'm the one that gave him that position. I'm allowing him to babysit my belt and he's being a pretty good babysitter in my eyes.
"Every time I watch the fights I just look at things the fighters are doing wrong and when I see that, even with Deiveson, this is why I think he's gonna have a hard time and may potentially even lose to Brandon Moreno," Cejudo added. "All you have to do with a guy like Deiveson Figueiredo is make him grapple for that first round because he's cutting a lot of weight. By the time that second, third round hits he's gonna start having that heavy muscle. So I'm gonna pick Brandon Moreno — which, he sucks too — but I'm gonna pick him to beat Deiveson Figueiredo."
Who will win a fight between Deiveson Figueiredo and Henry Cejudo?
Purchase the UFC merch here.
To bet on an MMA event click here.
ALSO READ: