UFC veteran and submission specialist Demian Maia wants to have one last fight in the UFC and has requested UFC president Dana White to make the fight happen against Donald Cerrone or Nate Diaz.
At UFC 263 Demain Maia Fought rising fighter Belal Muhammad to a decision. After losing the fight via unanimous decision and losing back-to-back outings it was clear that it was time for Maia to call it off. UFC president Dana White said after the event it's likely the fight was Maia's last one in the UFC, which would put an end to one of the longest careers in the UFC. After the fight, he went on to social media and announced that he still has one fight left in him and wants it to be against a similar veteran of the sport.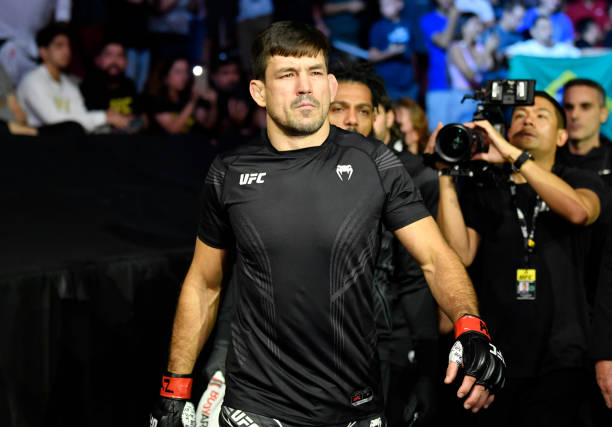 "Last night I tried hard and unfortunately wasn't able to put my best performance," Maia posted. "As frustrated as I am, I kept trying until the end and that's in the past now. I'm already looking forward as I know time goes by fast, and I won't be doing this much longer.
"@natediaz209, I saw your quote on the press conference, and think you're great too. You're a great fighter who also represents Jiu-Jitsu and you're real, I respect that.
"Regardless of last night, I know I still have one fight left in me, and it's no secret that I feel like @UFC is my home, where I want to finish my career.
Demain Maia wants one more fight in the UFC
Maia has now made it clear to the world that it's his time to call his career off but he is not going out without a big fight against another long-time UFC fighter. He has now precisely asked out Dana White to fulfill his wish and give him the fight he deserves against Nate Diaz or maybe Donald Cerrone.
"I'm interested (in continuing). I would like to do one more fight, I had said that before. I had a surprise with Nate Diaz's challenge after his fight, it's a fight that interests me a lot, the other would be against (Donald) Cerrone, who is also about to end his career. It depends on the UFC wanting it, whether Nate really wants it. If Nate wants to, they do it, because he's a guy who sells a lot. It ultimately depends on Dana. After my fight I sent a message to Dana talking about my desire to face Cerrone, also thanking me for everything I went through in the organization. (But) I still haven't had an answer," Maia said.
"This last fight on the contract was a huge anticlimax for me. (Muhammad) is really tough, a great athlete, but because I played defensively, I wanted to shine more, show that I was prepared, evolved and that anticlimax remained. A fight with Nate or Cerrone, we'd go out in a fight, no matter what happened, and we'd kill that urge."
Purchase the UFC merch here.
Click to Predict here.
Download the Fanatics Fantasy MMA app here.