UFC middleweight contender Derek Brunson revealed why he wasn't talking back to his opponent Kevin Holland who was constantly uttering during their fight at UFC Vegas 22.
After pulling off yet another upset against a surging middleweight in Kevin Holland in Saturday's headliner at the UFC Apex in Las Vegas, Brunson (22-7 MMA, 13-5 UFC) now finds himself on a four-fight winning streak and primed for a top-ranked matchup.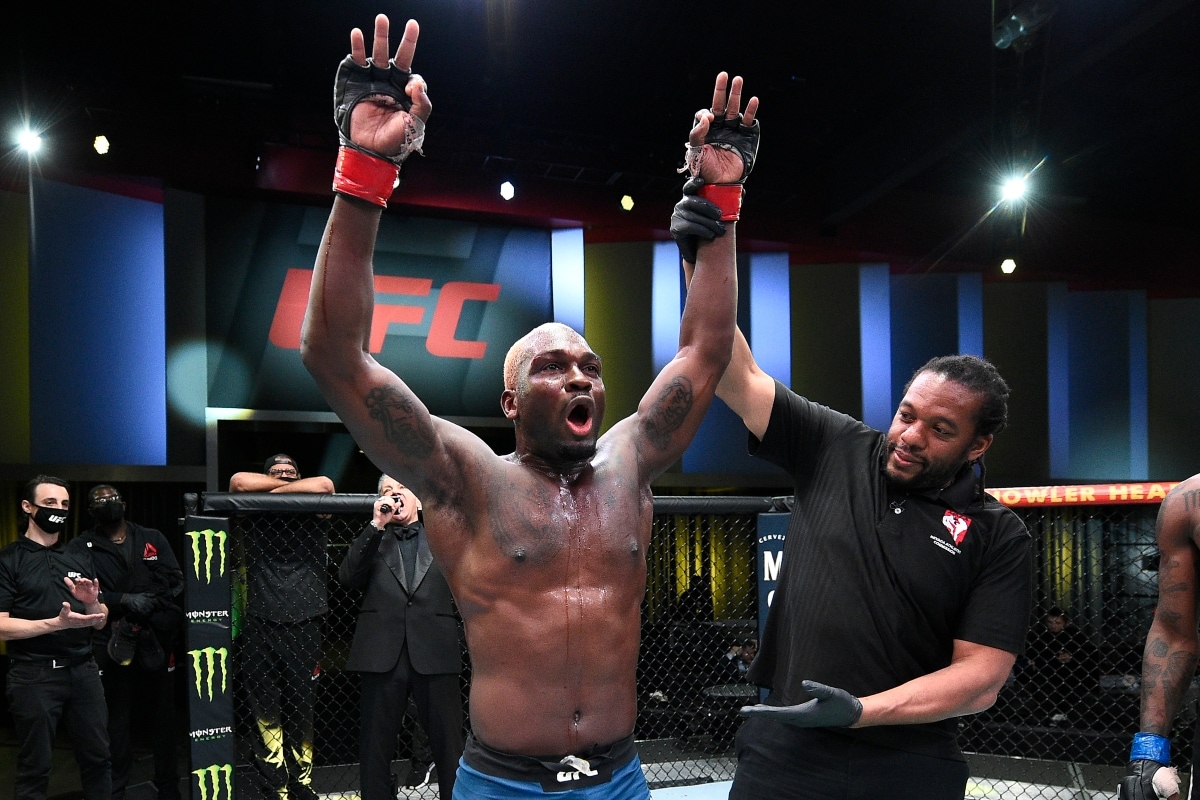 He felt he deserved as much after beating Edmen Shahbazyan as an underdog in his previous outing but is leaving no doubts about his desires. He said immediately after the win in his post-fight interview with Paul Felder that he wanted Costa (14-1 MMA, 5-1 UFC) next, and he elaborated why at the post-fight news conference.
"I can't say I was too excited about this fight (with Holland)," Brunson told reporters, including MMA Junkie. "I was asking for guys like Costa. I was cool with a Robert Whittaker rematch. I want one of these top guys that are going to elevate me. So this was a fight where I had to hold serve. I want a guy that will elevate me that I can get excited for and feel like this is the fight for me."
Derek Brunson opens up on Kevin Holland's constant talking during the fight
Kevin Holland's five-fight win streak came to an end on Saturday after he suffered a unanimous decision loss to Derek Brunson in the UFC Vegas 22 main event. While Holland spent a lot of time talking to Brunson during the fight—even asking former lightweight champion Khabib Nurmagomedov for advice between rounds—he ultimately couldn't stay off his back, which is where he spent the majority of 25 minutes.
Afterwards, UFC President Dana White criticized Holland's performance, not to mention his constant antics during the fight.
"I think that was a mental breakdown," White told Yahoo! Sports after the event. "The only other thing I saw like it was [in boxing] when Lennox Lewis fought that guy [Oliver McCall] who kept his hands at his side and was crying.
"I don't know what he was doing. I think he might not have been able to handle the pressure and just broke mentally. I haven't seen anything like that."
When asked about his opponent's antics, Brunson had the following to say in the post-fight press conference.
Derek Brunson said he was going to talk back to Kevin Holland during the fight but then just thought "this guy is just stupid. He's just laying here, talking, not improving position." #UFCVegas22 pic.twitter.com/rZJXEqBtke

— Helen Yee (@HelenYeeSports) March 21, 2021
"Listen, Holland man, you gotta do better than that, that was pretty stupid. Work to get out of positions. You're talking the whole time. I was gonna talk back to him during the fight but I'm like, 'This guy is stupid, he's just laying here, talking, not improving position.' So I just let him hang, I didn't wanna break his rhythm, just let him keep doing his thing."
There's been a whole lot of criticism thrown in the direction of Kevin Holland and it's not exactly hard to see why. Even after all these remarks, it seems like it doesn't bother Holland who said after the fight that he is going to continue his taking.
"Never gonna stop talking," Holland said in a post made on Instagram after the main event. "If you guys don't f**king like it, deuces.
"I'm gonna be me [till] I die. Never said I wanted to be the champ. I said I wanted to have a good time and that I did. On to the next."
Purchase the UFC merch here.
To bet on an MMA event click here