'The Nightmare' Diego Sanchez said that he is going to retire from MMA after his current UFC contract comes to an end.
Diego Sanchez recently stated that he might retire after his fight by saying that he can "see at the end of the tunnel." Diego Sanchez is currently the last remaining active fighter from the Ultimate Fighting Championship roster from the original The Ultimate Fighter (TUF) cast, the show that first aired more than 15 years ago.
Throughout the years, Sanchez has been one of the most active fighters on the entire roster, fighting at four different weight classes from middleweight to featherweight
While talking to Mike Swick on the "Real Quick" podcast Sanchez said:
"I got four more left, I signed my last contract with the UFC, and I'm going to ride these last four fights out, and I'm done. … I can see the end of the tunnel, but I'm not afraid of it anymore. For so many years, I used to be like, 'No, I'm not going to even think about that. I'm not going to think about retirement.' I remember when I was 27 I was like, 'OK, when I'm 37 years old, I'm going to look at everything and I'm going to see where my health is at. I'm going to see where my money is at and if its time maybe I'll take a couple more fights.'
"Then I hit 37 and I was like, 'Hey, I feel better at 37 than I did at 27, so I'm going to stick with it. Now it's to the point where I'm like, 'All right, be grateful for what you've got and got these last four with your mental health, with your health, and your ability to do other things outside of fighting like being a father."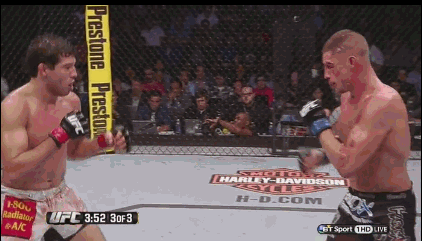 Sanchez after all these years is still one of the most active and dangerous fighters in the UFC. He's won three of his last four fights but also he has taken a lot of damage throughout his career, and fans and media have been calling for his retirement for several years now.  "The Nightmare" has been involved in many wars over his fighting career. One of the most memorable fights in which Sanchez went all guns blazing was against his 2 fight with Clay Guida and  Gilbert Melendez.
Sanchez has seen lots of highs and lows in his career and if now he decides its time to call it the end the fans will miss him but will support him for his retirement life.
what was your favorite Diego Sanchez moment in the octagon?
ALSO READ:
UFC News: Luke Rockhold calls out Darren Till for a comeback fight, but would love to "shut up" Chris Weidman