Former USA President Donald Trump has been awarded the Ninth Dan Black belt by the president of World Taekwondo president, Lee Dong-seop. The president of World Taekwondo headquarters visited Donald Trump at his Mar-a-Lago mansion in South Florida. Donald Trump has been a fan of combat sports for a long time. He has been a regular attendance to many big entertainment events and fights sports promotions like WWE, AEW, UFC, and many more. Donald Trump put on a taekwondo outfit known as a dobok and took photos with Lee Dong-seop.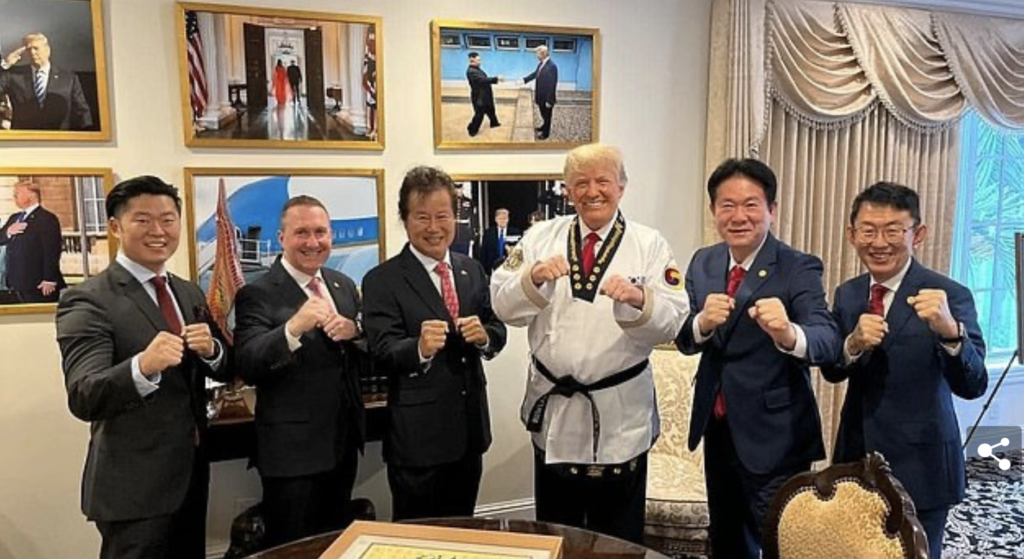 The president of Kukkiwon, Lee Dong-seop on Saturday made a visit to Mar a Lago, Palm Beach, Florida, a resort owned by the former POTUS. The reason for this was very specific as Lee Dong-seop wanted to award Mr. Trump with their honorary ninth dan certificate and a set of Taekwondo GI. Lee said that he got to know that Trump is a big fan of combat sports and likes Taekwondo.
"I heard that Donald Trump is highly interested in Taekwondo," Lee said, requesting his continuous support and cooperation for Taekwondo and Kukkiwon.
Donald Trump looked very happy and excited after receiving the award and he expressed his happiness by praising the Taekwondo sport.
"It is my pleasure and honor to receive this honorary certificate. Taekwondo is a great martial art for protecting oneself in these times (when COVID-19 prevails),"
"It is my honor to receive the Honorary Dan Certificate and I think taekwondo is magnificent martial art for self-defense," Mr. Trump said, adding that he will wear the taekwondo suit in the U.S. Congress if he makes it back to the White House. The former president also invited the Kukkiwon Taekwondo demonstration team to the United States.
Donald Trump is a huge fan of the UFC. He has attended many UFC events and is close to many UFC fighters. Many UFC fighters have participated in Trump's election events. One of the closest UFC fighters with trump is former two-time UFC welterweight title challenger Colby Covington. Henry Cejudo and Justin Gaethje are among the list of fighters who were recently seen in the Trump event.
Donald Trump and his son Donald Trump Jr were recently part of the commentary team for the Triller boxing event headlined by the Evander Holyfield vs Vitor Belfort boxing match.
HIGHLIGHTS:
Donald Trump was awarded an honorary ninth dan certificate and a set of Taekwondo wear by Kukkiwon President Lee Dong-seop.
Purchase the UFC merch here.
Click to Predict here