Renowned MMA coach Firas Zahabi has made a strong statement in which he said that he feels like Jake Paul will be using Peds while fighting against Tyron Woodley in their Boxing match.
One of the most intriguing boxing matches recently announced was between Celebrity boxer Jake Paul and former UFC welterweight champion Tyron Woodley. The fight is set to take place on August 29 in Cleveland, Ohio. This will be the first hardcore test for Jake Pual as he will be fighting against a pure striker. In his last fight, he boxed against Ben Askren, known for his wrestling skills, so when Pual knocked him out, many people stated that the victory was a fluke one. If he beats Tyron Woodley in the way he has defeated his opponents, people might start to consider him a real fighter.
According to Zahabi, it is an intriguing fight, but the one thing he thinks will play the biggest factor out of everything is that Zahabi believes that Paul will be on PEDs for the fight against Woodley. While talking to the fans in a YouTube Q&A session, Firas Zahabi made this bold statement against Jake Paul.
"I didn't want to mention it, but my number one factor — Jake Paul's corner, they're going to be on all sorts of substances," Zahabi said. "I don't think they test. Maybe the week of the fight, (but) there's no USADA. I didn't want to say, but I think that's a major factor. When I say he's bigger and stronger and he's more athletic, I think he's basically on PEDs.
"I hate to say it, but I definitely think Jake Paul is going to be on PEDs. It exists in the world of boxing, just like it exists in MMA," he said. "And I don't think Tyron will be on PEDs. I think Tyron will be totally natural. Does it make a difference? It absolutely does."
Also, he talked about the fight in detail and revealed some factors which he feels might play a key factor in this matchup.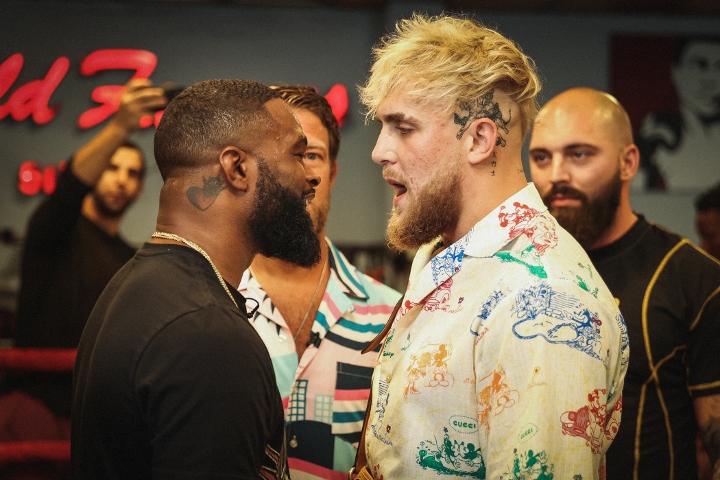 "(Woodley) doesn't want to take that risk, even though he has that skill," Zahabi said. "He executes in sparring, but he's a little bit gunshy (in actual fights).
"Two things are gonna happen, either (Jake Paul) is going to move ahead on the scorecards against Woodley, or he's gonna get knocked out by a counter right. I doubt Woodley knocks him out with any other punch.
"He knocks out a young, overly excited Jake Paul, who's overly confident, walks into his right hand and gets laid out. Is that a possibility? Absolutely. However, I do feel that Jake Paul holds the same weapon. He's got a devastating, devastating right hand, except Jake Paul is going to be more active, with the same right hand.
"Either guy can get knocked out with a right hand, but Jake Paul is bigger, explosive, very athletic," Zahabi said. "Because he's bigger, he could push around, he could bully a Tyron Woodley a little bit."
Purchase the UFC merch here.
Click to Predict here.
Download the Fanatics Fantasy MMA app here.