For fifteen years, Georges St-Pierre ruled the world of mixed martial arts. Touted as one of the greatest to ever step inside the Octagon, the Canadian became a dream opponent for many others in the sport.
However, GSP himself has a dream scenario, but that transcends from the Octagon and into the squared circle, as he recently revealed that a fight that he considers a "dream come true" would be against Oscar De La Hoya, who himself is on the talks for making a comeback to the sport this year.
De La Hoya (39-6, 30 KOs), a former 10-time world champion across six weight divisions, held the WBC, WBO and IBF titles during his prime. He was last seen in action back on 6th December 2008 when he was defeated by Manny Pacquiao at the MGM Grand Garden Arena in Paradise, Nevada.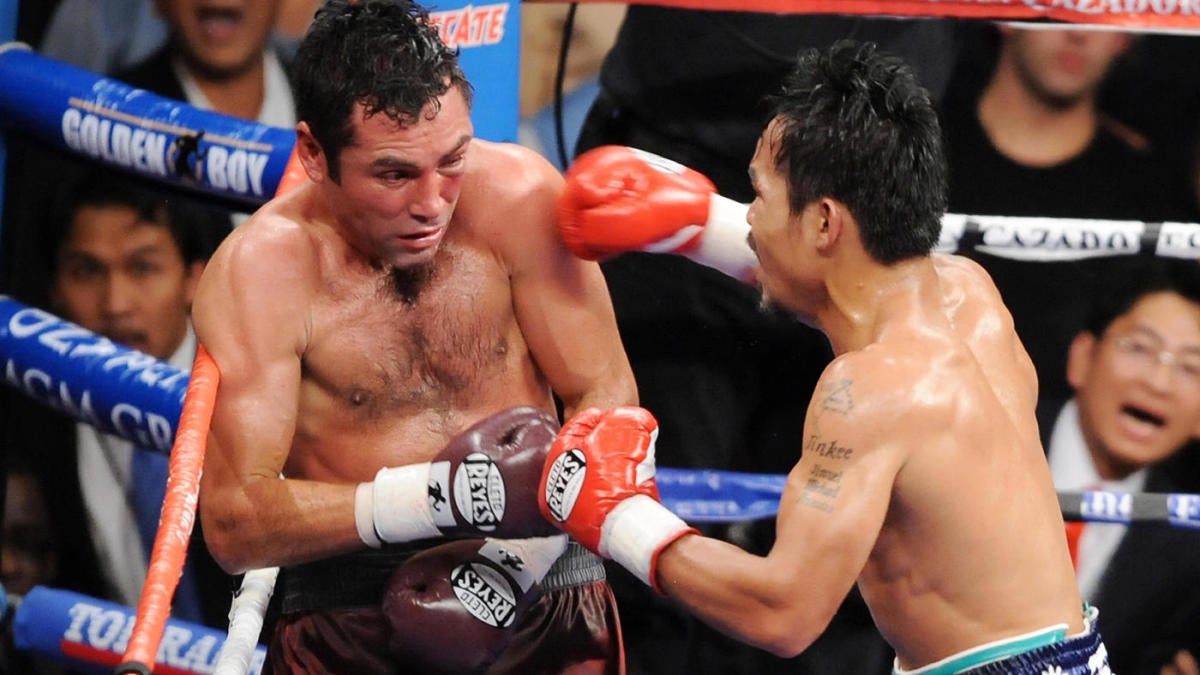 Now, the Golden Boy CEO is aiming to make a comeback to the sport after 12 years, and the name of Georges St-Pierre was the first preference for Ryan Kavanaugh, the co-founder of Triller, which has recently been making a huge name in boxing.
However, there's a catch. Although St-Pierre parted ways with the UFC almost four years ago, he still needs an official green signal from the promotion president Dana White to perform outside the UFC.
Unfortunately, White has negated a fight between St-Pierre and De La Hoya, which in turn fumed Kavanaugh, who recently blasted the UFC prez on social media for not allowing the bout to take place.
ALSO READ: Georges St-Pierre says he never liked fighting inside the cage
De La Hoya is St-Pierre's "second favourite boxer of all time"
While there is no progress being made on the fight, St-Pierre still considers facing a legendary boxer like De La Hoya his 'dream', as he recently revealed the same in an interview with Cinema Blend.
"I understand that Dana didn't want me to fight. However, it would have been fun," said St-Pierre, "because my career as a professional fighter, to become the best in the world in mixed martial arts, is done. I'm turning 40-years-old tomorrow; I'm going to be 40-years-old. It's a young man's game."
"However, to rather fight a boxing match under the rules that Triller put on against the legendary Oscar De La Hoya? For me, it would have been a dream come true, because he is my second favorite boxer of all time, behind Sugar Ray Leonard," the three time UFC welterweight champion went on, "Plus, a lot of the money made would have been given to charity. So it would have been for a good cause, just to show that we don't take ourselves too seriously."
St-Pierre was last seen in action against Michael Bisping at UFC 217 on 4th November 2017, which was his debut as a middleweight fighter and in the same bout, GSP won the UFC middleweight title and retired as the same before vacating it.
Purchase the UFC merch here.
Click to Predict here.