Former UFC welterweight title challenger Gilbert Burns has issued a challenge for the UFC's hottest prospect Khamzat Chimaev. The duo has been linked to fighting each other for quite a long time but no official announcement from the UFC has been made yet. According to some reports, Khamzat Chimaev has agreed to face the former UFC welterweight title challenger Gilbert Burns at a UFC event that takes place on April 9. Previously the duo was rumored to face each other in January of 2022 but seems like that fight never got materialized. Now Gilbert Burns wants this fight to take place at UFC 's Brazil card.
Make it happen @danawhite I'm all in! 5 rounds in 🇧🇷 🦍 vs 🐺 Let's grappled! @KChimaev @ufc pic.twitter.com/aBMYaa18lb

— GILBERT BURNS DURINHO (@GilbertDurinho) January 17, 2022
"Make it happen @danawhite I'm all in! 5 rounds in Brazil. Let's grapple! @KChimaev @UFC," Gilbert Burns wrote on social media.
Now Khamzat is 4-0 in the UFC and has also set a unique record of being the least hit guy in the UFC after the first four fights. Khamzat Chimaev has been just hit twice in his four-fight for the promotion. Covington. Khamzat Chimaev in his last fight fought the top 15 ranked welterweight Li Jingliang at UFC 267. The fight was a dominant win for Khamzat who submitted Li in the very first round of the fight.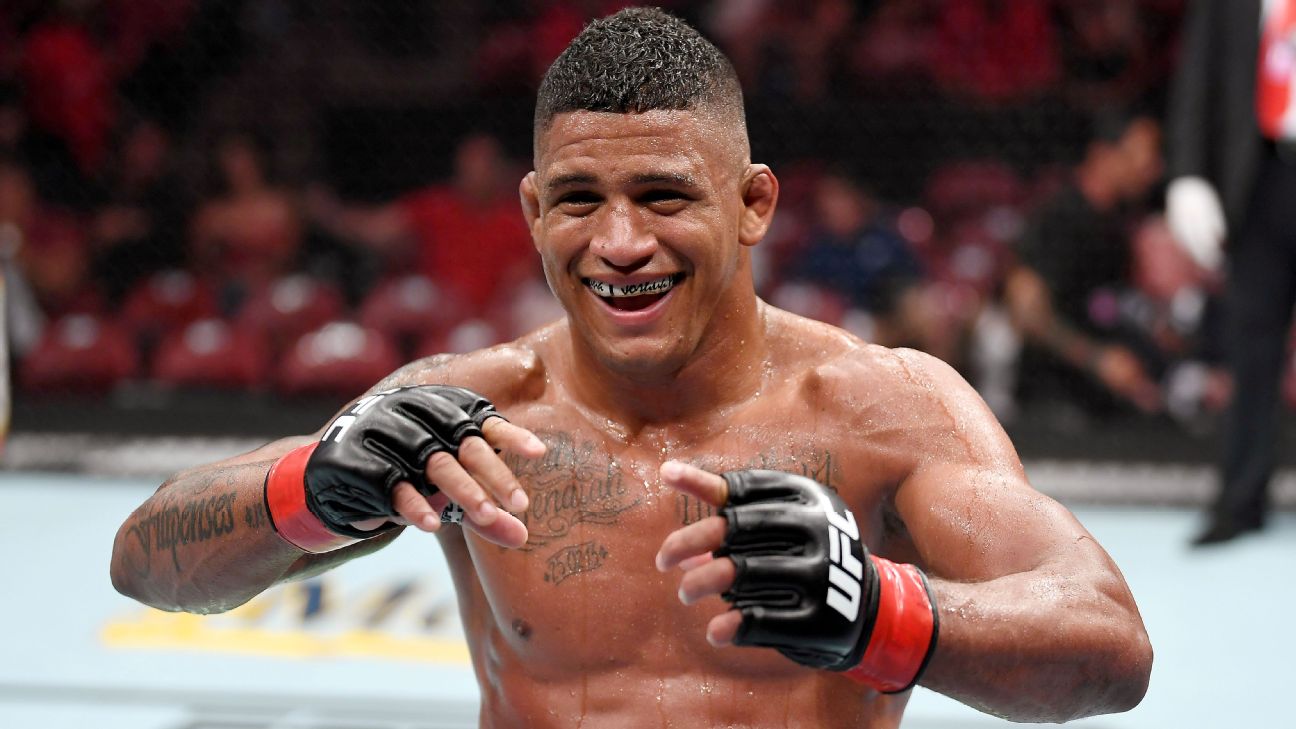 Gilbert Burns is a former title challenger as he fought Kamaru Usman for the belt but lost the fight via TKO in the third round. He is coming off a decision win over top-ranked Stephen Thompson. Burns in his latest interview revealed that a fight with Khamzat could be next as many fighters are turning him down. Burns is also pretty confident in his skill set that he will be able to defeat Khamzat Chimaev. Khamzat is known for his wrestling while Burns is an expert BJJ fighter which makes this a perfect matchup.
"I'm already in negotiations for my next fight," Gilbert Burns said. "A lot of people did not accept (to fight me), so the negotiation has been a little more complicated. I keep watching fights and when somebody in my division is fighting, I go crazy wishing that they would call me out, but nobody does. We'll see when this next fight comes."
"We've been negotiating, we're looking at an April slot," Gilbert Burns continued. "We're just trying to establish an opponent. It could be Khamzat Chimaev. He's one of the few guys who has accepted and we're still negotiating. We'll see. It could be him next."
HIGHLIGHTS:
Gilbert Burns Challenges Khamzat Chimaev
Purchase the UFC merch here.
Click to Predict here