UFC lightweight Islam Makhachev after putting on a dominant performance against Drew Dober and putting him away with an arm-triangle choke called out Tony Ferguson.
Makhachev, 29, earned his seventh win in a row with efficiency, getting takedowns less than a minute into the first round, 40 seconds into the second, and around 20 seconds into Round 3, and never allowing Dober to get back to his feet. The fight ended at 1:37 of Round 3 when Makhachev took side control and clamped on an arm-triangle choke to elicit the tapout.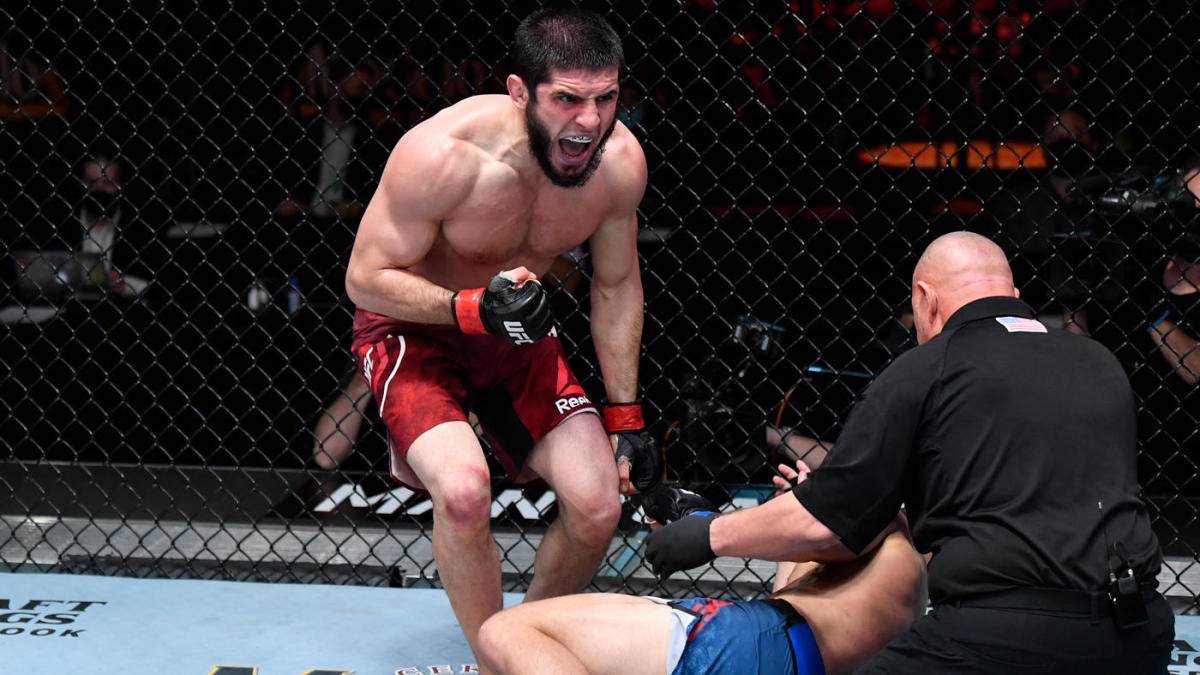 Makhachev is no carbon copy of Nurmagomedov — his first takedown came at the center of the Octagon, not along the cage, where the champ likes to operate. And Makhachev did not test out his standup, recognizing that would be Dober's best chance to win. He stuck to basics, and his basics were unstoppable.
Dober, who is 32 and from Denver, saw a three-fight winning streak come to an end. He had won all three of those bouts by knockout, but on this night he never got a chance to let his hands go.
By beating a respected veteran such as Dober in the fashion that he did, Makhachev likely earned himself a step up in competition against someone in the top-10 of the stacked UFC lightweight division. He even has a name in mind.
Islam Makhachev is interested in Tony Ferguson Fight
Speaking to the media following UFC 259, Makhachev requested that he would like to fight Tony Ferguson next. Ferguson is coming off of back-to-back losses to Justin Gaethje and Charles Oliveira, but he remains one of the best lightweights in the UFC. With Makhachev looking for a step up in competition, he called out "El Cucuy"
"In 2021 I have to fight two more times and at the beginning of 2022, I have to fight for the title. My dream fight is Tony Ferguson. That's my dream fight. I just want to make him retire. He talks too much. Khabib is retired, now he keeps pressuring him, for what? I'm here, I have a seven-fight win streak, make this happen."
Makhachev sees a fight with Ferguson as taking care of unfinished business for his friend and training partner Khabib Nurmagomedov.
"When Khabib takes this fight versus Tony, Tony is a southpaw and I am southpaw too. So all this, what, five-time, I help Khabib for this fight. So I know exactly how Tony work, I know a lot about him."
"Khabib and I have the almost same technique. We have good wrestling, good grappling skills. So I just want to show people how Khabib takes him down, controls him, makes him tired, makes him tap. Everybody talks like Tony's hard fight for Khabib but I never thought like that because Khabib's wrestling and grappling are different. Nobody has it like that."
"Tony is number five or six, that's why it's going to be good for me," he finished/ "And Tony is a very good fighter because he finishes a lot of good fighters. That's why I just want to check my skills, and I know I can finish him."
Tony Ferguson is dangerous, unorthodox and a former interim champion. But after losses to Justin Gaethje and Charles Oliveira, he's also on a two-fight skid. The maybe personal for him but defeating Someone like Tony is always good for his resume.
Purchase the UFC merch here.
To bet on an MMA event click here