UFC Lightweight contender Islam Makhachev has stated that the former two-time title challenger Dustin Poirier is now fighting for money because he won't be able to become a champion in the lightweight division. Dustin Poirier last fought against Charles Olivera for the lightweight championship. This was his second title fight. He previously had faced then-champion Khabib Nurmagomedov for the lightweight championship at UFC 242 in 2019. He lost that fight via submission in the third round. In his second title fight against Charles Oliveira, he dominated Charles on the feet and on the ground in the first round but then lost his momentum in the second round and eventually got submitted by Oliveira in the third round.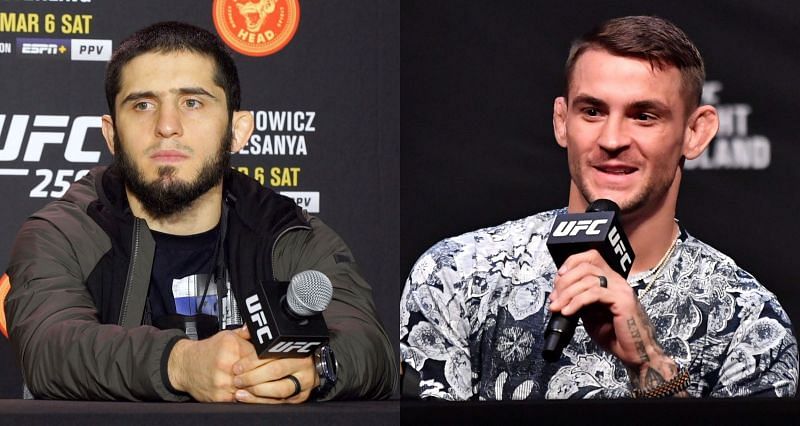 Islam Makhachev in his latest interview stated that Dustin Poirier is now fighting for money and has no hope left for winning the title. He said that Dustin Poirier won't be winning the title anytime soon.
"I think he just wanna make money. He knows he's not gonna be a champion no more." That's why he's thinking about money now. He just wanna choose a weight where he can make more money. This is my opinion."
Dustin Poirier is seemingly at the tail end of his career. He is still the no.2 ranked lightweight fighetr in the world. He is also no.8 pound-for-pound fighter. Dustin 3-2 in his last five fights in the UFC. He was coming of wins over Dan Hooker and two back to back wins over Conor McGregor. Then he last fought against Charles Oliviera at UFC 269 for the lightweight title. He lost the fight and also talked about retiring from the sport.
Dustin Poirier plans to fight Nate Diaz
Dustin Poirier in his last interview had revealed his fuutre fighting plans and also stated that he wanst to fight nate Diaz next.
"No contract has been signed yet, but if this does go through I'm going to take it," Poirier said. "This would be super short-notice. I already looked at myself in the mirror. I spoke to my wife (Jolie) and my boxing coach (Dyah Davis) – people I talk to regularly. I talked to my coach Mike Brown as well. They support me if I want to take this fight, but I have to look myself in the mirror and ask, 'Do I want to take this fight.' I did exactly that. I looked in the mirror and I just felt good.'"
"It is Nate Diaz," Poirier said. "I'm not going to say a card. I'm not going to say what date. But he got on Twitter talking. This guy really fights and I'm a fan of him, but everybody's a tough guy on the internet. He said something like, 'Let's do it.' I said, 'Yeah, sure. I'll really fight you this month.'"
HIGHLIGHTS:
Islam Makhachev says Dustin Poirier is fighting for money
Dustin Poirier plans to move up to welterwieght
Purchase the UFC merch here.
Click to Predict here