Celebrity Boxer Jake Paul has still some dispute going on with Boxing Legend Floyd Mayweather and Jake recently said that "He need me more than I need him".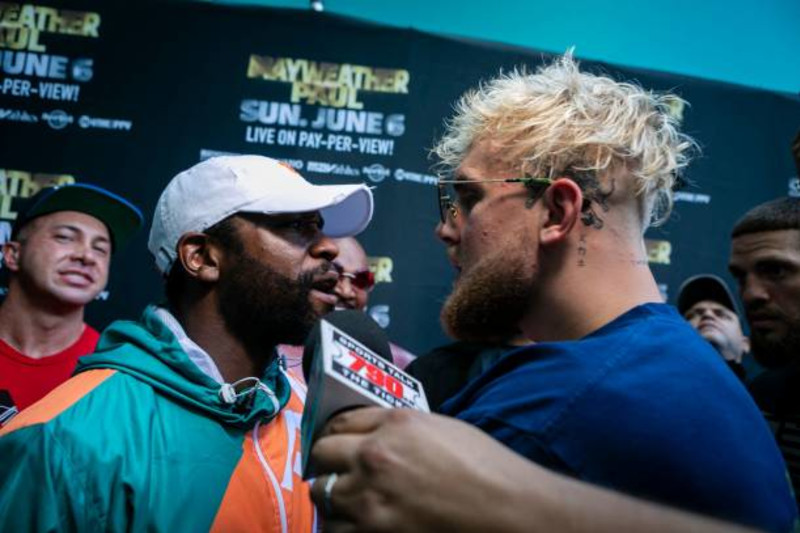 There's no doubt on anyone's mind that Jake Paul and Floyd Mayweather can't be in the room together. The last time the duo came face to face was during the press conference between Logan Paul and Floyd Mayweather leading up to their boxing match. They had a huge brawl in front of the media and also backstage. Now Jake is ready to box former UFC welterweight champion Tyron Woodley who is getting trained by Floyd for this fight. According to Jake, he feels that Floyd would never fight him as he would get smoked.
"That's a good question," Paul told USA TODAY Sports. "He, I think realized with fighting my brother that we're not to be messed with. He said he would only fight me if I cut down to 154 pounds, which is physically impossible. And he don't want that smoke, man."
He also feels that if the duo ever fights Jake, he would be the A-side as he brings more audience than the undefeated boxer.
"If it's going to happen, it's going to happen," Jake Paul said. "But right now, my focus is doing real, professional fights. I'm not trying to do any exhibitions. So if he wants to do a real pro fight at a real weight, I'm down. But I don't want to do money fights with an old guy. He needs me more than I need him."
Also in a recent interview with TMZ Sports Jake shared his thought on Tyron Woodley's training with Floyd Mayweather.
"I think it's a disadvantage for him, actually. Him hopping around with different coaches, trying to learn different styles, that's not how you progress in this sport. You progress with one coach, one point of attention, doing the same things over and over again, and then adding on top of that each time. And Floyd didn't even really have a strategy to go in and beat my brother (Logan), so how is he going to tell Tyron what to do?" Paul said.
"I think he sees what I'm doing in the sport and he wants to put an end to it. He's a very greedy guy, he doesn't want anyone to be more popular or have more claim than him. I think he wants to see me lose. He wants to see this whole train get stopped," Paul said.
Jake Paul and Tyron Woodley are set to clash on August 29. The fight will happen at 190 pounds inside of a 20-foot ring.
Purchase the UFC merch here.
Click to Predict here.
Download the Fanatics Fantasy MMA app here.