UFC light-heavyweight champion Jan Blachowicz says he wants to fight Israel Adesanya by March 2021.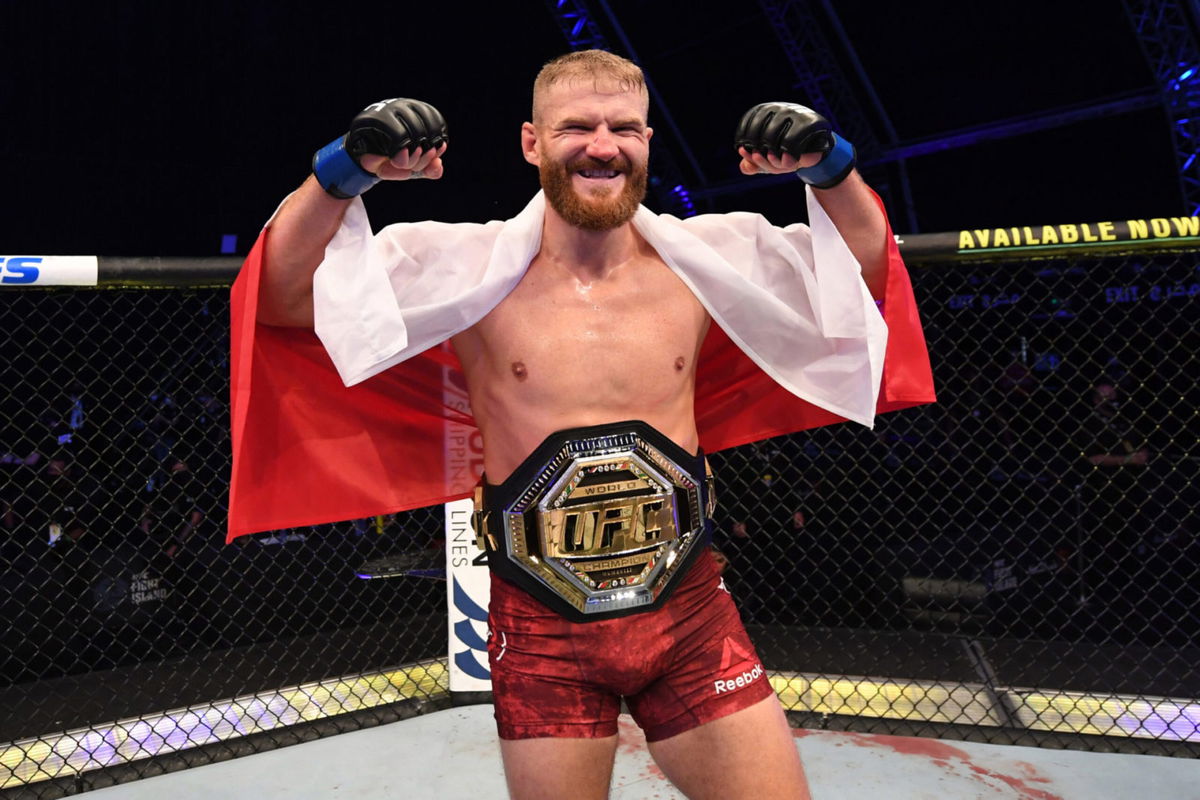 Blachowicz is expected to defend his belt against Adesanya sometime in 2021. While the fight doesn't yet have a date or a setting, the light heavyweight champion has named March as his preferred timeframe for the fight.
Israel Adesanya has expressed interest in moving up to Light Heavyweight in an attempt to become Ultimate Fighting Championship's (UFC) next "champ-champ," even though Robert Whittaker is waiting in the wings for his shot at revenge against the Middleweight champion.
If it's a light heavyweight title shot that Israel Adesanya desires, Jan Blachowicz is ready and willing to oblige.
As it stands, there isn't a clear-cut No. 1 contender at 205 pounds. Thiago Santos and Glover Teixeira are set to collide at UFC Vegas 13 on Nov. 7, 2020, and the winner could very well earn a shot, though it's now a foregone conclusion. As far as the landscape at 185 pounds, Whittaker earned a shot at reclaiming his strap by battering Jared Cannonier last Saturday at UFC 254.
Blachowicz talks about Adesanya
"UFC asked me [about fighting Adesanya] after my fight in Abu Dhabi [at UFC 253], the next day," Blachowicz told ESPN recently. "I say it's no problem for me but not now. In March I can fight anybody, it's no problem for me. But I can not fight any earlier than March. This is one problem for my opponent. If Israel wants to wait no problem, if not he needs to fight a different challenge."
"If he thinks like this he's wrong," Blachowicz said. "Why does Jon Jones not want to fight at 205 anymore? He's afraid of me. That's why he moved to heavyweight. This is the reason. So this is not going to be an easier fight for Adesanya. It's going to be a harder fight."
The opening betting odds for this anticipated light heavyweight title super fight have already been released, and Blachowicz has been identified as a significant underdog. He feels the oddsmaker's apparent faith in an Adesanya win is unwarranted.
"If he thinks like this he is wrong, but I don't care what he thinks. If they make this fight I will prove him wrong. He will go back to (middleweight) very fast," Blachowicz continued. "It's going to be amazing because when I beat him he's going to remember me for the rest of his life. I am going to be the first one to beat him in MMA.
"He's going to feel my Polish Power like everybody."
Despite being the crafty striker that he is, Adesanya will need the necessary power in his hands to knockout a proper light heavyweight. Blachowicz believes will feel the power of a new weight class if he ever fights Jon Jones.
Purchase the UFC merch here.
To bet on an MMA event click here and to bet on other sports, click here.
Also Read:
Israel Adesanya says he is not going to bulk for light-heavyweight debut like Jon Jones