Former UFC strawweight champion Joanna Jedrzejczyk has given a detailed analysis of the fight between the current middleweight champion Israel Adesanya and reigning light-heavyweight champion Jan Blachowicz.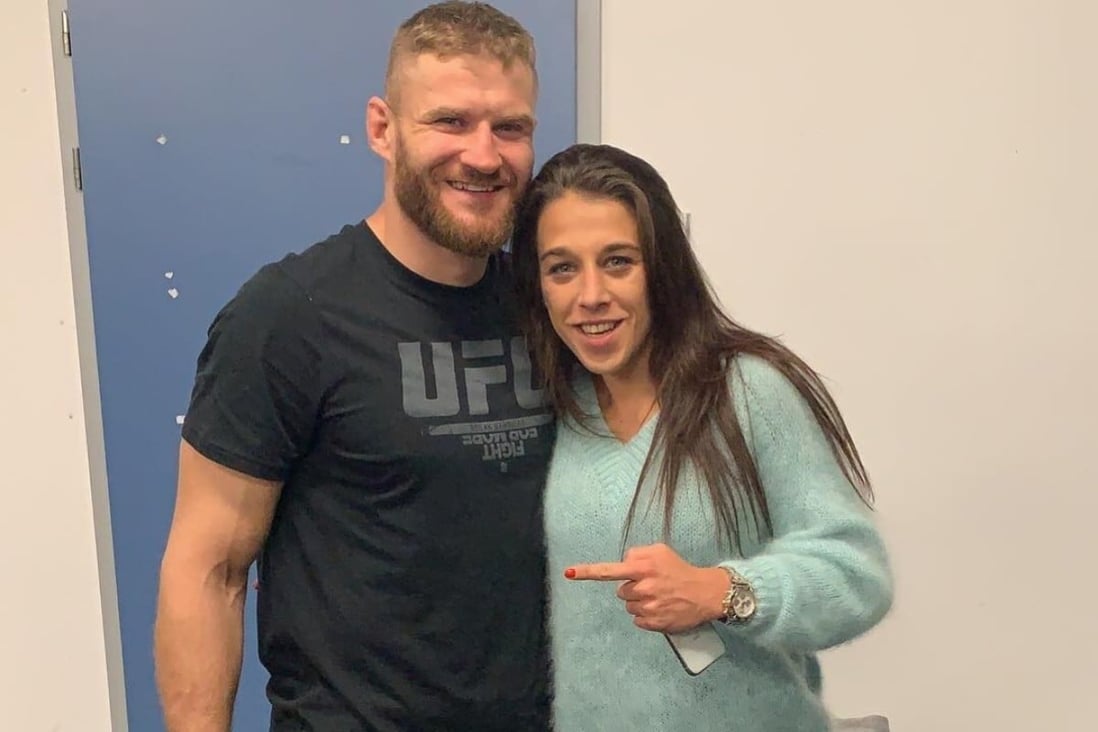 Former UFC strawweight champion Joanna Jedrzejczyk is as excited as the rest of us to see Jan Blachowicz and Israel Adesanya collide in the Octagon at UFC 259 on March 7. The fight will see Blachowicz (27-8), the UFC light heavyweight champ, attempt the first defense of his belt, while Adesanya (20-0), the promotion's middleweight champ, will look to become a two-division titleholder. Jedrzejczyk (16-4) has been a close friend of Blachowicz for many years, having come up through the Polish Muay Thai scene with him.
Joanna Jedrzejczyk gives her opinion on the fight
Jedrzejczyk spoke to South China Morning Post and broke down the matchup. While she acknowledges that she has a close friendship with Blachowicz, she also admits Adesanya is a unique challenge.
"Jan Blachowicz, he was on fire [against Reyes]," Jedrzejczyk told SCMP. "I could see that. I've known Jan for like 15 years, and even a few days before the fight, I called Jan and I could see the difference.
"It was the right time, the right place" Jedrzejczyk exclaimed.
"I feel like he's just getting stronger physically and more importantly, mentally. You can't stop this. I can see that change in Jan." While Joanna considers Blachowicz a close friend, she is also a big admirer of Adesanya and believes the fight could go either way.
"I love Adesanya," she said. "I love seeing him fighting. "Jan has more to lose, and Adesanya has nothing to lose," she said. "[Adesanya is] the champ in a different weight class – a lower class – and he's going to fight for Jan's belt. Jan is bigger, stronger. "It's going to be a very interesting match-up. Jan has his power behind his punches, his liver kicks, but you know Adesanya is so flexible, so unpredictable."
UFC middleweight champ Adesanya is undefeated in 20 pro fights, including nine straight in the octagon. "The Last Stylebender" captured the interim middleweight title with a unanimous decision win over Kelvin Gastelum at UFC 236 in one of the best fights of 2019. The City Kickboxing standout became the undisputed champion when he put away Robert Whittaker in a title unification bout at UFC UFC 243.
Jan will attempt his first title defense after capturing the vacant title with a second-round finish of Dominick Reyes at UFC 253. After losing four of five between April 2015 and April 2017, Jan has gone 8-1 in his past nine appearances and has won four straight. The 37-year-old also holds stoppage wins over Corey Anderson and Luke Rockhold on the road to his first UFC title.
Do you guys agree with the Joanna Jedrzejczyk analysis of the fight?
Purchase the UFC merch here.
To bet on an MMA event click here.
Also Read:
Israel Adesanya to Fight Jan Blachowicz for light heavyweight championship at UFC 259