The carnage that followed Khabib Nurmagomedov's victory over Conor McGregor was violent, unethical, pathetic and moronic. It sets a poor example. It shouldn't have happened. People will call it disgusting, and they won't be wrong.
Seconds after the fight, Nurmagomedov decided to climb out of the octagon and charge towards McGregor's cornerman Dillon Danis. Soon after, McGregor and Abubakar Nurmagomedov(cousin of Khabib) also tried to climb out of the octagon, but a scuffle broke out between them after McGregor punched Abubakar, who then punched him back. Back in the octagon, McGregor was then attacked by two of Nurmagomedov's cornermen: Zubaira Tukhugov and Esed Emiragaev.
 Img:Dillon Danis(left),Khabib Nurmagomedov(right).
Radio host Joe Rogan, who was cageside at UFC 229, says Dillon Danis was taunting Khabib Nurmagomedov, before the Russian lost his cool, and leaped out of the octagon to attack him.
"Dillon was absolutely insulting Khabib, saying something to him and provoking him and then Khabib just jumped over the cage and attacked him," Rogan, the presenter of the Joe Rogan Experience said on-air in the hours after the chaotic denouement to the title fight. "I couldn't believe my eyes. I thought Khabib was just going to jump to the top of the cage and say 'F*** you'."
Rogan also had harsh words on Khabibs decision to attack Dillon after the fight.
"This is horrible. This is the nastiest thing I've ever seen," said Rogan. "Attacking someone in the crowd is so stupid and so unnecessary and so foolish after such a spectacular victory."
However Nurmagomedov appeared at the post-fight interview and apologized to the NSAC, saying he was provoked by the McGregor team's trashtalk  targeting his family, nation, and religion, as well as the UFC 223 bus incident.Nurmagomedov later told the media that he was triggered by a number of insults he heard from Danis during the match, including Anti-Muslim slurs. Danis, however, has denied that he made anti-Muslim slurs during the match.
Danis came out saying  that their bad blood runs nearly a decade, when Khabib was training in  New Jersey gym where  the US fighter also used to train.He said…..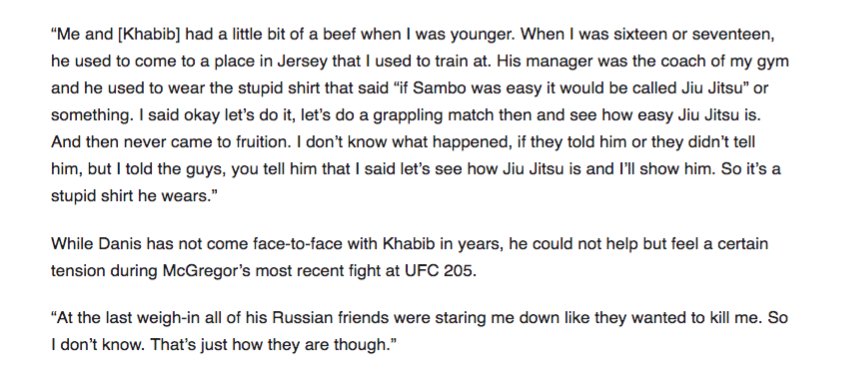 From their statements it somehow looks like the UFC Lightweight champion and the Marcelo Garcia blackbelt had this bad blood over almost a decade.Dillon currently is fighting at Bellator.