Former UFC light-heavyweight champion Jon Jones has shared his future heavyweight debut timeline and also given information about his current weight and training process. On August 15, 2020, Jon Jones announced that he would be vacating his Light Heavyweight Championship and also shared his plans to move up to heavyweight. It's been more than one year since that announcement but his heavyweight debut hasn't taken place yet. He was offered to fight Francis Ngannou for the heavyweight title but he refused as he felt the UFC offer was too low for him to fight such a huge matchup.
Jon Jones gives timeline for UFC heavyweight debut
Jon Jones was recently present for the UFC Hall of Fame ceremony where his first fight with Alexander Gustafsson was getting inducted into the Hall of Fame category. While talking to the media during the event Jones talked about his heavyweight debut and laid out his further fighting plans.
"Right now I'm about 255," Jones told MMA Junkie and other reporters on the red carpet. "I feel really great. My goal is to get up to 270 pounds. My goal is to be the most technical, the most well-conditioned, the strongest out of all the heavyweights. That's what I want. I want to take over all across the board and that's what I'm going to continue working for. I'm very patient and I know I have several more months of work to do. If anyone is impressed with the way I look today, I can't wait until they see me when I get back in there. I'm planning on doing so much more."
"… Before, I would start training about 10 weeks before a fight. I would try to get my body fat down and my cardio up and my skills together. Right now, for the first time in my whole career, I'm actually training consistently. I believe my cardio is fight-worthy right now. When I get in camp, it's going to go to an even higher level. I feel I'm in better shape now than I ever did before. I'm sleeping better, eating better, drinking less alcohol. I feel really good."
Jones also talked about the fights he may be interested in while taking the names of current champion Francis Ngannou and former heavyweight champion Stipe Miocic.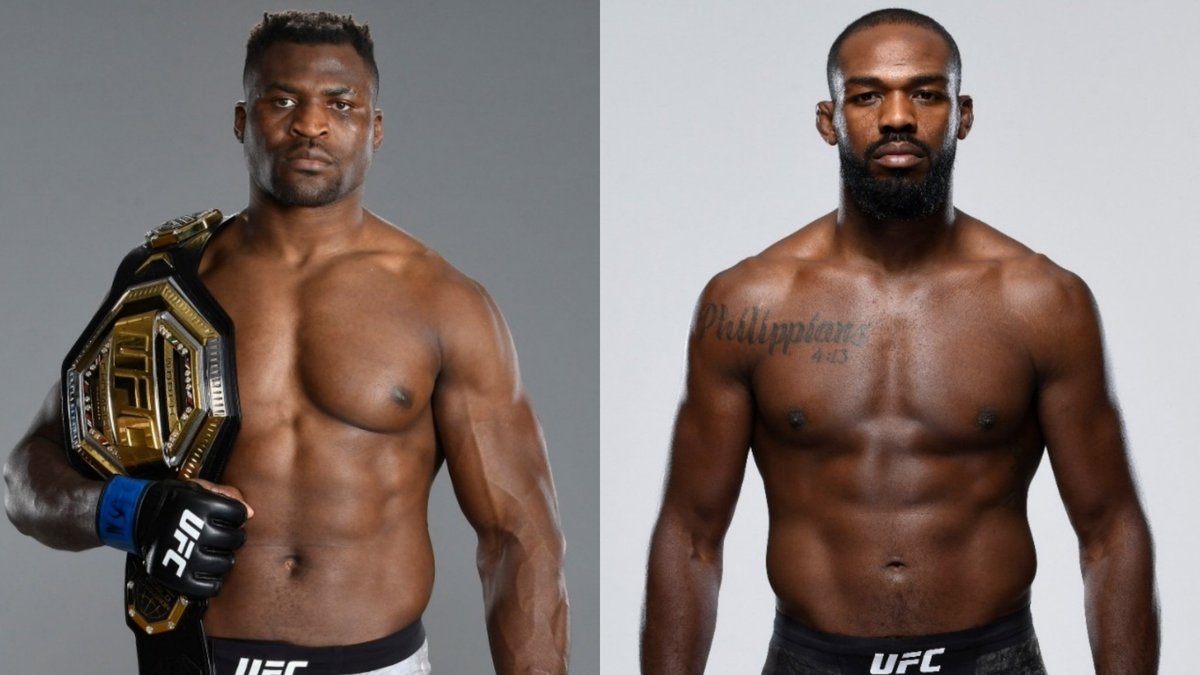 "Fighting for the title is what I want the most, for sure. I want the biggest fights and I think the title fights are going to be the biggest fights. If there was someone that was a bigger star than Francis at heavyweight who didn't have the title, then I would go for that. But I think Francis is the biggest star at heavyweight. Him and I. And he has the title. That's what I want.
"… I'm excited for either (Ngannou or Gane). I think they present two completely different puzzles but yeah, Francis is definitely a bigger star. It'd be a lot of money lost if Francis were to lose. I don't care who wins the fight, I just want the championship."
Jones also mentioned the timeline of his heavyweight debut.
"I think it will be some time in the second quarter of 2022," Jones said.
HIGHLIGHTS:
Jon Jones heavy weight training
Jones heavyweight debut fight opponents
Jon Jones Debut timeline
Jon Jones vs Francis Ngannou could be the biggest heavyweight fight in UFC history
Purchase the UFC merch here.
Click to Predict here.