Former UFC light heavyweight champ Jon Jones has a message for the middleweight champion Israel Adesanya.
For a very long time, both Jones and Adesanya have had some back and forth battles going on twitter. Both of them have shown interest in fighting each other but Jones has always said that this would be an easy fight for him and Adesanya is no match for him. Many thought that one day we might see these two of the greatest mixed martial artists face off each other in the ring but his dream is now far from reality as Jones as vacated his Light heavyweight belt and is preparing for his heavyweight debut.
After stopping Costa in the second round, Adesanya was asked about the possibility of moving up to 205 pounds now that there's a new champion in place after Jan Blachowicz knocked out Dominick Reyes in the UFC 253 co-main event.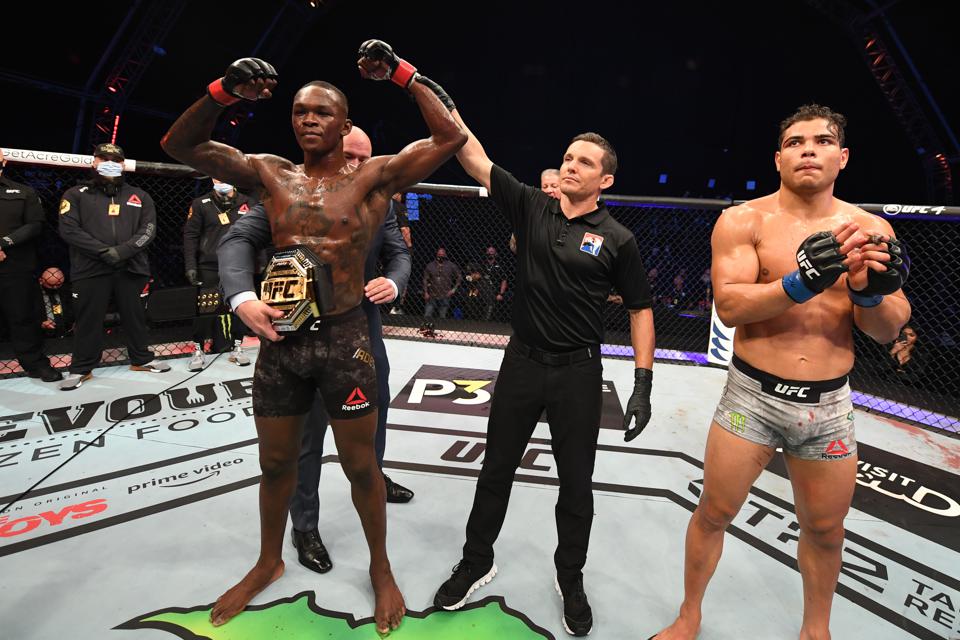 "Maybe, but I'll have to ask [head coach] Eugene [Bareman]," Adesanya answered when asked about moving up to 205 pounds to pursue a second title at the UFC 253 post-fight press conference. "But like what I said about Anderson Silva defended this belt so many times in the middleweight division and then he went up to light heavyweight for little shows."
"I just wanted to f**k up Jon Jones and I still will. But I'll just have to talk to Eugene cause even he talked about Stipe Miocic and other things. So yeah, everything's open. Cheddar makes it better."
Jones says Adesanya is not ready
After these statements from Adesanya, former UFC light heavyweight champion, Jones (26-1 MMA, 20-1 UFC) took to Instagram on Monday, posting a video clip of UFC middleweight champion Adesanya's UFC 253 post-fight news conference from Saturday. In the clip, Adesanya (20-0 MMA, 9-0 UFC) talks about wanting to fight Jones but that he'd have to speak with his head coach.
Check out Jon Jones' full Instagram post below:
https://www.instagram.com/p/CFsSlnlHTAz/?utm_source=ig_web_copy_link
"BUT what?" Jones wrote. "You've stepped into the ring over 100 times now and you're still not ready!? You have a youth advantage and like four times the fighting experience. The truth is you're already my (expletive), you love being undefeated and you've seen what's happened to everyone else. It raises your stock to mention my name. (You're) aware of this. You don't want real confrontation with me (because) I'm not gonna just stand there and kickbox with you. I've been preparing for heavyweights. (Right) around now I would literally tear one of your arms off."
Jones said his focus right now remains a move to heavyweight, which he believes makes a fight with Adesanya even more lopsided than it would have been at 205 pounds. He has he's open to an eventual fight with Adesanya, but despite the most recent clash, it seems unlikely they'll meet in the octagon any time soon.
What do you guys think of a fight between Jones and Adesanya?
Purchase the UFC merch here.
To bet on MMA event click here and to bet on other sports, click here.
ALSO READ:
Paulo Costa is "very upset" at Israel Adesanya's post-fight antics