UFC welterweight superstar Jorge Masvidal was taken by surprise when he was asked a question by the retired NFL wide receiver Chad Johnson, formerly known as Chad Ochocinco about should he bet on Masvidal or not.
The UFC 261 headliners first fought in 2020 at UFC 251. Usman (18-1 MMA, 13-0 UFC) beat Masvidal (35-14 MMA, 12-7 UFC) with a dominant unanimous decision. The UFC welterweight champion went on to defend his title against Gilbert Burns at UFC 258, but Masvidal has remained out of action. Following the win over Burns in February, Usman called for a rematch with Masvidal and UFC made that official soon as both parties agreed to it. The main card airs on pay-per-view following prelims on ESPN and early prelims on ESPN+.
Chad Ochocinco had a question for Jorge Masvidal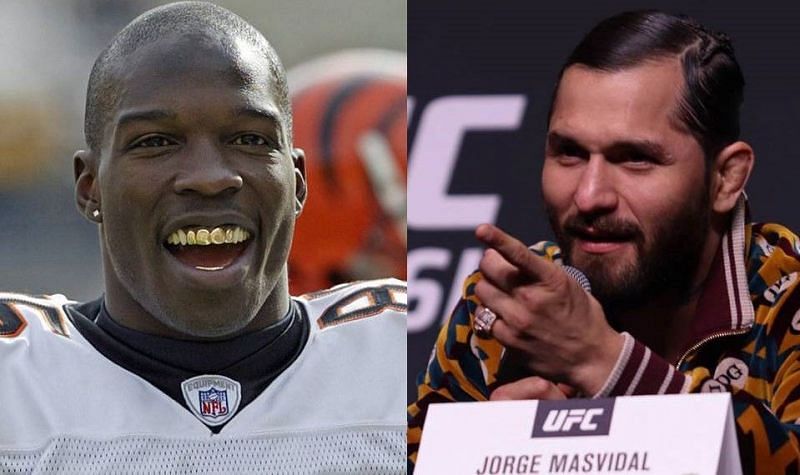 The UFC 261 press conference featured a special guest as retired NFL wide receiver Chad Johnson – formerly Chad Ochocinco – took the floor to ask if Masvidal was worth betting on.
"Is that Chad Ochocinco?"@GamebredFighter fielded questions from @ochocinco at the #UFC261 press conference 😅 pic.twitter.com/6N62vDZplz

— ESPN MMA (@espnmma) April 22, 2021
Chad Ochocinco got the chance to ask Masvidal the question which took him by surprise.
"With you having more time to prepare was there any different approach you had for preparing for this fight?" Chad asked to which Jorge answered.
"We have got the work done, the works done man. we got techniques for stopping him fromrub my feet. rubbing my feet was the only thing that I couldn't stop last time so this time we'll make sure there is no feet rubbing"
Pepe & home team @GamebredFighter ®️ pic.twitter.com/GfQV2JvqLU

— Chad Johnson (@ochocinco) April 22, 2021
Chad Ochocinco had a mask covering his mouth and nose, as has become commonplace during the COVID-19 global pandemic. It's believed that this is the reason Jorge Masvidal was initially unable to recognize Ochocinco, despite both athletes being celebrities from Florida.
Chad then went on to tell Jorge that despite him being the underdog he is betting moments on him.
"Despite being the underdog, I'm still rocking with you. but I need to hear from your mouth. I need an eye contact. Look right at me. I want you to make sure you tell me. I can bet this money, You're the lock. You're the lock. You're the lock for the fight."
Jorge Masvidal then apparently realized that the person he thought was a random fan or a media reporter was none other than Chad Ochocinco. Masvidal then asked Dana White if it was Chad himself and then the crowd followed up by cheering him and made it realized to Jorge that it was Chad.
Masvidal then finally realizing talked to him "Is that Chad, yeah, what's up, man?", "What's up, man? How you doing, man?"
Chad Ochocinco reacted to "I'm good. I'm good, man. If I had your hands, I'd cut mine off. But hey, I need to hear from your mouth that you're the lock, before I put this money on (you) despite being the underdog."
Jorge Masvidal liked the confidence shown by Chad and said "Let's go, my brother. Man to man, soul to soul, let's go, man. It's a smart bet."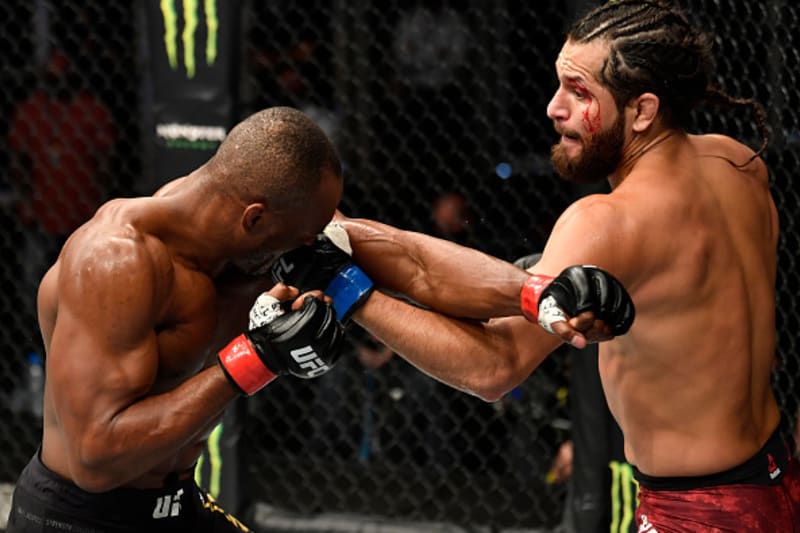 On Saturday, the "BMF" champion returns to the octagon nine months after suffering a lopsided decision loss to Usman in a short-notice title shot at UFC 251.
Purchase the UFC merch here.
Click to Predict here.