UFC top welterweight 'Gamebred' Jorge Masvidal reveals that he will have his rematch against Welterweight champion Kamaru Usman in September.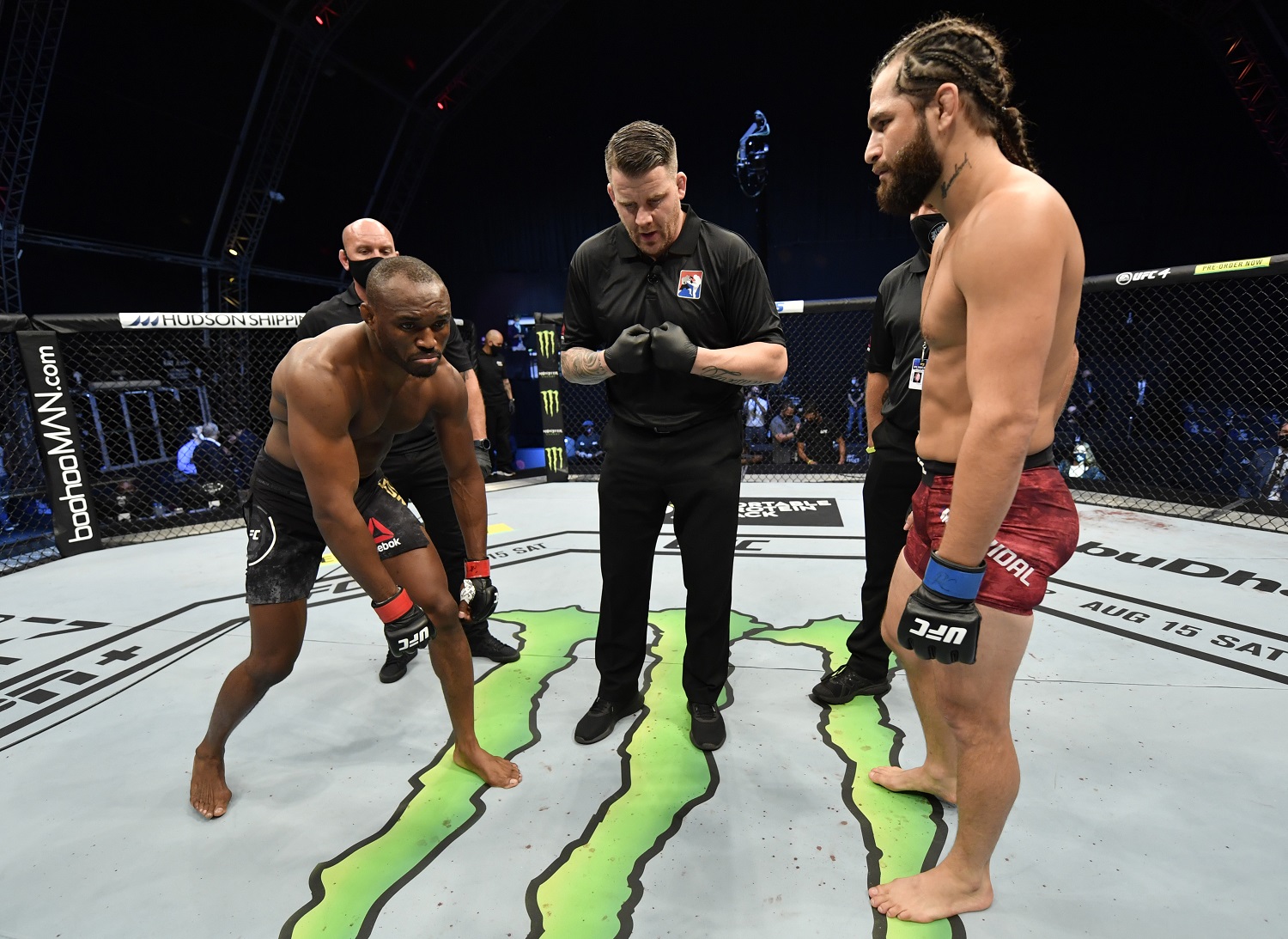 On Saturday night, Jorge served as part of the commentary team for Saul "Canelo" Alvarez's one-sided drubbing of Avni Yildirim and he spoke to several media outlets after the boxing match was finished.
Jorge Masvidal says his title fight with Kamaru Usman is going down in September 🏆pic.twitter.com/j6u6d2pZhy

— Chamatkar Sandhu (@SandhuMMA) February 28, 2021
In an interview with Boxing Social, Masvidal broke the news that he was already cementing his second shot at UFC gold later this year after he fell to Usman by unanimous decision in their first meeting in 2020.
"Right now I'm focused on me fighting for the belt, which is going to be in August/September, actually September, we just got word on this," Masvidal said.
"So you're like the second person actually to know this right now. That's just how luck works man. A lot of MMA media sites are going to be mad I dropped to on yours first, boxing of all people. There's going to call me a traitor. But that's what I'm worried about."
Also in the interview, Masvidal said that he would be open to going into professional boxing. In fact, "Gamebred" took a shot at the UFC about its fighter pay in comparison to boxing.
"I love boxing. Boxing gives the big paychecks, you know what I mean? They pay out more than the pay-per-views than my current sport. So would I love to be in boxing? No brainer, yes. But we'll cross that bridge when it comes, we'll get the right opponents," Masvidal said.
Jorge Masvidal has revealed he'll be back in action in August or September.

"August, September, somebody is getting baptised in my realm, that's what I'm worried about.

"And the people are gonna like it when they find out who it is."

Thoughts, peeps? #UFC

Via @Andy_IFLTV pic.twitter.com/Z1dXZ8DA3r

— Chisanga Malata (@Chisanga_Malata) February 28, 2021
Earlier Speaking to IFL TV, Masvidal confirmed that he will be stepping back into the Octagon later this summer or fall.
"Right now I'm just focusing on the MMA, I've got some guys to beat up," Masvidal said when asked about any potential boxing aspirations. "August, September, somebody's getting baptized and that's what I'm worried about. People are going to like it when they find out who it is."
While Masvidal may end up fighting Usman, the welterweight champion's manager Ali Abdelaziz issued a statement to MMA Fighting on Sunday shooting down reports that the bout is a done deal or that the date has already been determined.
"Masvidal doesn't decide anything," Abdelaziz said. "He needs to sit down and keep working his wrestling.
"When the champ makes a decision maybe he will give them an opportunity but for now nothing [is] happening."
Masvidal has not stepped into the Octagon since last summer at UFC 251 on Fight Island when he lost a unanimous decision to Kamaru Usman for the UFC welterweight title. To Masvidal's credit, he took that fight on very short notice and managed to go the full 25 minutes against Usman, who knocked out Colby Covington and Gilbert Burns. The fact Masvidal was able to go the distance on short notice and sell a huge amount of pay-per-views is part of the reason why Usman wants to fight Masvidal again so badly. There have been rumors pointing to these two potentially fighting but so far there is nothing concrete.
Usman also showed interest in the Masvidal rematch
Following a third-round TKO over former teammate Gilbert Burns at UFC 258, Usman immediately turned his attention to the "BMF" champion who had taken numerous shots at him after accepting their first fight on just six days' notice.
Usman promised a much more decisive victory in a rematch while reminding Jorge that he wasn't at his best when they met the first time after he also endured a wild travel schedule coupled with a fight cancellation after Burns was pulled from the card this past July after he tested positive for the coronavirus.
"This time I want to stop him for real because I think that's the only thing that's going to close his mouth," Usman said following his win in early February. "Pretending walking around here like he's Jesus or something. Well, I'm going to put him in a coffin this time.
"This time I will stop him. I promise you. That's why I was disappointed in myself that last night because I know I can stop him but with all the circumstances that took place, I just went out there and dominated him from start to finish. This time I will stop him if he wants to step up."
Purchase the UFC merch here.
To bet on an MMA event click here.
Also Read:
UFC Vegas 20: Ciryl Gane defeats Jairzinho Rozenstruik via unanimous decision