UFC BMF champion Jorge Masvidal has stated that his feud with his former teammate and current arch-rival Colby Covington is far from being over and he has said that if he ever meets Colby on the street then they'll definitely throw hands. At UFC 272 Colby Covington and Jorge Masvidal went to war and settled their long-awaited rivalry. The duos are ex-best friends and former teammates, but due to some of their personal reason, the pair has now turned into bitter rivals. UFC 272 took place on March 5, 2022, at the T-Mobile Arena in Paradise, Nevada, part of the Las Vegas Metropolitan Area, United States where Colby defeated Jorge via decision.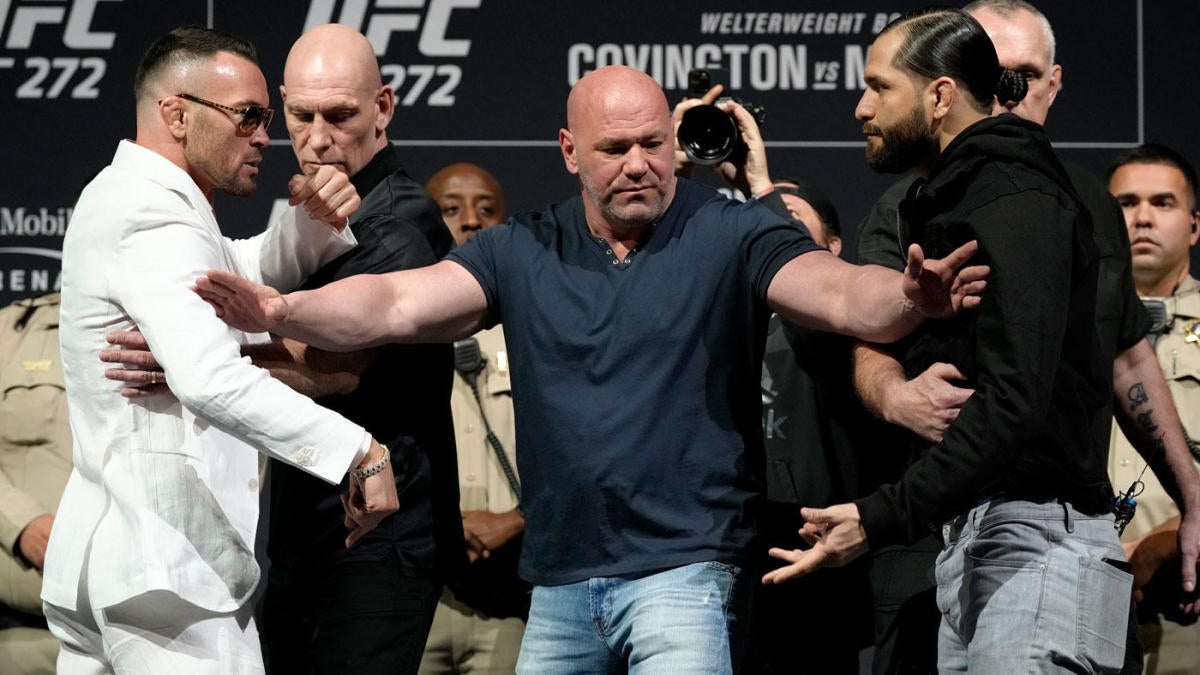 At UFC 272, there was a lot on the line for both Jorge and Colby. After years of rivalry and weeks of non-stop trash-talk, Colby Covington was the one to have the last laugh as he dominated Jorge Masvidal. Colby used his wrestling advantage and mauled Jorge for five rounds and also had some amazing stand-up exchanges. Colby got the decision win and sealed off their rivalry in style.
Jorge Masvidal says the rivalry is not over
Following UFC 272, Jorge Masvidal was pretty honest in his fight analysis. He stated that though he lost the fight he still has the beef going with Colby.
"Ah f*cking, like I said none of it is personal but it just sucks because this idiot talked about my kids, you know? He's still somebody if I see him out in the streets I'm gonna give him everything I got to break his f*cking jaw, you know? It doesn't matter if I lost wrestling scrambles tonight. I still think he's a f*cking p*ssy, you know?"
Jorge Masvidal also gave his honest opinion on the fight and said that Colby was the better fighter and wrestler at UFC 272.
"I wrestled like sh*t," Masvidal said. "I lost a lot of exchanges. If I were to win them, on a technical level, things could've gone a little bit differently if I made him expend more energy on certain takedowns. That first takedown I gave up, he took my back. He rode me pretty good. That got me pretty flat going into the next round. I felt like I won a lot of the exchanges. I felt like on the feet, I definitely did more damage. But it's a fight. I mean, sh*t, man."
"If I could've done it all over again, I would've gone to college and wrestling my ass off and got my grades up to be able to stuff all these guys up, then just keep it on the feet. I was just flat on the wrestling, brother."
"To lose to a b*tch like that, all he does is talk about people's kids, religion, nations," Masvidal said. "Obviously, no one wants to lose to a coward like that. I felt like I lost the wrestling exchanges. The fight-fight, you know? Whatever. I know I did damage. I think I dropped him twice. It just sucks, man. F*cking flat on the wrestling. He jumped on, and he was able to take me down. There was one or two times, I felt him getting real tired on the takedowns and then all of a sudden he got that takedown, and I was stuffing the second and third attempts. The fourth one, he got me down. He's got good control when he's on top. … He's a b*tch. The b*tch can wrestle, though."
HIGHLIGHTS:
Jorge Masvidal says the rivalry with Colby Covington is still on
Jorge Masvidal was disappointed with his wrestling at UFC 272
Purchase the UFC merch here.
Click to Predict here