Former title challenger Justin Gaethje thinks that the current no.1 contender Dustin Poirier will not take a rematch fight against Justin and will walk away instead. Justin Gaethje is currently ranked no.2 in the UFC lightweight division and Dustin Poirier is ranked no.1. Dustin is all set to fight for the UFC lightweight title against Charles Oliveira at UFC 269 in December. Justin is coming off an impressive win over Michael Chandler at UFC 268. After the fight, Gaethje called for his title shot and said he was willing to fight the winner of Oliveira vs Poirier next.
Justin Gaethje and Dustin Poirier have previously fought in the UFC. The pair competed against each other at UFC on Fox 29. The fight was a back and forth war and Poirier eventually got the win. Both the fighters hurt each other and Poirier fought the fight with a bruised-up leg. Poirier caught Gaethje with an amazing shot and then finished him in the fourth round. He won the fight via TKO.
Justin Gaethje says Dustin Poirier won't take the rematch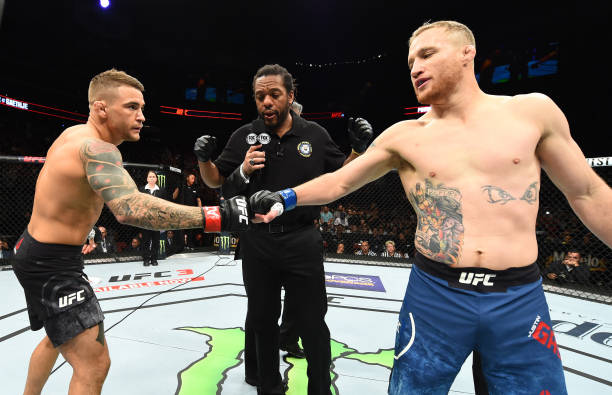 Justin Gaethje in his recent interview said that he hoped Charles Oliveira would win the fight against Dustin because Justin feels that if Poirier wins the fight he won't rematch Justin Gaethje as he knows the consequences he will have to face if he faces Gaethje again.
"I hope Oliveira wins. A part of me thinks, after I fought Dustin Poirier, I went outside and I took 100, 200 pictures and I felt great, not one thought or emotion from that fight am I scared to experience again. I know for a fact when Dustin Poirier has to step in there with me again, he's going to remember and constantly be analyzing that night. He was not out taking pictures. He was probably in the most pain of his f*cking life," Gaethje said.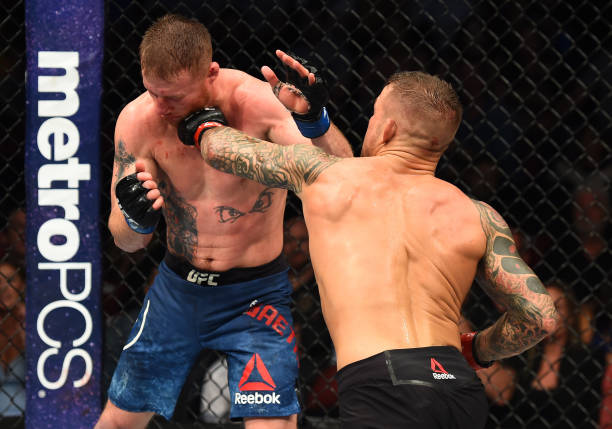 "If he doesn't land the shot in the first round, he knows he's going to have to go through that again. If he beats Charles Oliveira, I don't know if he fights me. I think he just walks away, calls it good. So I kind of hope Charles Oliveira wins so I get to fight him March, April, May. If Dustin Poirier wins, I'm going to have to really entice him to f*cking get in there again."(h/t MMA FIGHTING.COM)
HIGHLIGHTS:
Justin Gaethje says Dustin Poirier will avoid the rematch against him
Purchase the UFC merch here.
Click to Predict here