UFC welterweight division Kamaru Usman has stated that a fight with world boxing champion Canelo Alvarez is 100 percent going to take place and that this fight is totally different from Floyd Mayweather and Conor McGregor's money fight. Previously Kamaru Usman has stated that he wants to enter the boxing world and challenge the pound-for-pound no.1 boxer, Canelo Alvarez. Kamaru is himself the No.1 pound for pound fighter in the UFC. Kamaru Usman has nearly fought all the top guys in his welterweight division. He now wants to explore the boxing circuit and challenge the current best guy in the boxing world i.e Canelo Alvarez.
In one of his previous interviews, Kamaru Usman has said that he would knock out Canelo.
"In 2022 I'm gonna shock the world. July, International Fight Week, I'm gonna fight Leon Edwards. God willing I get through Leon Edwards, September, Mexican Independence Day, I will stop Canelo Alvarez." – said Kamaru Usman in an interview with TMZSports. (h/t TMZ) Usman continued, "Absolutely I see myself winning the fight. Everything can't be done until it's done."
Recently Kamaru Usman's manager Ali Abdelaziz also stated that he wants his fighter to step into the boxing ring and fight the pound for pound no.1 boxer Canelo Alvarez.
Abdelaziz said "I want him to beat up 'Canelo' [Alvarez] or somebody, why not? Kamaru, he doesn't want these fake fights. He wants a real fight and everybody in boxing is boxing these old guys."
Kamaru Usman is confident that fight with Canelo Alvarez will happen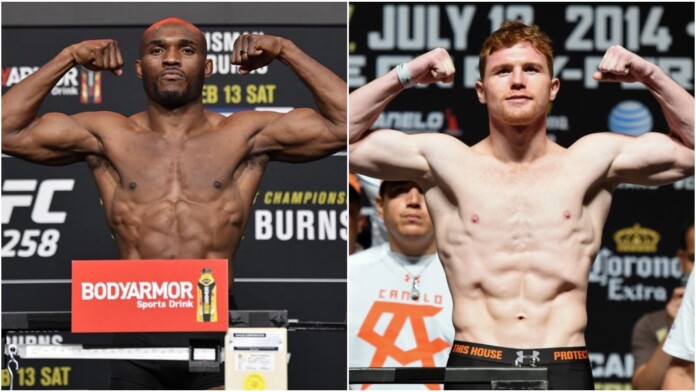 "Absolutely, why wouldn't it be a possibility?" Usman told MMA Junkie. "He said it himself. Pound-for-pound vs. pound-for-pound. And what Ali (Abdelaziz) meant in that (calling Canelo a 'coward') is, they expect us to go over there. We're real fighters. What would happen if I and he was out in the street? We're real fighters and they expect us to come in and participate in their sport, their art. That's why Ali said that. But at the end of the day, I'm willing to step in there. I've got the 'cojones' to step in there."
"So it is what it is, but I do think that fight 100 percent needs to happen. The pound-for-pound vs. the pound-for-pound. Everyone says it can't be done until they see it done. I've said it before, I will stop him."
"Me and Dana haven't talked about it, but it's a fight that I want if Canelo wants to fight, and he said that's he's not opposed to the fight, then we'll make the fight happen," Usman said. "It's not too difficult. Dana White is the best promoter of the game for a reason. It's not too difficult to make. I think we can make that fight."
"That's the thing – we're coming to entertain," Usman explained. "The Mayweather-McGregor, they entertained people with the way they talked and the way they walk. And we know Conor the way he entertains and so does Floyd. I get that. But Floyd is the absolute best defensive boxer we've ever seen, even though he took a very different approach in that fight. That was still that type of fight."
"I'm a fighter, I'm going to come to fight. I'm always marching forward to fight and so is Canelo Alvarez. He marches forward to fight. He's not just going to sit there and try to dodge punches all the time. He does doge punches, but he's not trying to do only that and make it a defensive fight. I'm coming to fight and he's coming to fight. And it's not just that, we're both the pound-for-pound best at the top of the sport right now. That's never been done. It would. be the greatest event in history, and of course, with Dana White behind me."
HIGHLIGHTS:
Kamaru Usman desperately wants a boxing match against Canelo Alvarez
Kamaru compares with Mayweather-McGregor
Purchase the UFC merch here.
Click to Predict here